Women's Basketball Picks Up the Win in WAC Opener
"That was a big win for this team, a really, really big win," said Seattle University women's basketball Head Coach Suzy Barcomb.
---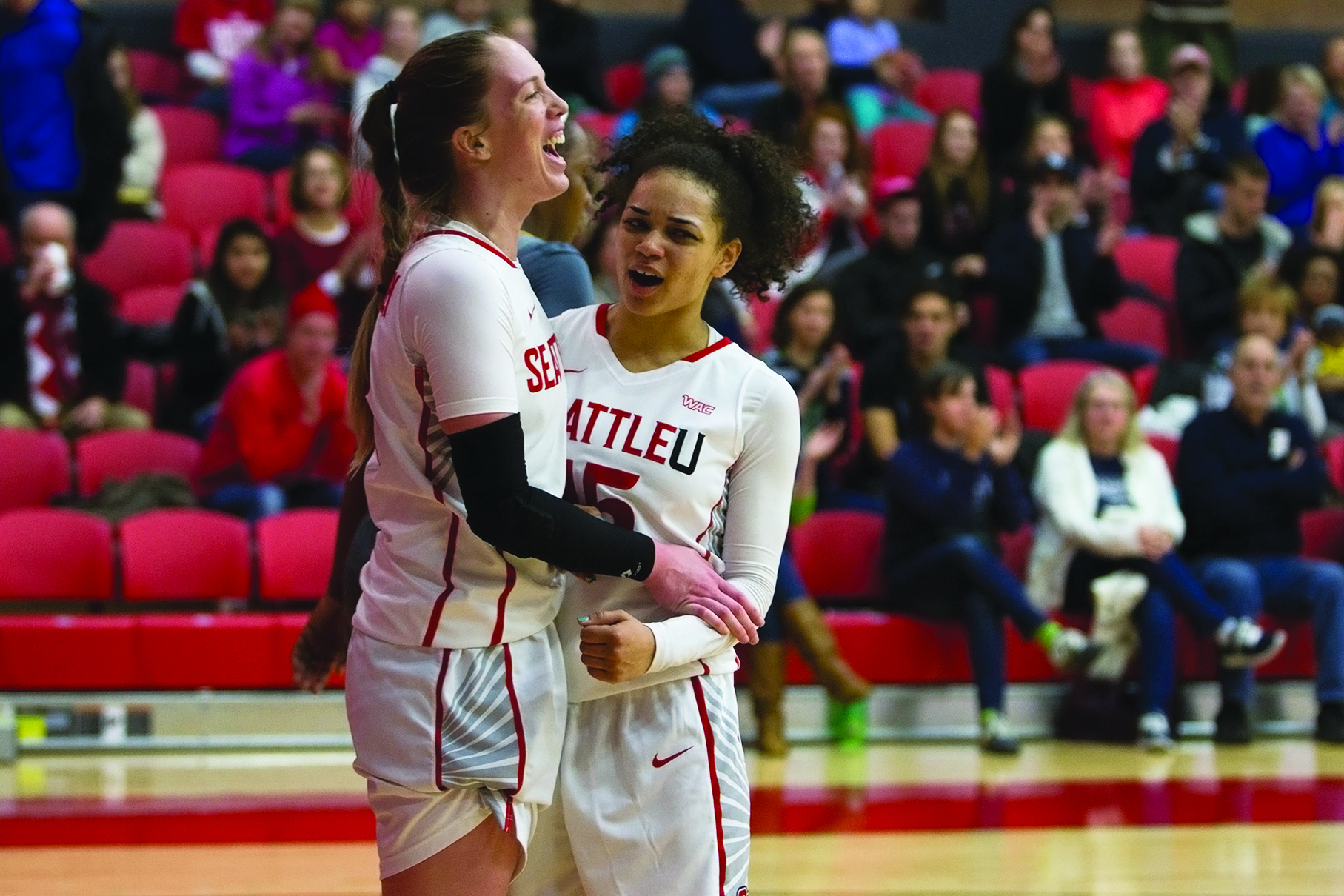 #3 Jacinta Beckley and #15 Kamira Sanders celebrate an and-one play after Beckley is fouled.
---
On Saturday, Jan. 7, the Seattle University women's basketball team played California State University Bakersfield (CSUB) in the Western Athletic Conference (WAC) opener, with the Redhawks getting their first conference win of the season, 54-47.
---
#24 Alexis Montgomery finished with 20 points in the game, and is currently the WAC's leading scorer.
---
"You could see the momentum shift with our kids, so they were just thrilled and they were really happy to get their first WAC win,"
Barcomb said. The atmosphere of the Connolly Complex was one of exhilaration and excitement, as Seattle U (4-12, 1-0 WAC) and CSUB (5-10, 0-1 WAC) were neck-in-neck for nearly the entirety of the game.
The Redhawks took control early, leading 13-3 at the end of the first quarter. During the second period, the game intensified as the 'Runners began to catch up. At halftime, they took the lead, making it a 1-point game at 22-21 CSUB.
In the third quarter, the action continued to heat up. Both teams fought tirelessly and the 'Runners held a 3-point lead at the end of the third, 35-32. The fourth quarter climbed in intensity, as the teams fought tooth and nail, with the Redhawks eventually prevailed.
Senior guard Alexis Montgomery (24) scored 20 points to go along with seven rebounds and three steals. Montgomery leads the Redhawks in scoring, rebounding and assists this season. Junior forward Jacinta Beckley (3) tallied close behind with a career-high 18 points, seven boards, three steals and two assists.
---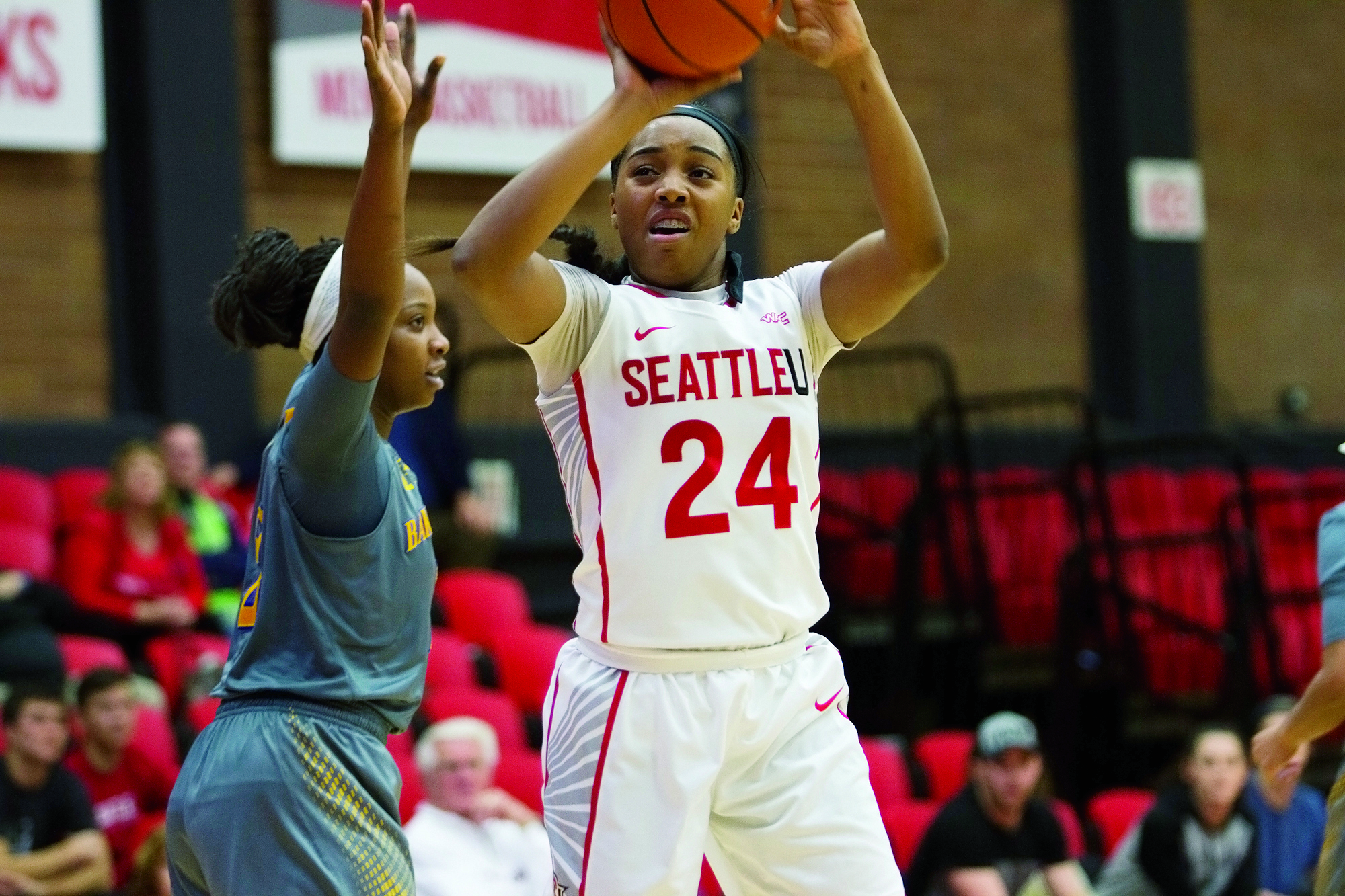 #24 Alexis Montgomery takes a contested jumpshot agaisnt a CSUB defender.
---
"I thought we really competed," said Barcomb. "I thought we executed our defensive game plan all four quarters. I thought we executed offensively probably for two and half quarters. We had some key buckets late in the game."
Barcomb described the win as a complete team effort. "I told the kids in there, it was a total team win because we had so many people who contributed," Barcomb said.
The win brings optimism for the Redhawks, who have tallied twelve losses this season. This week, the Redhawks will take on University of Missouri Kansas City (UMKC) on Thursday, Jan. 12, followed by Chicago State on Saturday, Jan. 14. The following weekend, they'll return home for a game against Grand Canyon University (GCU) at 4 p.m. on Saturday, Jan. 21 at the Connolly Complex.
With the upcoming WAC games, the Redhawks have a lot on their plate. Barcomb says the plan moving forward is to simply "take it a day at a time."
Tess may be reached at 
[email protected]
Leave a Comment