Students and staff gathered on Nov. 21 for Seattle University's Transgender Day of Remembrance. Huddled beside the reflecting pool of St. Ignatius Chapel, representatives from the Triangle Club and Campus Ministry read the 295 names of individuals who died as a result of transphobic violence—an unfortunate increase from 217 the previous year.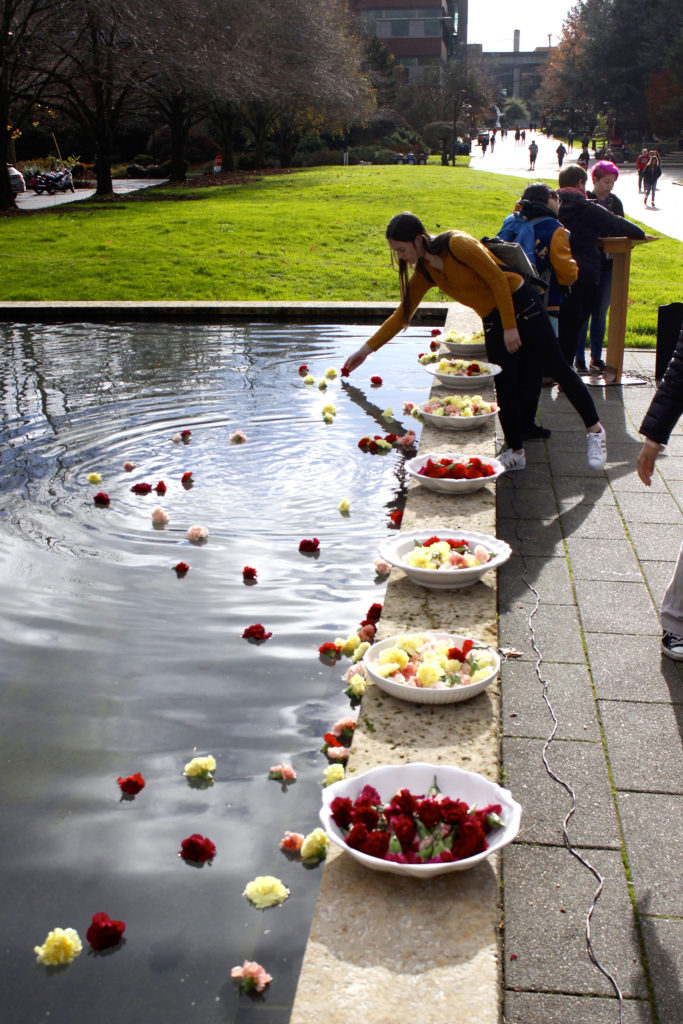 A student placing a flower in the reflection pool. Each flower represents the life of a trans individual killed in 2016.
On the Monday before Thanksgiving break, a diverse group was on hand to pay their respects. The large crowd was constant throughout the entire ceremony, yet many others partook momentarily as they passed by. It was an opportunity to respectfully remember those victimized, but it was also about taking notice of the ones still struggling for equality and recognition.
As senior humanities for leadership and psychology major Zeena Rivera read the names of those who had passed, warm sun began to break through the grey day. Joined by other students who would take turns reading from the list, Rivera reflected on the importance of reciting the names.
"We're trying to center trans people who have suffered the worst aspects of transphobic violence," she said. "It's also a call to people who are not trans to listen."
Rivera is the Director of Operations for the Seattle University Triangle Club, the LGBTQ/queer group on campus.
"We meet Thursdays from 12:30-1:30 every week to talk, make art, eat and share in each other's companies. We're trying to build up our community," she said.
For the past three years, Rivera has worked diligently on campus to raise awareness and facilitate a community for non-cisgender students and their allies.
When the Triangle Club wanted to recognize the Day of Remembrance, they received assistance from the Seattle U's Campus Ministry.
Rachel Doll O'Mahoney is the Campus Minister for Faith Formation, and has been with the university for seven years.
"In the LGBTQ community, there is a lot of skepticism of faith based ministry," O'Mahoney said. "It felt like something could be done in regards to that."
One way campus ministry looked to facilitate understanding was to form the Gender and Sexuality Programming group (GASP) which "welcomes the experiences, tensions, and gifts of lesbian, gay, bisexual, transgender, and queer persons in the Seattle University Community." In an effort to celebrate the diversity of Seattle U, GASP fosters a hospitable dialogue on trans issues within the Jesuit community.
Regarding the TDOR and the plight of the trans community, O'Mahoney said she believes the message should be clear. "People are dying because of transphobic assaults. The threats are not simply microaggressions. They are physical and violent." For her and others trying to advocate on behalf of LGBTQ students and individuals, it's all hands on deck.
While Campus Ministry and the Triangle Club work to provide safe places, O'Mahoney said she believes the real work will come from outside of the trans community.
"We are ready to support those efforts, but I think the onus is on cis-people to open those dialogues and create spaces where trans people can share their experiences," she said. "I think it's about connectedness. No matter our differences there are intersectionalities that we have in common, like learning and being a part of Seattle U's academic community."
Skyler Ting identifies as trans and is a marketing major and French minor in their junior year at Seattle U. They spoke candidly about the importance of cis individuals not just taking part in, but taking a stand on behalf of trans people.
"There is tragedy, and it's very heavy, but its true importance goes far beyond the act of mourning," Ting said. "In part, it's a time for remembering those trans lives still among us who honor the lives lost by continuing to live and resist hate."
One by one, as the names were read, students began to drop an array of colorful blossoms into the St. Ignatius reflecting pool in honor of each victim. When the final name was read, the chapel's bell rung.
As the last C-note drew out, some of the mourners were overcome by emotions. Another year's TDOR ceremony is over, but the message is as loud as any year before.
"Refuse to be a bystander, engage in that uncomfortable conversation about trans rights and bathrooms," Ting said. "Have questions about the trans community or how you can be a better ally? Google it. Don't expect your trans and nonbinary friends to do the emotional labor of reliving their traumas to help you understand."
"Listen to trans people, their voices are often pushed to the margins. If you want to be helpful but don't know how, just ask them what they need," Rivera said. "Put trans people in a position to speak. Center them and let them lead."
Les may be reached at
[email protected]