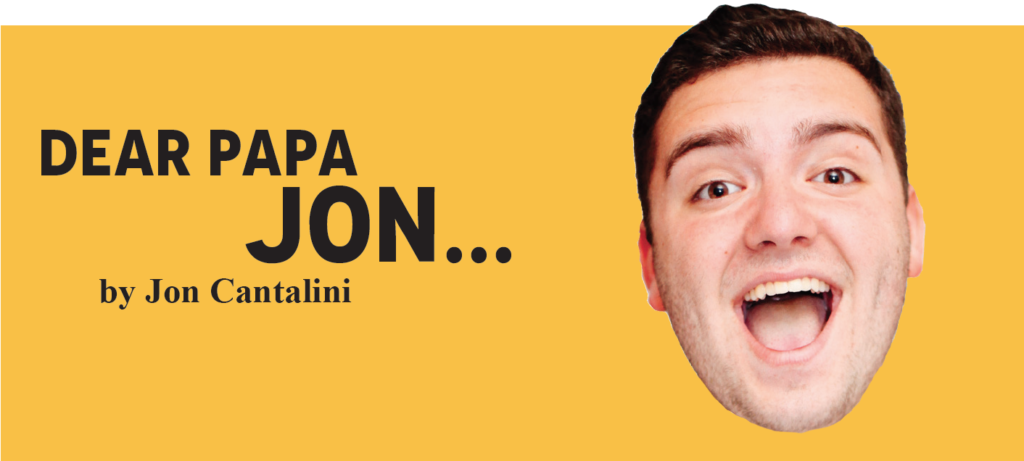 Q:
HELP, I HATE FINALS…. WHAT DO I DO?
A:
Me too, me too.
I have such a hard time preparing for finals, I never have the motivation to do them. My suggestion is that you take frequent breaks and head out onto Capitol Hill for some fresh air. The fumes that accumulate in the library, I swear, are hazardous for your health. Go and get some ice cream or a cupcake—this way you can relax and be less stressed for finals.
Happy Studying,
Papa Jon
Q:
I want to do something fun this week, but I missed de- stress with dogs. Is there anything fun happening on campus?
A:
Hello there!
Actually there is something REALLY fun happening on campus this week—it's the tree lighting ceremony! Come out and celebrate the start of the holidays with a Christmas tree, Santa pictures, and hot chocolate! Did I mention that you can get a free ornament there? Also, be sure to check out the Hanukkah Celebration happening in the campus ministry office! I hope to see you all there!!!
Happy Holidays,
Papa Jon
To submit a question, go to http://ask.fm/DearPapaJon. I can't wait to hear from you all!! Love, Papa Jon