Planting the Seeds for STEM at Pacific Science Center
The 10th annual Life Sciences Research Weekend was held at the Pacific Science Center last Friday, transforming the museum into an educational playground where children—and their parents—could witness the wonders of science.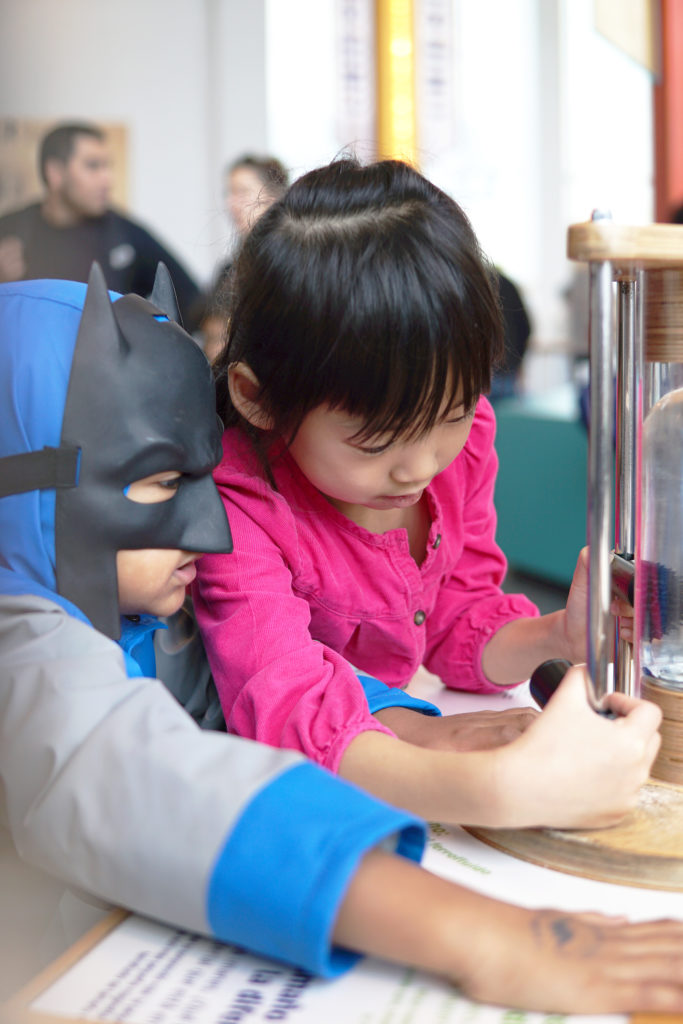 He's the hero the Pacific Science Center deserves, but not the one it needs right now.
The three-day-long event highlighted the work of local scientists, researchers and engineers, and gave visitors a chance to fiddle with hands-on models, watch simulations and celebrate the beauty of the natural world.
"Hands-on work seems to be the most effective way to expose kids to science," said Wes Lauer, a civil and environmental engineering professor at Seattle University. "In many ways, putting your spreadsheet together and doing your analysis is exploration in the same way that kids are exploring when they're interacting with an exhibit in a museum."
Lauer has two kids. Together with his wife, the four of them have visited the Pacific Science Center many times. His daughter is 12 and she likes to build things. She attended a robotics camp last summer. His nine-year-old son often plays with LEGOS and Transformers. The father and son like to dismantle and reassemble toys to see how they work and what the insides look like. Lauer has taken his kids to field sites where he does research as well.
"Sometimes they care and sometimes they don't," he chuckled.
A newborn's curiosity tends to overpower its judgement, which is why it will spend the first chapter of its life crawling around and sticking random things into its mouth. Childhood is a time of discovery, Lauer explained. Kids witness life by picking flowers or digging up worms. They discover sound by singing and screaming, and gravity when they fall and get back up.
"It's about playing with things," Lauer explained. "It's about exploring the world." Lauer belongs to the Glacier Peak Institute, a nonprofit organization from Darrington, WA dedicated to "empowering youth through action based education to build resilient rural communities and ecosystems encompassing the Glacier Peak region."
GPI aims to bridge the gap between classroom lessons and real world applications by combining nature-based curriculum with educator-led research and problem solving. Lauder said they've taken kids rafting and a whole bunch of other field trips in the past.
"That's the kind of thing we should do more of," he said. Diana Jacobsmeyer, a junior at Seattle U, felt an urge to study science after she visited the Seattle Aquarium. She's currently majoring in both Spanish and marine and conservation biology. For her, compared to the arts, science is more practical and straightforward.
"It requires a different kind of creativity," she explained. "It's a lot of discovery on your own."
When Jacobsmeyer was younger, her mother would pick her and her brother up from school early and take them to the St. Louis Science Center, where they would eat lunch and spend the afternoon.
"It wasn't all about school," Jacobsmeyer said. "My parents knew that was important."
Tanya Hayes, an environmental studies professor at Seattle U, believes education is about much more than science. For her, its best if kids know how to observe things, gather information and test their own hypotheses.
"Understanding  the scientific process and what empirical research looks like and why you might want to do that. Having a systematic way of looking at things and analyzing it, the critical thinking that comes out of scientific methods," Hayes said. "It's important for generating curiosity about the world."
Hayes' husband is also a professor at Seattle U. His name is Felipe Murtinho and he teaches international studies. The two of them have a five-year-old son who attends a Spanish immersion school. The family speaks Spanish at home.
Hayes studies human environment relations across Latin America. She spent time with the Peace Corps in Panama, received her doctorate in Honduras and Nicaragua and is working on a project in Ecuador. She wants to research how humans use and depend on their natural resources and how they influence those resources.
Her father was a scientist and oceanographer with a doctorate in physics. As a professor of environmental studies doing work across Latin America, married to another professor who teaches international studies, Hayes has led a career of science inspired by humanitarian efforts. The world would do well if her son followed her lead.
Nick may be reached at
[email protected]
Leave a Comment