Dear Papa Jon…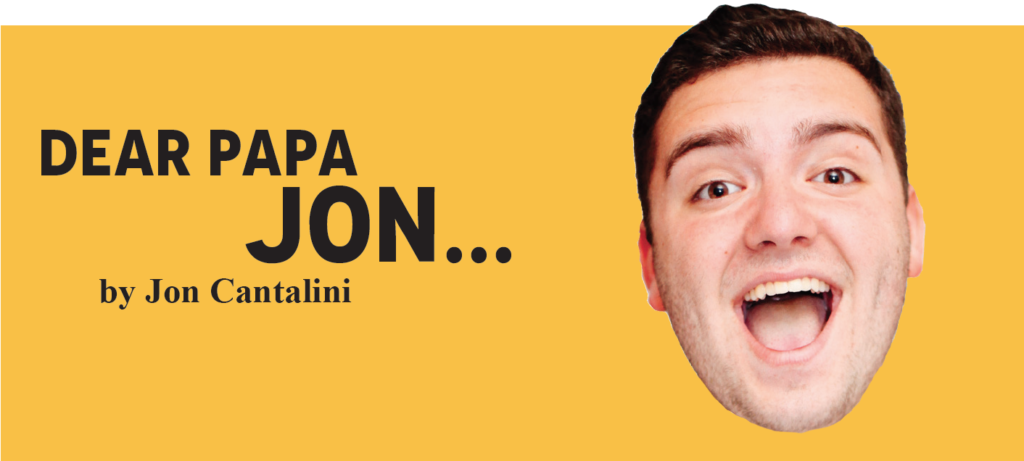 Q:
I am having a really hard time living with my roommate… what should I do?
A:
Hello B in Apt. 23,
I highly suggest you go and talk to your RA. Your RA is always a good non-biased source that you can go and talk to who has some knowledge on how to deal with this kind of situation. If that doesn't work, or you do not live on campus, I suggest you go to a public place (like a coffee house) and talk it out. This way you will be able to talk calmly and listen to each other in a place of non-bias.
Barbie Dream House Resident,
Papa Jon
Q:
A first grader told me today that I smelled like spicy chips… now I'm self-conscious about it.
A:
Wow, sometimes kids can be a little mean, but I say take it as a complement. You may smell like a spicy chip, but tell me who doesn't like a good spicy chip? They are delicious, they always make my mouth water when I smell them, and Tim's Jalapeño chip—am I right?!
My favorite is spicy Cheetos,
Papa
Q:
I want to be involved more on campus? How can I be involved with a good cause?
A:
Hello typical SU Student,
YOU SHOULD SIGN UP FOR SEATTLE UNIVERSITY DANCE MARATHON! It is a great cause that donates 100% of its proceeds to Seattle Children's Hospital and Strong Against Cancer. The strong against cancer initiative has a 95% remission rate among its patients… THIS IS INCREDIBLE. For more information go to: www.seattleudancemarathon.org!
Your fellow dancer,
Papa Jon
To submit your own questions, go to http://ask.fm/DearPapaJon. I can't wait to hear from you all!!
Love, Papa Jon
Leave a Comment