Women and Men Place at Cross Country WAC Championship
This past weekend Seattle University's cross country team competed in the Western Atlantic Conference Cross Country Championship. The Redhawks hosted the event at Jefferson Park Golf Course on a rainy Saturday where the WAC teams competed for the championships.
---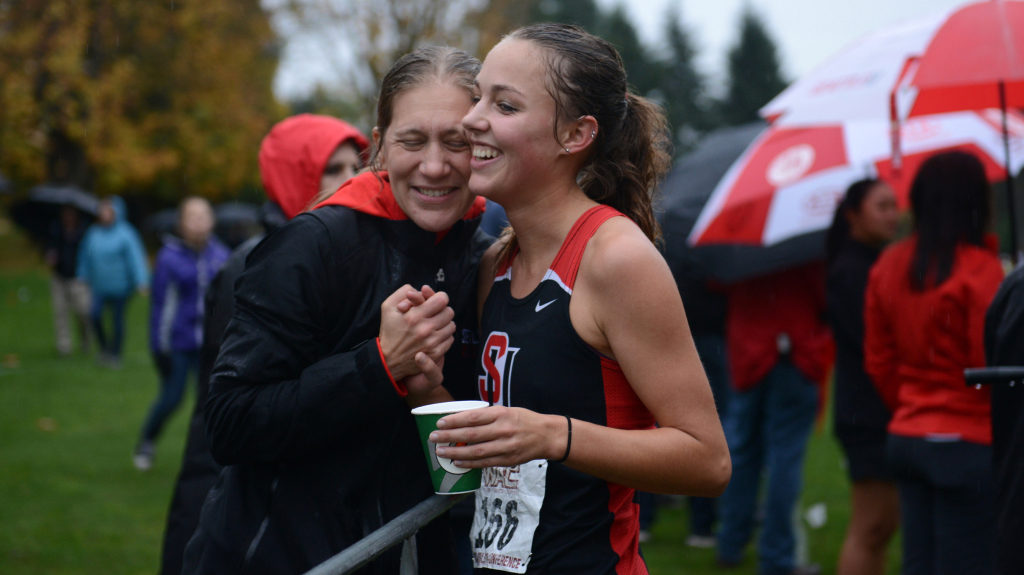 Head Coach Trish Steidl (left) and Lila Rice (right) celebrate after Lila's first place finish.
---
The women's team exceeded their expectations finishing in second place in the 5k with a young team. They were five points shy of first place. Senior Lila Rice lead the team finishing with the top time of 18:00.60 and earned the honor of Individual WAC Champion. She was also named the WAC Cross Country Athlete of the Year and First Team All-WAC. It was a great finish for Rice in her WAC finale.
"She ran a strong, confident race," Head Coach Trisha Steidl said. "It was wonderful to see her win her senior year, especially since she took a risk last year at altitude that didn't work out. This is nice redemption and a fantastic closing to her conference racing."
Overall the women's team had five runners in the top 16 including junior Johanna Erickson, (7th) sophomore Olivia Stein, (10th) senior Moira O'Connor Lenth (12th) and senior Rebecca Lassere (16th). The men's team ran the 8k and placed third on the day. They were led by junior Ben Monk who placed 10th with a time of 25:33.10.
"Ben tends to be strong at the end of the season where it really counts, and he continued that trend today," Steidl said. "He looked strong, in control, and fired-up today. He ran with poise and gave all he had on the day. This bodes well for what he will bring to Regionals, too."
The men's team received help with two more top 20 finishes including sophomore Eli Boudouris (11th) and junior Jacques Hebert (13th).
Both teams had a trying season, with the men setting high goals for themselves and the women trying to put the pieces together with a relatively new team. They were both looking for top three finishes and achieved their goals.
The Utah Valley women's team took first place by placing three runners in the top four, repeating as WAC Champions. They were lead by Savannah Berry who finished with a time of 18:19.00. Their head coach Scott Houle won Coach of the Year for the women's teams. University of Missouri-Kansas City took home the championship for the men's team.   They were lead by Individual WAC Champion, junior Bryce Miller, who finished with a time of 25:03.50. UKMC held off three time reigning champion Utah Valley. Their head coach, Shameika McField, was named Coach of the Year for the men's teams.
Next up for the Redhawks is the NCAA West Regionals in Sacramento, Calif. on Nov 11.
Willy may be reached at 
[email protected]
Leave a Comment