Men's Soccer Gears Up For WAC Tournament
With one game left in the Western Athletic Conference (WAC), the Seattle University Men's Soccer team holds the number one spot in the overall conference standings and remains undefeated in conference play.
---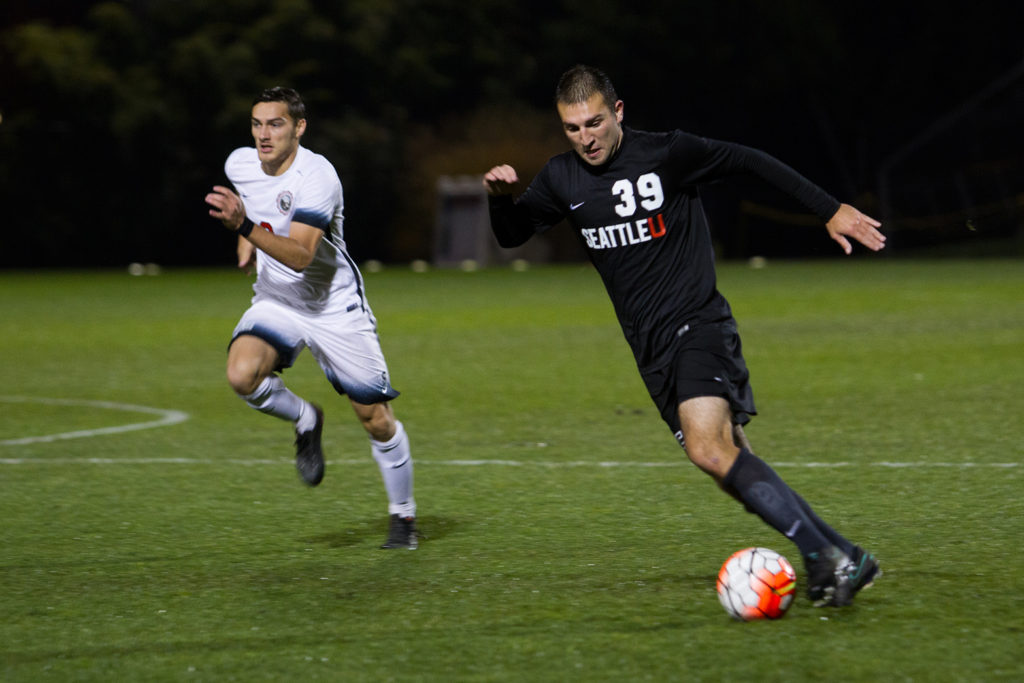 Senior #39 Sam Langston assisted on a goal late in the first half to give Seattle U at 2-1 lead at halftime.
---
The Redhawks (11-4-2, 7-0-2 WAC) gave it their all this past Thursday during their senior night game against University of Nevada, Las Vegas (UNLV). This game extended the Redhawks at home win streak to 16 consecutive victories at Championship Field—dating back to September 2015. Seattle University Men's Soccer took the game with a 4-1 win with goals scored by four different players.
Before the game began, the senior players were honored for their hard work on the team over the years. The eight-man senior class, consisting of Jordan Hadden, Sam Langston, Jeff Rose, Kyle Bjornethun, Patrick Clifford, Joseph Harris, Shane Mahvi and Cameron Rohani has aided the Redhawks in a total of 51 wins for Seattle University, and hopefully many more.
Thursday's game took to a rough start when just about five minutes into the first half, UNLV scored their first (and only) goal. However, that did not seem to suppress the Redhawks' spirit and perseverance. In the 29th minute, sophomore Sergio Rivas scored the Redhawk's first goal by a long ball pass from senior Jeff Rose. Following the initial goal were eight more attempts in the first half, leading up to a header goal from junior Alex Roldan assisted by senior Sam Langston, making it Roldan's eighth goal this season. This goal gave the team a 2-1 edge entering the second half.
Controlling the ball early during the second half, Rose neatly executed a corner kick into the box. Sophomore Nathan Aune was in the box ready to receive, and headed the pass straight into the upper half of the net- scoring the third goal of the game. Keeping our defensive line strong, the team held UNLV back in the second half only allowing them three shots compared to our eight.
With three minutes left in play, sophomore Julio Rubio, assisted by junior Medo Youssef, knocked one into the net- assuring the 4-1 win for the Redhawks.
Commenting on the senior night game Roldan states, "This one [was] more special. We have such a big senior class and we've been playing alongside each other for awhile now—this [game] was one for the books." However, it's not over yet. Coach Pete Fewing adds that Saturday's game against Air Force at Air Force "will be an important one" as it will determine the team's spot continuing into the WAC Tournament. The last game of the regular season will kickoff at 5 p.m. Saturday, Nov. 5 and will be broadcasted live on the official
WAC website.
The editor may be reached at 
[email protected]
Leave a Comment