Matea Mamic's Killin' Records
"Most athletes don't get 1000 kills in their college career, so it's unusual," said James Finley.
While playing New Mexico State, on Saturday, Oct. 22, Matea Mamic, senior captain of the Seattle University volleyball team, succeeded hitting her 1,000th kill. During the match, she completed eight kills, which boosted her number of kills to 1,003.
---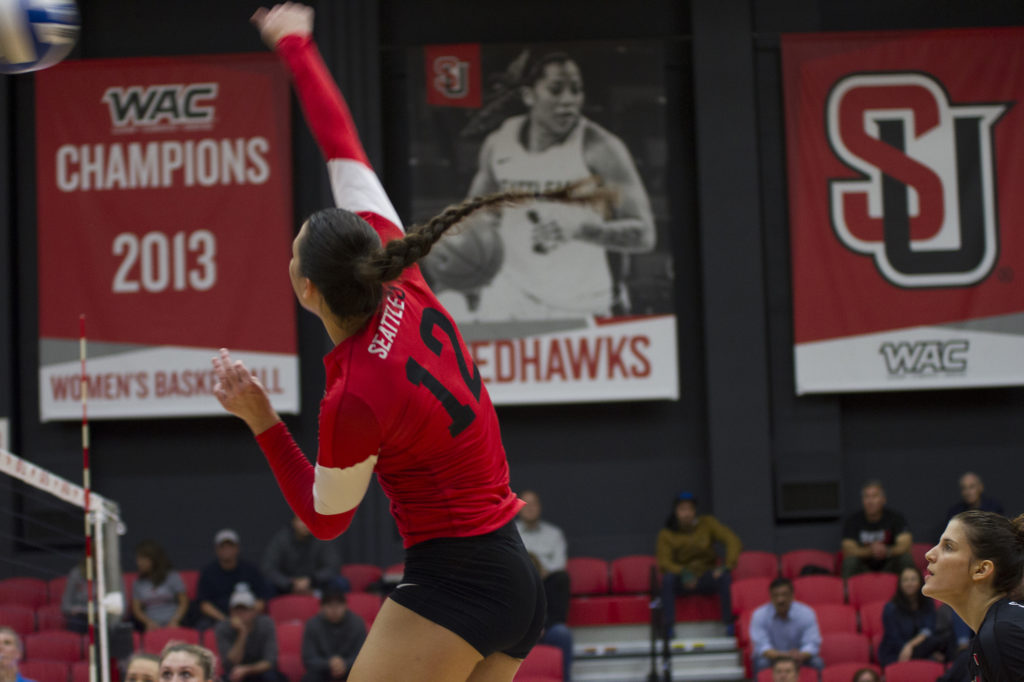 #12 Matea Mamic totaled 8 kills in the game, reaching a 1,000 career kill milestone accomplished by only 3 other Redhawks in Seattle U history.
---
"I'm really proud of her because…she's very dynamic and she really has a desire to be successful. So I couldn't be happier for a player that works hard and really pushes herself to be the best she can be," said Finley regarding her 1,000th kill.
This achievement is a great time to shine light on Mamic; however, although she feels great about this achievement, she knows that it wouldn't have been possible without the efforts of the entire team.
"I wouldn't be able to do this without my teammates who pass the ball and who set the ball for me. So it's nice to be in record books," said Mamic. Although the team practices six days a week, Mamic tries to get practice in her schedule whenever there's an opening. This strategy is for those whose passion is volleyball, like Mamic.
"It's my passion. It's something that's basically part of me and if I'm not playing or practicing, one part of me is basically missing," said Mamic.  During Mamic's time playing volleyball at Seattle University, she has overcome three injuries. But the only thing on her mind was getting back to court, where she feels she belongs most.
"When I'm succeeding in sports, I'm succeeding in life because that's my life calling and once I make a decision, I'm going to do everything to accomplish my goal based on that decision," she explains.
It is this perseverant state of mind that makes Mamic the type of player she is. It's the sense of community she brings that not only makes her successful, but assists in making the team feel like a family. In a way, this might be the reasoning behind her teammates calling her "Momma Matea," said Finley.
She acknowledges that there are times she doesn't perform her best, but because of the support system she has at Seattle University, she knows a new day will arrive and she'll, once again, be able to perform her best.
The team's next game is at the Connolly Complex on Saturday, Nov. 5, against Utah Valley. Before Matea's last season comes in an end, watch her play.
Yesenia may be reached at 
[email protected]
Leave a Comment