Women's Volleyball Bands Together Against Injustice
Followers of the women's volleyball team may have noticed a change to their uniforms as they sport a black armband previously unseen. Though to the casual onlooker this may appear to be an inconsequential accessory, it represents the team's efforts to recognize and create dialogue around one of our country's most pressing social issues.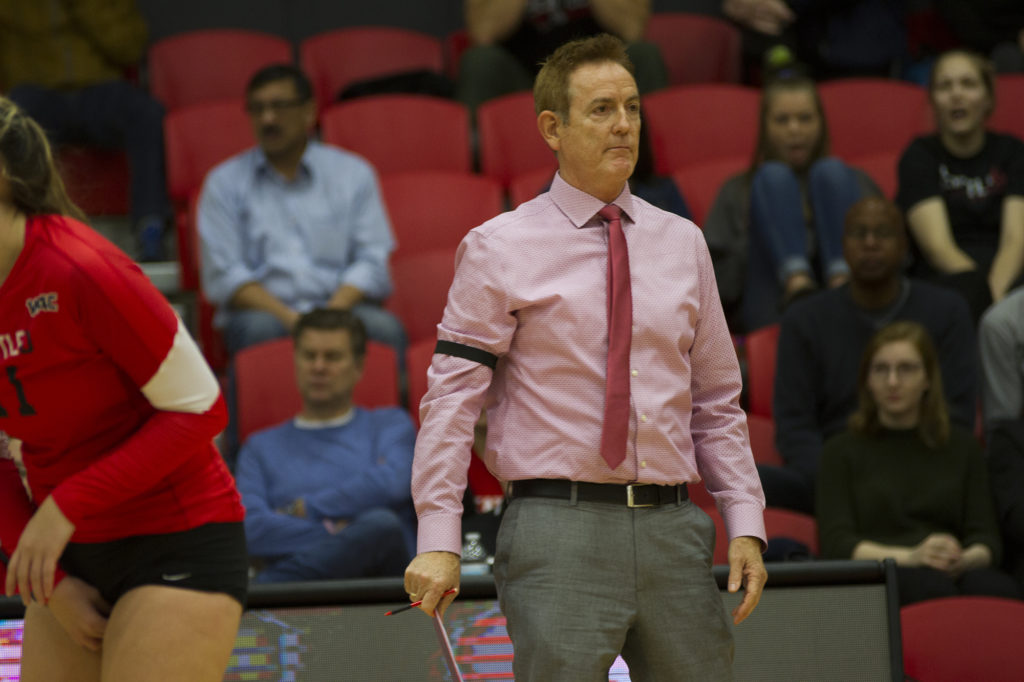 Head coach James Finley continued to wear a black armband during the game, as a form of solidarity with other protests around the country.
Continuing the movement that began with Colin Kaepernick and has extended to other pro athletes like members of the Seattle Seahawks, the women's team has adopted these armbands as a gesture against racial violence and police brutality.
"It's really important for pro athletes to be starting these conversations because they are on a platform where a lot of people see them," said Claire Johnston, captain of the women's volleyball team "We, as a team, thought it would be it would be a good idea to make a statement, get conversations rolling on what's happening across the country."
The idea was proposed by head coach James Finley not only as a means of raising awareness for a cause, but also showing that racial inequality is something the team discusses and is invested in. The armbands have already received a significant amount of inquiries from students at Seattle U and other colleges, creating dialogue both on and off the campus.
The adoption of the armbands has also presented the opportunity for the women's team to hold their own conversations on this national issue and be able to learn from each other's experiences. With a significant part of the team being international students, this movement has presented them with the opportunity to become more involved and educated in social issues they might not have associated with in the past.
"I think it's important, whether it's happening in their country, our country, anywhere around the world, it could be a serious issue anywhere, not just with us" said Outside Hitter Kahle Elliot "It's kinda brought our team together, to be able to talk about serious issues in our country."
Though they have served various functions in the time they have been used, the bands are also at their core worn to recognize the efforts of other protestors and the sacrifices they have made.
"We're not fighting the battle for them, but we are showing solidarity with this small statement," Johnston said.
Johnston and Elliot will be presenting in front of the Seattle University Student Athlete Advisory Committee in an effort to extend their team's message and encourage more of our athletics department to follow the example set by women's volleyball.
Carlos may be reached at
[email protected]
Leave a Comment