The Seattle University women's soccer team is streaking into the Western Atlantic Conference Tournament after winning their 7th game in a row this past week.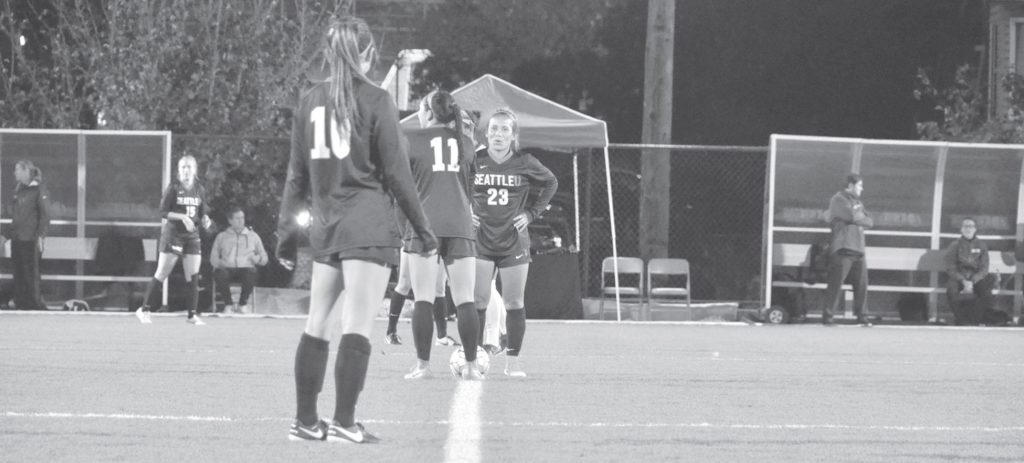 Seattle U's Women's Soccer team ready to kick off against Grand Canyon University.
The Redhawks (11-5-1, 6-0 WAC) used two big wins this past week to clinch their fourth straight WAC regular season title, ensuring them the top seed in the tournament next month.
Their first opponent of the week was University of Missouri-Kansas City who they easily dispatched 3-1 on Championship Field. It was a tie game going into the 60th minute before a free kick from senior Brie Hooks found its way in to the net. From there sophomore Karli White and senior Natasha Howe scored about fifteen minutes later.
Saturday's game against Chicago State was their last home game of the season, as well as senior night, an opportunity to honor the players who are playing in their final season as a Redhawk. The pregame ceremony honored Brie Hooks, Natasha Howe and Mariah O'Neil.
"Tonight's game was really about celebrating our seniors," said Head Coach Julie Woodward. "As a team we left with a little bit of frustration with chances we created and only finishing three of them. But I am pleased that everyone played and everyone contributed and it was a great way to send our seniors off."
Despite the missed chances (three scores on 28 shots) the team has to be pleased with their overall play this season. They have been rolling of late, getting hot at the right time.
White netted her fifth goal of the season to start off the scoring in the 10th minute. Just two minutes later sophomore Isabella Butterfield scored on a pass from junior Rosalie Sittauer. The Redhawks defense would stand strong the rest of the game resulting in a shutout. They got an insurance goal from Howe in the last five minutes giving her a goal in her last regular season home game as a Redhawk.
Chicago State did their best, but that Saturday was the Redhawk's night. Winning the regular season conference title in your last home game is a pretty special feeling, but the team knows they have no time to rest. They have higher goals to reach for.
Their last game of the season takes place Friday, October 28 at Utah Valley where the Redhawk's will try for a perfect record in conference play.
Willy may be reached at
[email protected]