Pro-Life Club Hosts Debate on Catholicism and Abortion
Given Seattle University's strong Catholic backbone juxtaposed with a predominantly liberal student body, the controversy that an abortion debate stirs isn't particularly new to this campus.
What is new, however, is a recent debate that includes both sides of the argument. On Thursday, Oct. 20, the Seattle University Students for Life Club (SFL) hosted a debate titled, "Can Catholics be Pro-Choice?"
---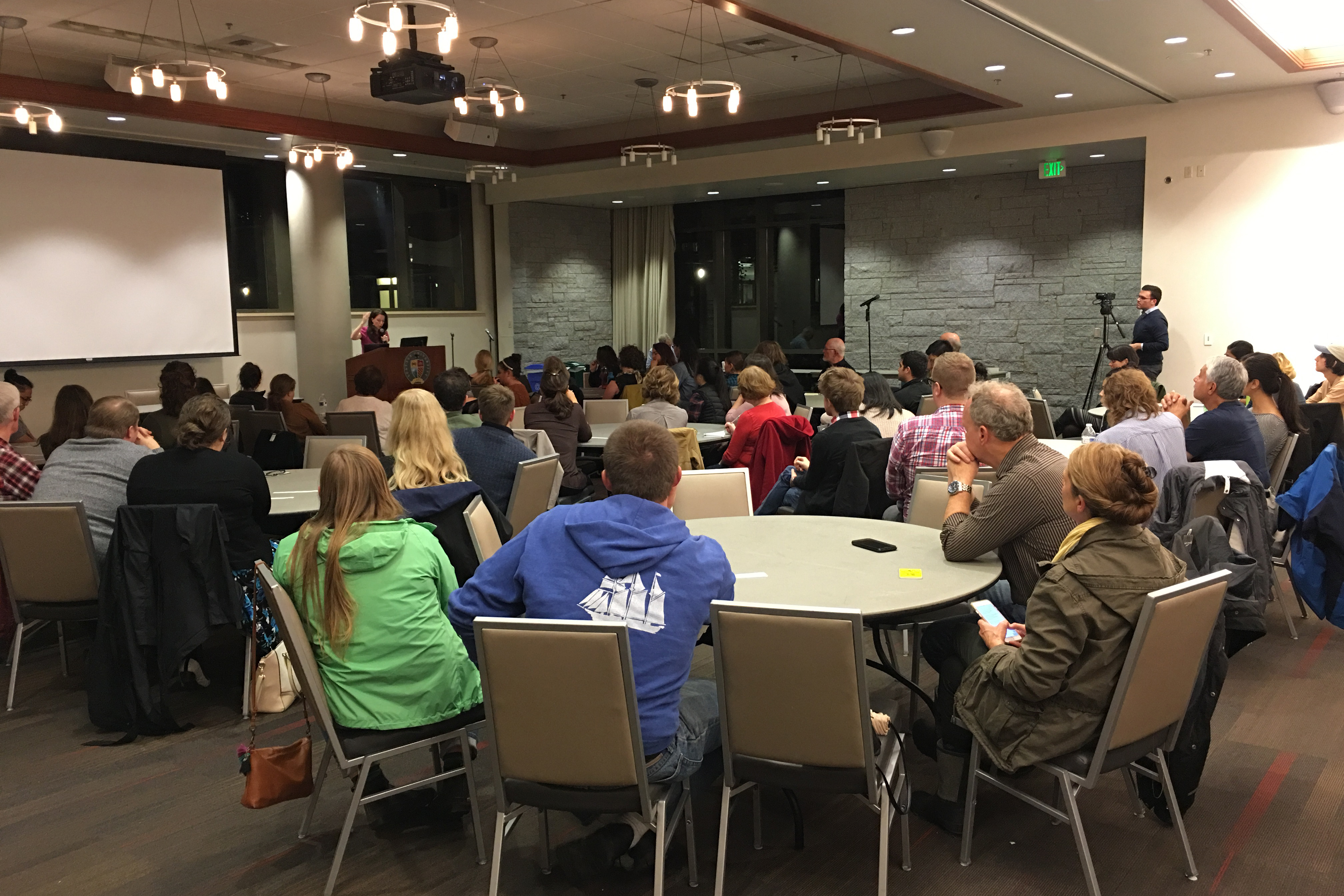 Stephanie Gray argues that catholics cannot be pro-choice.
---
On the affirmative side was philosophy professor Daniel Dombrowski, who argued that Catholics can, in fact, be pro-choice. Dombrowski has written 18 books and over 100 scholarly articles on topics such as philosophy, theology and the classics.
He was challenged by seasoned anti-abortion international speaker and debater Stephanie Gray, who argued that Catholics cannot be pro-choice. Gray served as the Executive Director and Co-Founder of the Canadian Centre for Bio-Ethical Reform for 12 years.
The event was attended by many Jesuits, alumni and professors. A handful of attendees were sporting Trump gear, a relatively uncommon sighting on the Seattle U campus.
The debate falls in the wake of the cancellation of last spring's event, "Catholicism and Full Spectrum Reproductive Healthcare: One Provider's Perspective" in which a Planned Parenthood physician was going to speak to her experiences as a Catholic. It received significant backlash from various Catholic groups after posters advertising the event depicted a rosary bearing an IUD instead of a crucifix.
Potentially influenced by the fallout of the spring event, the organizers of this debate emphasized the balanced speakers: each side has its own "expert" in the field, both of whom having engaged in formal abortion debates in front of audiences worldwide.
Before the start of the debate, small slips of paper were dispersed amongst the tables.
They read: "Introduce yourselves! Name, hometown, major, employment, religious affiliation, etc.
Do you remember the first time you heard about abortion? What was your initial impression? Where do you stand on the issue of abortion (personally and legally)? Why?"
Diving right into the nitty-gritty, this tactic sparked emotions before the debate even began as each table openly discussed their stance on arguably one of the most polarizing topics in American culture with a group of potential strangers.
After the discussion, Fr. Peter Ely, S.J., gave an invocation to the audience, setting a decidedly Catholic tone to the event.
Students for Life Club President Gabriella Johnson gave a short introduction to the debate, urging the audience to be "as respectful as possible" to both speakers.
"This is a topic that has been really polarizing, so I'm really excited for the opportunity for us to listen to one another, to hear each other out to come to an understanding of the other side's viewpoint, and to humanize one another a little bit," Johnson said prior to the debate.
Gray started the debate. She began by citing many Bible scriptures in her opening argument and declaring that abortion is wrong, even
for non-Catholics.
"I want to look at basic reasoning that can be applied to all people of goodwill, not just Catholics, to come to the conclusion that abortion is wrong," Gray said.
Essentially, her argument was founded on the principle that there are pieces of evidence within Catholic doctrine which declare abortion immoral. To be a Catholic, one must follow the Catholic Doctrine. Therefore, Catholics cannot be pro-choice because it contradicts the Catholic doctrine.
Dombrowski focused heavily on ensoulment. He said some of the fathers of Catholic thought, like Augustine and Aquinas, argued that the fetus, at early stages of pregnancy, is not a human person.
He also emphasized the way that much of Catholicism doesn't align with the practices of modern-day Catholics. He cited a study conducted by Centers for Disease Control and Prevention which found that 98 percent of sexually active Catholic women over 18 years old have practiced some form of sex at odds with the official view of the Church, such as having sex without intention of procreation.
"We ought to foster a spirit of toleration within Catholicism and also within society at large given the profound differences people have regarding the early fetus," Dombrowski said.
Midway through the debate, Gray presented a video depicting, on the left side of the screen, a fetus in the womb during various stages of development. And on the right, an aborted or miscarried fetus at that same stage of the development.
Melissa Schade is a senior and President of the Philosophy Club. Schade, who described herself as "very pro-choice," said she interpreted those images, which are often times triggering for women who have miscarried or had an abortion, as a logical fallacy because of their overly-saturated emotional appeal.
"I'm vehement about this. I really wanted [the debate] to be great. I was very much looking forward to a really cool debate," Schade said. "But as soon as she put up the video, I was like, 'You've lost me. [Gray] didn't need that because she had the intelligence to make a real argument and she lowered herself to a standard that wasn't great."
Jackson Evoniuk, an economics sophomore, anti-abortion supporter and devout Catholic, said he thinks the images of the aborted and miscarried fetuses are fair game.
"I thought they were a perfectly viable demonstration of what abortion actually is. We always talk about it in roundabout ways; we talk about 'terminating the pregnancy,'" Evoniuk said. "But then when you actually show pictures of basically dead babies, that really drives home the point of what it actually is."
While Schade and Evoniuk differ greatly on this topic, they share one thing in common: both walked out of the debate feeling even more affirmed about their prior stance than before.
"I walked in still pro-choice, but I was closer to pro-life than I was when I walked out. I walked out 100 percent being pro-choice and I walked in 85 percent being pro-choice," Schade said.
As for what Evoniuk learned from the pro-choice side: "I learned how obstinate they are. Not really that you can't be pro-choice, but that Catholics, in particular, can't be pro-choice. That's just an absolute, 100 percent fact. I was just amazed that they still wouldn't budge even on that," he said.
Regardless of an individual's stance on abortion, this debate is one that quickly stirs emotion for those on both sides.
"You have a human right versus another human right and people vying for both sides," Evoniuk said of the reason this discussion evokes so much emotion. "I think abortion is fundamentally and inherently wrong, always has been, always will be."
Schade said she felt that the audience lacked multiplicity.
"It was mostly a room full of Catholic people, pro-life people and Trump supporters," Schade said of the attendees.
With a topic that feels utterly polarizing, it is easy to forget the spectrum of possibilities between the two extremes of pro-choice and anti-abortion.
Justin Koochof is a freshman international business and marketing major and a new member of the Students for Life club.
While Koochof is very much against abortion, he is not against contraceptive use.
"I think personally that safe sex is better than unsafe sex," Koochof said. He argued that if an individual is willing to have sex before he or she is ready to have children, "I think it's truly better to be prepared, to practice that safe route."
Koochof, who considers himself a Catholic first, Republican second, said he believes one can, in fact, be a Catholic and pro-choice. Catholic values don't necessarily align perfectly with Republican values. In other words, his perspective of a "full Catholic" does not necessarily match the value system of an avid Republican.
He said he thinks the moral objectivity of being a Catholic stands about the right and the left and in many ways, Republican values like the death penalty, are "very Anti-Catholic."
Koochof said he hopes this debate helps people see the issue of abortion as less of an either-or.
"It really allows people to find out that there are other options," he said. "You don't just have to go with the status quo."
While Thursday's debate was a big step toward balanced discussions on campus, there may still be room for growth.
"I was happy to have even the semblance of a dialogue on campus," Schade said. "Because I do not think at this point in SU's journey, that if another club had put on this kind of discussion with a different type of speaker being their guest speaker, that it would have been welcomed by the university."
Tess can be reached at
[email protected]
Leave a Comment