Men's Soccer Rolling Into WAC Tournament
Seattle University Men's Soccer team remains undefeated in the Western Athletic Conference (WAC) and they continue to push through the final games of league-play hoping to continue on to the WAC Tournament.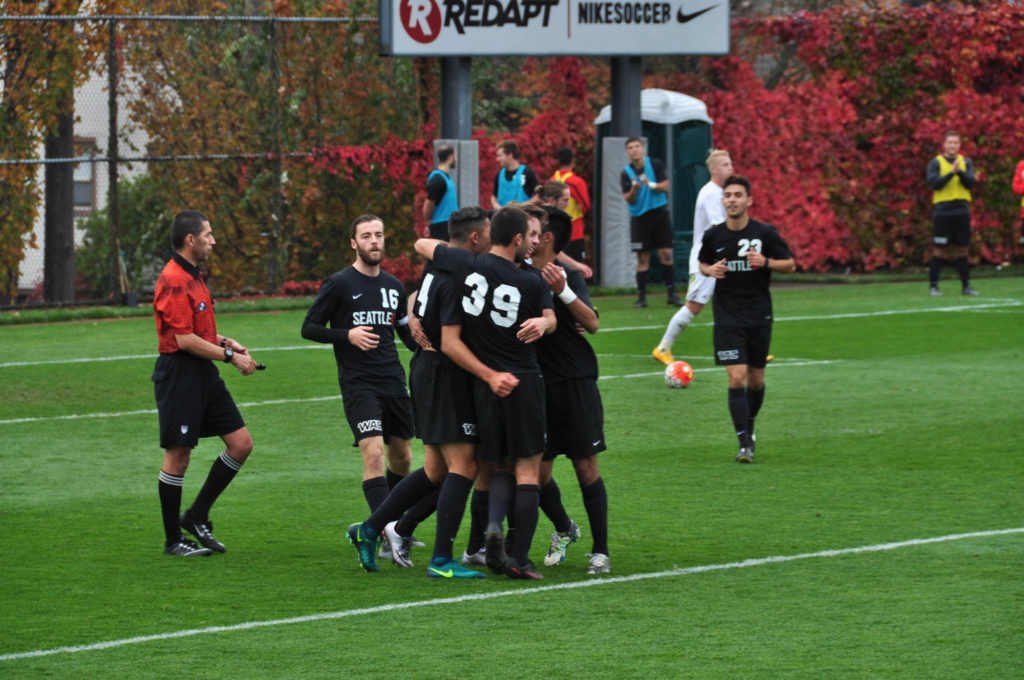 Def. Tyler John (#14) was swarmed by teammates after scoring SU's second goal of the game.
The Redhawks (10-4-2, 6-0-2) took on University of Incarnate Word (UIW) in San Antonio, TX this past Friday, ending in a 1-1 double overtime draw. Starting the game off strong for the Redhawks, junior Alex Roldan put the team on the board 34 seconds into the first half. His shot to the far post was assisted by a cross ball from junior David Olsen. The team kept their defensive line strong, leaving UIW with minimal opportunities to score. Unfortunately, UIW eventually tied up the game with 15 minutes remaining in the second half. In spite of the draw, Seattle University Men's Soccer still remains atop the WAC standings.
Sunday's home game at Championship field against UT Rio Grande Valley (UTRGV) gave the Redhawks their seventh shutout of the season. Three individual team members came out with a goal on Sunday leading the Redhawks to a 3-0 victory. Kicking things off 14 minutes into the first half was Roldan, who made his seventh goal of the season. This goal reassures his number one spot as a goal scoring category leader for his team. The goal was assisted by senior Kyle Bjornethun. At minute 26, senior Jordan Hadden completed an impressive double save, retaining two of UTRGV's total three shots-on-goal for the game. Staying humble, Hadden adds that his "personal success comes from everybody's individual effort on the team- working hard and making sure you're accountable for your actions."
Nearing the end of the first half, freshman Tyler John made his second goal of the year, with the assistance of freshman Julian Avila-Good and sophomore Sergio Rivas. The shot chipped the goal-keeper into the far post netting- doubling up the score for the Redhawks.
Not giving UTRGV much shooting time, the Redhawks went on to score their third goal in the 77th minute. senior Shane Mahvi one-timed a shot past the goal-keeper resulting in his first goal of the season. The goal was assisted through a corner kick by senior Jeff Rose.
Moving on to the final games of the Conference, Mahvi assures fans that the Redhawks will be "staying sharp… doing their best…keeping the tempo high and keep the momentum going." This collective team spirit will surely lead the Redhawks to victory in their games against University of Nevada Las Vegas (Thursday, Oct. 23) and Air Force (Saturday, Nov. 5). Thursday's home game is on Championship Field at 7 p.m. so come out and support!
The editor may be reached at
[email protected]
Leave a Comment