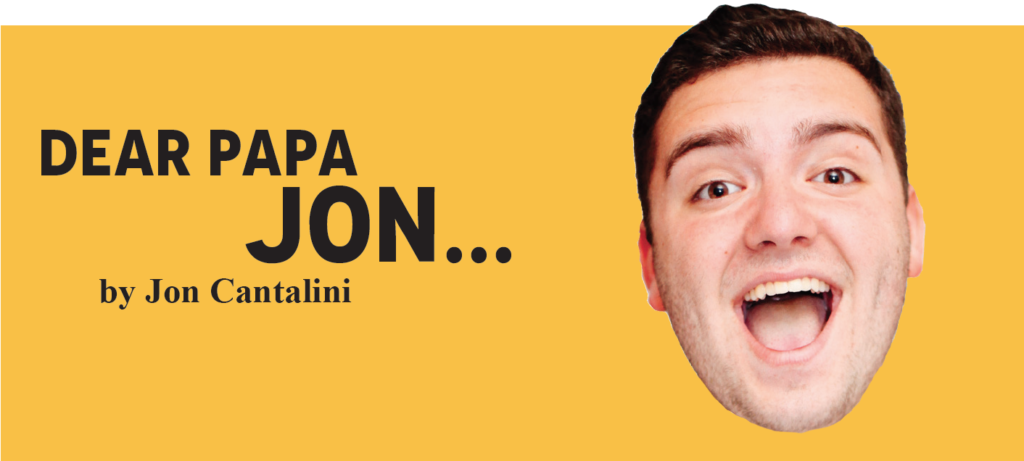 Q:
Hey Pops,
What temperature should I cook my pizza at?
Letmeknow
A:
Hello there my little slice of cheese,
It depends on what kind of pizza you are buying! If you bought the kind that is not cooked yet, then I suggest you turn the oven on to 425 degrees Fahrenheit. No matter what though, I suggest you turn up that oven to HOT, just like papa.
Talk soon, Papa Jon
Q:
Hey Daddy,
I don't know how to initiate anything with the person I like. Do you have any gender inclusive pickup lines?
A:
Hello my child,
I do infact have a couple good pick-up lines for those of all genders. One of my favorites is "You look sweet, wanna be my glucose guardian?" Another one of my favorites is as follows: "I'm a Love Pirate, and I'm here for your booty! ARRRGGGHHH!" Finally, the best for last: "If you were a McDonald's burger… You'd be a McGorgeous…" I hope that these help a little!
Papa's got you covered,
Papa Jon
Q:
Hi Papa Jon
I want to have a Halloween party, but I am worried about it getting out of control. How do I plan a fun night without letting it get out of control?
Please Help,
Anonymous Witch
A:
Hello my Witchy Friend,
Seems like you are in a little bit of a brew… I would say that you could throw a small get together with your closest friends so that you can trust that those people will keep it on the down low and still have fun. I think the best kind of parties are the ones where you can kick back with a cold glass of pumpkin juice and relax. I don't know a better way to accomplish that than to sit around with your friends and watch a spooky movie. I hope that answers your question!
Have a spooky and safe Halloween Weekend,
Papa Jon
To submit your own questions, go to http://ask.fm/DearPapaJon. I can't wait to hear from you all!!
Love, Papa Jon