Tacos El Asadero: Superb Simplicity
Mexican food has made a name for itself in recent decades, possessing a tremendous presence in the Southwest and in other parts of the country.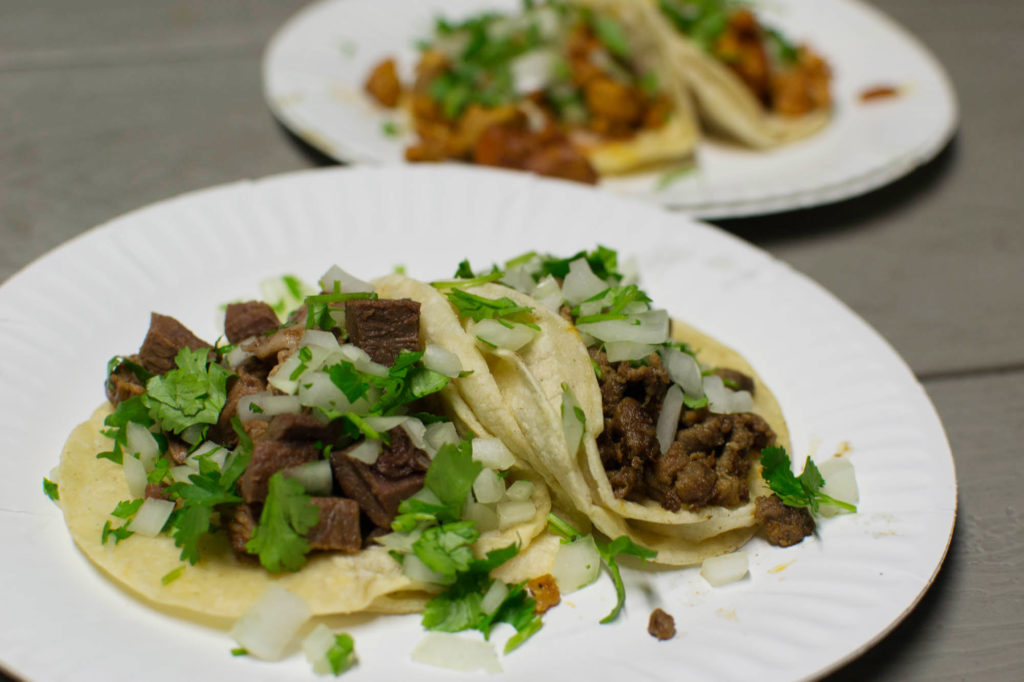 Asada, Cabeca Beef Tongue, and Chicken tacos at Taqueria El Asadero.
It is a practical cuisine, affordable, and, in many cases uses, simple ingredients to great effect. All elements that clash with the general ethos of Seattle's local fare. In a city full of menus trumpeting creative vegan dishes and classics reinvented with obscure ingredients, Mexican food faces a difficult dilemma.
Seattle's constant pursuit of new and unique cuisine has created a paradox where going with the grain of tried and true tradition ironically goes against the grain of the city's general culture. In the case of our local Mexican food, this has unfortunately led to offerings like "Guacamole of the Week with Almond and Apricot" and "Marinara Enchiladas" which certainly fit the bill for Seattle food but come woefully short in representing Mexican food.
It was with this precedent in mind that I visited Tacos El Asadero in Columbia City, a breath of fresh air next to other Seattle restaurants with flavors reminiscent of my home in California and home- away-from-home in Cuernavaca, Mexico. It was a thirty-minute bus ride from campus to reach the understated, empty parking lot that housed the restaurant, a far cry from the highly active streets of Capitol Hill.
El Asadero was unassuming and unlikely to be noticed by drivers passing by, but that isn't to say is was lacking in charm. Operating out of a repurposed white bus, it was a genuine example of the Mexican "lonchera". Similar yet markedly different from the food trucks that have become the staple of American urban centers, El Asadero is not one of those highly commercial trucks with a catchy name and links to social media accounts strewn across its hull, such as the kind you see gather at events and sponsored street food festivals. On the contrary, it represents a facet of Mexican culture that greatly predates this fad in the states, its vaulted windows and practical design mirroring what you would commonly see just outside of schools and all manner of workplaces.
Making my selection from the laminated images stuck to the side of the bus, I decided to test El Asadero on its most fundamental but most important offering: its tacos. I tried to cover the breadth of the choices offered, ordering al pastor (pork marinated in red sauce), birria (stewed beef) and of course, carne asada tacos.
Like its menu and the restaurant's overall aesthetic, the tacos were minimalistic but effective, topped only with onion and cilantro, which allowed the meats to take center stage. The simplicity of these tacos was in large part their greatest strength; they were not mired by unnecessary additions often pushed by other restaurants, things like cheese, shredded cabbage or roasted vegetables. El Asadero's approach of "less is more" set it apart as a traditional Mexican food restaurant and not some type of fusion or attempt to reinvent the wheel, which in this case is a point in its favor.
In addition to tacos, El Asadero offered a large selection of burritos, as well as other typical foods like tortas, sopes, tostadas and ceviche. Though more specialized Mexican staples like posole were missing from the menu, the selection was still plenty varied and covered all the bases of what can commonly be expected from this type of venue. Another selling point for Tacos El Asadero is the price of food. Tacos were $1.75 each for a pretty generous serving, while its monstrous burritos provide an even better offer.
El Asadero more than met expectations in terms of presentation, flavor and price, but is offset by the significant journey it represents for most students living on campus. As a result, while I certainly recommend it as a place most students should set aside time to go try, I do not see it as a place that most students can or will visit regularly. Though thirty minutes away, it is a trip that is well worth making not only to experience traditional Mexican food, but also to experience one of the typical settings in which that food is eaten. Tacos El Asadero is located on 3517 Rainier Avenue in Columbia City.
Carlos may be reached at
[email protected]
Leave a Comment