Campus Carry: A Loaded Discussion
With the presence of news stories such as the Cascade Mall shooting in Burlington, WA, as well as police killings of Terence Crutcher in Tulsa and Keith Lamont Scott in Charlotte, we are a nation constantly mourning gun violence within our communities. Now, universities across the country are examining their policies regarding guns on campus, and whether or not to arm their public safety officers in a quest to keep students safe. Do students and officers armed with lethal force increase the likelihood of violence, or is it true that the only way tostopabadguywithagun,isagood guy with a gun? It's a conversation worth having as we struggle to balance our rights with personal safety, as well as those of our cohort and peers.
---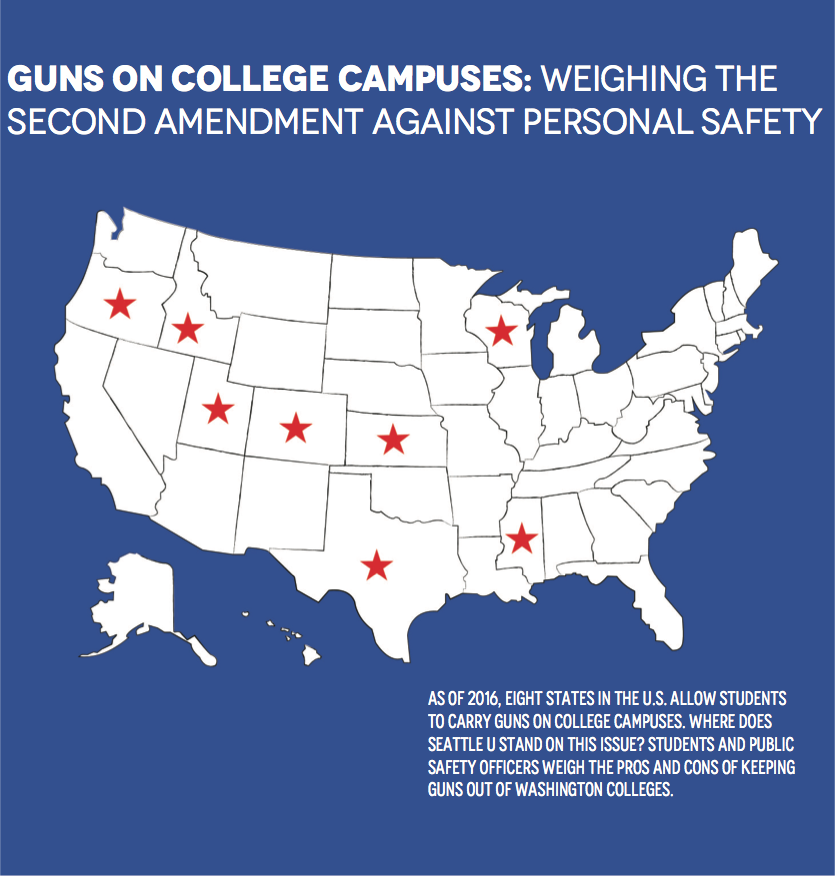 ---
Seattle is a big city with big city problems, and Seattle University's central location means safety is a very real concern for both students and staff. It's an effort that is taken very seriously, and one headed by our own uniformed public safety officers.
"We're actually very lucky in the sense that being a private security we can be proactive," said Craig Birklid, Executive Director of Public Safety.
---
An FBI report detailing 160 active shooting incidents from 2000-2013 found that only one incident was stopped by a concealed carry permit holder. By comparison, 21 active shooters were stopped by unarmed citizens.
---
With over 30 years of experience, Birklid is responsible for the training and effectiveness of Seattle U's Public Safety officers.
"We spread our resources out across campus so we have visibility and so our officers have the opportunity to engage things," he said. "Our response times tend to be less with that model, so it's much more likely that we're going to see something before it happens."
24 hours a day, seven days a week, these 24 officers and multiple other staff patrol and enforce the boundary which allows our metropolitan campus to operate as an academic oasis.
"You come in and there are just weeks and weeks of online training modules," said Joshua Halbert, a Public Safety officer and Student Programs Supervisor.
With three years experience, he spent time at the Washington State Patrol before returning to Seattle U to earn his Master's in Computer Science.
"There's a lengthy field training period where you are with a shift supervisor, or another veteran officer to be shown around," Halbert said. "They need to know the campus like the back of their hand."
The training is important, and well worth the time. Some shifts can last 12 hours, and in 2015 they completed 38,000 facility checks—a reflection of the proactive work and presence Public Safety officers are engaged in on a daily basis.
"We can't prepare them for everything, so we teach them what we know," Halbert said. "We teach them critical thinking so when they eventually see something they've never seen before they know how to deal with it."
---
"I support everyone having a right to bear arms. But when it comes to having guns on campus I say absolutely not."
– Amy Martin
---
When it comes to the effectiveness of these officers, their mere presence acts as a deterrent against most potential threats. In addition the officers carry radios, collapsible batons, OC spray, handcuffs and basic medical supplies—all in an effort to maximize their service to the community. What they do not carry are guns.
Gun carry of any kind can be a difficult subject, and that's especially true at colleges where exposure to higher education can make definitive beliefs hard to compose. Yet there are colleges in Texas and Idaho which allow students to carry concealed weapons, and in Mississippi or Utah, students can openly carry in many places on campus. Next year Kansas will pass a law banning colleges from banning guns.
With so many schools allowing students to carry as a matter of right, many students at Seattle U are grappling with the ethical and legal ramifications of adding weapons to tense classroom atmospheres where personal identities and ideals can be challenged on a daily basis.
---
"If you've been a victim of any kind of violent crime and you're sitting in a room full of guns, that's oppressive to a person in a learning environment."
– Jacqueline Helfgott
---
"Gun violence is a very touchy topic to me," said senior Yesenia Varela. "It's a topic that I'm still thinking about, trying to rationalize what the second amendment is, what it implies and how it affects the rest of us."
Varela, like many Seattle U students, is actively involved in reflecting on gun rights and the inevitable and associated consequences.
"I support everyone having a right to bear arms," said Amy Martin, a senior from Bellevue. "But when it comes to having guns on campus I say absolutely not."
Whether it is the Seattle Police Department responding to an incident on campus, or a uniformed off-duty student, guns are only allowed under explicit permission from the Director of Public Safety. This means holding a license or permit of any kind is not sufficient on its own to bring a weapon onto Seattle U property.
The policy reads:
"All members of the Seattle University community, including faculty, staff, students and visitors are prohibited from possessing, discharging, or otherwise using firearms, explosives or weapons ("weapons") on University premises without the expressed authorization of the Director of Campus Public Safety, whether or not the person has been issued a federal or state license to possess such weapons."
When taking into account the risks and regulations that circulate around guns, the policy argues that the best way to combat the very trouble they incur is to remove them from the situation entirely.
"The composition of an environment can either design in, or out different types of crime," said Jacqueline Helfgott, Chair of Criminal Justice Department at Seattle U. "I think having more guns in any environment very simply increases the likelihood of lethal violence."
As a professor in Criminal Justice, Dr. Helfgott teaches individuals who carry weapons as sworn uniformed officers, and is aware of the conflicts and concerns that revolve around guns and their use. While she is not uncomfortable around weapons, she understands the anxiety experienced by students.
"A lot of people are just not comfortable with guns," she said. "If you've been a victim of any kind of violent crime and you're sitting in a room full of guns, that's oppressive to a person in a learning environment."
---
In Utah, campus rape increased nearly 50 percent between 2012 and 2013. (By contrast, sexual assaults nationwide have been decreasing each year by approximately 3 percent.)
---
Even in a university classroom, not all students are cognizant of the issues or threats that may apply to their peers. For some students, standing out can make you feel more at risk to gun violence.
"Being a woman of color on a campus where the majority of students are white can be exhausting, but walking down the hallways knowing students around me may have a gun on them, legally, is mind-blowing," Varela said. "It is unnecessary. When speaking about open-carry or concealed- carry on campus we must speak about the reality of racism in relation to gun violence."
For some students, it's not really a matter of personal rights, but of public safety. Many believe the best way to avoid being a victim of gun violence is to stay away from guns as much as possible.
"I'm scared to think of the day someone decides to be a hero and draw a gun on someone on campus, and ends up killing a student or faculty member instead of the perpetrator," said Jarrod Gallagher, a Navy Veteran and student at Seattle U. With military training, he's not unfamiliar with lethal weapons. However, he recognizes the limitations of preparing for an aggressive interaction.
"The reality as I see it is nobody is trained well enough to respond to an active shooter situation, so we should just follow the shelter in place or whatever the procedure is and let the professionals do their job," Gallagher said.
Beyond personal safety, there are additional concerns about the freedom of expression and lively debate that can often occur in educational settings. A weapon would never need to be used or pointed to have a potential impact on the academic process.
"With open-carry you create a different physical space, and we have to ask ourselves do we want that kind of physical space in an academic institution were learning and openness is to occur," Helfgott said. "We have enough trouble around really tough issues in the classroom without guns."
"We're students. We attend Seattle University, a place we know we can engage in meaningful conversations with our peers and professors. However, when you allow students open-carry or concealed carry, you no longer have that environment. Instead, fear would be the drive for many of us to graduate and to never look back," Varela said.
---
Since carry legislation passed in Colorado, the rate of forcible rape increased by 25 percent in 2012 and 36 percent in 2013.
---
"Imagining a scenario where everyone has a gun on campus, all it takes is one going off and everyone could start firing randomly," Martin said. "Now, at least once it will cross my mind like, what would I do if someone just started spraying bullets right now? I've noticed I haven't always had those kinds of thoughts until some recent events."
It's not just students and faculty which hold this opinion. Birklid also believes that adding lethal weapons to the mix of any situation compounds the danger to an intolerable level. He's not interested in his officers carrying weapons, or any increased presence of firearms on campus.
"I think, for one, it just takes an incredible amount of training," he said. "If we went down that path, the university would have to make an incredible amount training commitment to make sure those weapons are in the hands of someone who knows how to use them—even at that, there are tremendous risks."
While other colleges experiment with allowing students to protect themselves with deadly force, and arm their officers to take lethal action, Seattle U will work to preserve law and order without threatening life.
If limiting dangerous incidents is the goal, it would appear they are embarking down the right path. Overall crime reports on campus were down in 2015 to only 1129 criminal incidents versus 1230 in 2014, while investigating 673 suspicious person reports.
Birklid believes these reports, not guns, are giving officers an opportunity to engage and prevent criminal incidents.
"I think often times you turn what could be a recoverable situation into one where someone loses a life," Birklid said. "It's an escalation that is hard to come back from. When you put a gun in somebody's face, that's a very strong indicator of what you think about that person. I don't think a gun is going to help in that de-escalation effort."
Les can be reached at
[email protected]
Leave a Comment