Seattle U Hosts Gubernatorial Debate
Republican Bill Bryant and incumbent democrat Jay Inslee squared off in a heated gubernatorial debate held in Pigott Auditorium on Monday. With general elections closing in, this was an opportunity for both candidates to make their positions clear and pin down any undecided voters. But that's not really how it went. Instead the debate became a sparring match.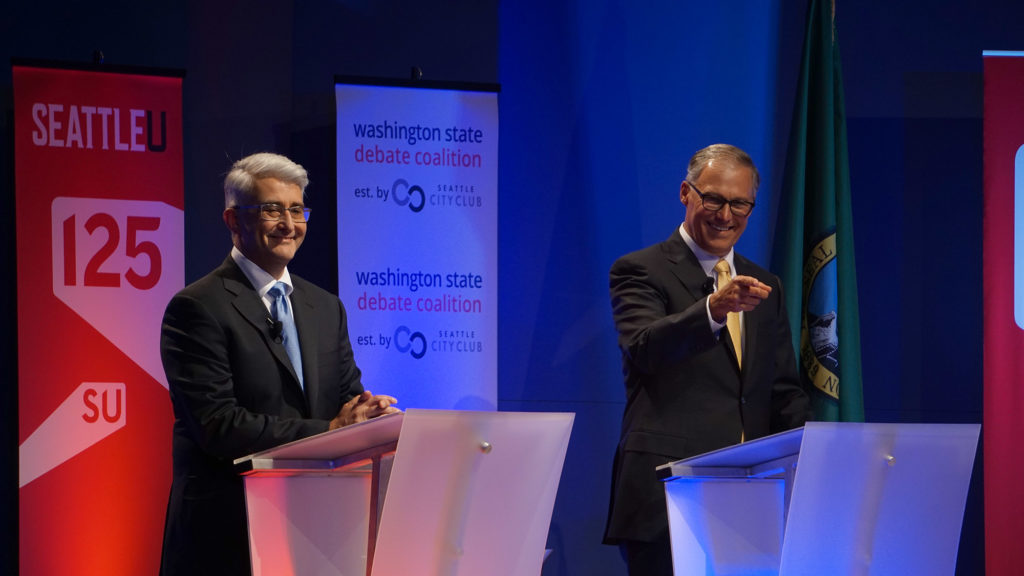 Bill Bryant and Jay Inslee squared off monday night in Pigott Auditorium in the second gubernatorial debate.
---
Bryant tore at Inslee over his alleged mismanagement of state funds and departments and his inability to create a plan to fund K-12 education as mandated by the state Supreme Court.
"He has no plan. He is a failed governor," Bryant said repeatedly throughout the debate. "You don't build a community on incompetence and broken promises."
Bryant took jabs at Inslee for failing to make a plan to solve the long-running McCleary problem by 2018. Despite his criticism, Bryant has yet to present a plan as well, but said during the debate that he wanted to see the state spend 50 to 51 percent of the state budget on public schools. Inslee brought up the $5 billion in additional spending put into schools.
"Our foster care system is a mess. Homelessness is skyrocketing," Bryant said during the debate. "And it's because of his mismanagement of our state hospitals and prisons that patients have died, that felons, rapists and murderers have escaped. And sexual offenders and felons have been released early. It's because of his bungling of the department of transportation that we are all stuck in traffic, emitting carbon."
Inslee countered these attacks by highlighting his achievements as governor. He said the state has invested $5.5 billion in education and that "significant strides" have been made to pay teachers and make kindergarten more accessible.
"We are a confident and an optimistic state and I am a confident and an optimistic governor, and there is good reason for that," Inslee said.
"We have made large, significant strides in education. Big investments in early childhood education. I am proud that, as governor, for the very first time, every child is going to have access to full-day kindergarten. I'm glad we have better mentoring and better paid teachers. I'm glad Republicans and Democrats worked together to pass tuition cuts. I'm the only governor in the country who can say we've cut tuition."
The debate was moderated by three reporters from King 5, KOMO and KIRO-TV. After opening statements, they walked the two candidates through a host of issues like education, income tax, traffic and congestion, local law enforcement
and homelessness.
Bryant and Inslee disagreed on Initiative 1433, which would raise the minimum wage from $9.47 an hour to $13.50 by 2020 and guarantee paid sick leave for workers. They also on disagreed on Sound Transit's proposed $54 billion ballot measure for this fall.
Both candidates oppose a state income tax, a stance widely favored by the Democratic Party.
Actually, the two candidates would probably agree on most issues but disagree over how much progress each has made to combat them. Bryant, a republican running against an incumbent democrat in one of the most progressive cities in the country, faced an uphill battle from the start. That might explain why he didn't pull any punches, but also why he agreed with Inslee on most of the issues brought up.
All in all, this debate gave us a forecast for the coming months. Bryant will come prepared and ready to fight, as he did Monday night, with pointed attacks counterweighted by common sense proposals and recollections of moving encounters with impoverished families or mothers with drug-addicted sons. Inslee, who seemed constantly a step behind Bryant, will have to dig up more from his last four years as governor if he wants to defend himself better.
The author may be reached at
[email protected]
Leave a Comment