Passing the Pen to a New Editor In Chief
A strong writer, editor and lover of concerts, sophomore English major Jenna Ramsey will be the 2016-2017 Editor in Chief of the Spectator.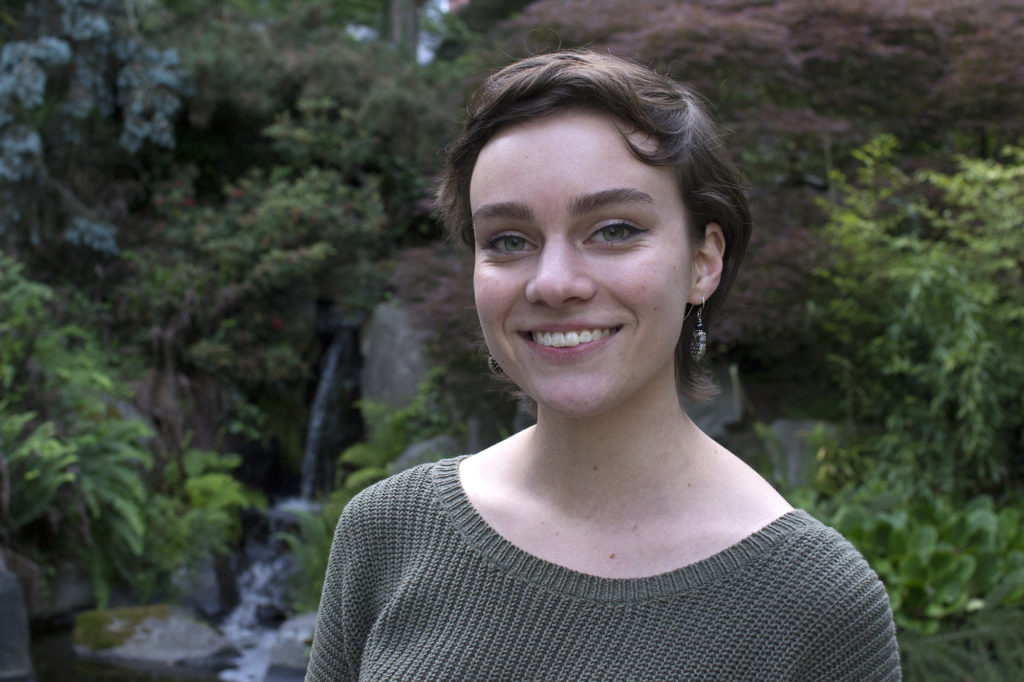 The Spectator's new Editor-in-chief for the 2016-17 school year, Jenna Ramsey.
---
Excited to jump into her new role, Ramsey expressed the nervousness that comes along with this new leadership position.
"I'm nervous about being in the biggest leadership position," Ramsey said. "There are always going to be things that I don't know about the job that will pop up."
Coming to Seattle University from Austin, Texas, Ramsey worked as a volunteer writer the fall quarter of her freshman year before being hired as a staff writer.
"I had written for the newspaper in high school and was interested in continuing with it," Ramsey said. "I really enjoyed it and liked the team."
This year she worked as one of the news editors, working on local, national, and international issues.
Ramsey expressed her satisfaction with the content of the news section this year.
"I am really proud of our coverage this year," Ramsey said. "I think we have done a better job this year of including stories not just about the school, but about things happening outside the SU community that still impact students."
Melissa Lin, senior journalism major and the outgoing Editor in Chief, praised Ramsey's hard working ethic and quality writing.
"She has a clear vision for the paper," Lin said. "Her work on the Spectator has always been high quality journalism. She rarely needs guidance. She can back up her decisions and is confident about them."
During Lin's time as Editor in Chief of the Spectator, she has aimed to increase the representation of communities that traditionally go unheard.
"My biggest goal was to lift up the voices of those marginalized in our community," Lin said.
After finishing several more credits, Lin will be graduating and plans to stay in Seattle. After a year of being Editor in Chief, she is ready to give the helm of the Spectator to Ramsey.
"She has done so well managing the news section this year with other editors, and also with helping writers grow," Lin said.
Next year Ramsey plans to continue to develop the in-depth coverage of campus related events and issues, but also wants to focus on political issues and how those will impact Seattle U.
"I want to see how the presidential election will affect the campus," Ramsey said. "Since it only happens every four years it is definitely something I want [the Spectator] to cover. I am also interested to see how things we have covered this year will continue to play out next year."
Lin spoke not only of Ramsey's strong writing, but also about her ability to multi-task and to handle difficult topics.
"Knowing where I was during that time, preparing to be Editor in Chief and having to do all that hiring and thinking about what I wanted the next year to look like, she…already has that on her plate," Lin said. "And then she is doing comprehensive coverage [of the MRC Student Coalition]—it's extremely impressive."
Outside of all of her hard work at the Spectator, Ramsey is like any other college student. She likes to watch Breaking Bad and loves the band Radiohead. She has also crowd surfed at a Red Hot Chili Peppers concert.
"I generally love going to concerts, it's probably my favorite thing to do," Ramsey said.
If she could see any artist live in concert she would want to see Bruce Springsteen.
Preparing to step down as Editor in Chief, Lin is confident in Ramsey's vision for the Spectator next year.
"I am so excited to see where the paper is going to go," Lin said.
As all but two members of the editorial board will be leaving the Spectator this spring quarter, Ramsey is excited to see what ideas new editors and writers will bring to the paper next year.
"With new writers coming in there is always room for growth," Ramsey said. "Different people bring different strengths."
A new quarter brings a new Editor in Chief to the Spectator. Building on the drive of those who came before, and bringing her own passion, Ramsey is committed to covering the stories and people of our evolving campus in order to lift up the voices of its various communities.
Callie may be reached at
[email protected]
Leave a Comment