Dean Jodi Kelly Testifies at Academic Assembly
UPDATE: Interim Provost Bob Dullea placed Dean Kelly on Administrative leave on Wednesday, June 1. In an email statement to the members of the Matteo Ricci College he said, "I believe, based on information that has come forward over the past several weeks, that successful operations of the College at this time require that she step away from day-to-day management and oversight." Formal grievances related to "her leadership and management of the Matteo Ricci College" will be investigated during her leave, according to the email. Father John Foster, S.J was also placed on administrative leave following the discovery of his recording device in the MRC office. On the same day, Academic Assembly (AcA) sent a public statement in support of major changes within the College. "It is unclear whether the current leadership of MRC is in a position to put in place the processes and structures that are currently lacking," AcA said.
Matteo Ricci College (MRC) Dean Jodi Kelly gave a statement and listened to testimonies from faculty and staff at an emergency Academic Assembly (AcA) meeting on Wednesday, May 25. The meeting aimed to address the "cultural" and "curricular" concerns members of the college have raised in recent weeks since the MRC Student Coalition began their sit-in at the Casey Building on May 11.
---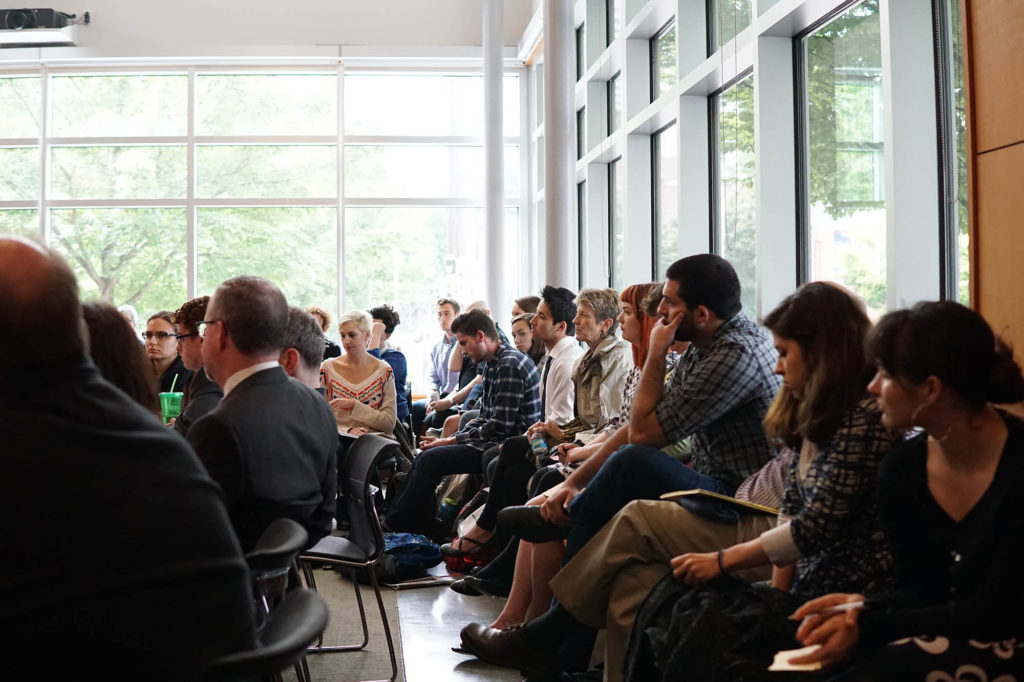 The emergency academic assembly featured the MRC Coalition and Dean Jodi Kelly.
---
At the meeting, Kelly agreed that MRC has room for improvement.
"Given what the coalition has brought forward, it says we're failing some students," Kelly said at AcA. "How are we going to create an environment that's more welcoming for the students?"
Kelly was not present at the AcA meeting two days prior during which MRC students and faculty gave testimonies about their dissatisfaction and discomfort within the college. The emergency meeting on Wednesday gave Kelly the opportunity to respond to the allegations in their testimonies.
History professor Michael Ng, a member of the AcA, expressed his disappointment with Kelly's remarks, saying she did not seem to have prepared a clear plan for moving forward. Ng said Kelly came across as genuinely curious when she asked, "Why are we here?" at the beginning of the meeting, seeming to him as if she was not aware of the major conflicts arising in MRC.
"I am very baffled how the Dean could come into a meeting completely and totally unprepared," Ng said. "I mean great, you have emails about how good you are as a human being, that's fantastic. But you've had at least two days to think about what you might say, and to sort of show up completely unprepared is still mind-boggling to me, almost a week later."
Ng and other faculty members present on Wednesday noted that Kelly's statements signaled that the college may lack some basic practices and procedures necessary to creating a successful curriculum and climate. While Kelly attributed the lack of such procedures to MRC's "experimental" teaching methods, Ng, and others believe this should not excuse disorganization.
"There is a great thing to experimental nature," Ng said. "But you can be experimental and still have processes and structures. If you couldn't do that, then most scientists on this planet, funny enough, wouldn't be able to do their work."
The MRC Student Coalition continue to demand the resignation of Dean Kelly. Some MRC students who are not part of the coalition came forward at the AcA meeting on Wednesday to give statements about their experiences in the college.
---
---
Senior humanities for leadership and nursing double major Madeline Scheer said in a statement at the meeting that while she agrees that the college should go through a curricular change, she does not support the demand for Kelly's resignation. Scheer expressed in her statement that seeing MRC become so divided in recent weeks has been emotionally difficult
for her.
"I have felt welcomed, accepted, and appreciated by Dean Kelly and all the staff and professors of MRC, and I truly hope a compromise can be made that benefits every single person, whether you're for the coalition or against," Scheer said in her statement.
Sophomore humanities for leadership major Kelton Murphy agreed with Scheer that Kelly should not resign. She said in a statement at AcA that, in her experience, Dean Kelly has been a supportive figure and central to the college. Murphy said that, when she first walked into the Casey Building on May 11, she was disappointed to see how many members of the sit-in were not MRC students. Murphy expressed concern that pushing too far in changing the college's climate would limit the academic rigor and constant self-critiquing that characterizes MRC.
"I don't want to invalidate anyone's experiences because I do know there have been terrible experiences by students. However, I am also getting a sense that some of the students feel that to be challenged is a bad thing," Murphy said in her statement.
When asked by a professor at the AcA meeting whether the issues raised by the coalition, MRC faculty members and others are all a result of a misperception or represent a minority opinion, Kelly responded by reiterating her stance on the administration's response to the demands.
"Are you asking if we're perfect? Of course we're not perfect," Kelly said. "With the two initiatives that we have suggested, I believe that we will come up with processes that will be used in the college until another set of initiatives comes up."
Kelly presented these two initiatives in an email to members of MRC on May 12. First, the college will create a committee comprised of MRC faculty, students and alumni to provide a comprehensive review of current curriculum to be provided to incoming interim Provost Robert Dullea by Dec. 2016. Second, the college will hire an outside consultant to conduct an assessment of MRC's climate inside and outside the classroom. Dullea explained in an email  statement to the Spectator that it's his role to implement these changes as soon as possible and to help provide accountability throughout the process.
Current Provost Isiaah Crawford responded to the Spectator by email, declining to comment as he felt that Dullea was more appropriate to speak to, given Crawford's stepping down from the position this Friday, June 3.
Both of these initiatives were suggested in detail among the demands in the MRC Student Coalition's petition released on May 11. The coalition holds that they will not end their sit-in until their demand for Kelly's resignation is met.
Ng said he and his AcA colleagues are still formulating a response to the events at Wednesday's meeting. They will present their suggestions to Dullea, who will become interim Provost on Friday, June 3, when current Provost Isiaah Crawford steps down from the position. The final AcA meeting of the year will be held on Monday, June 6.
"[Kelly] still deserves the same sense of due process that you and I would need to have if someone accused us of a situation on campus," Ng said. "But I can imagine a lot of students no longer trusting that process, too. It sounds like complaints have been made and concerns voiced, and that administration seems to have
done nothing."
In meetings with members of the MRC Student Coalition, MRC students not part of the coalition and Kelly herself, Dullea stated that he is trying to develop a better understanding of
recent developments.
"I will determine the appropriate next steps based upon what I learn in those meetings," Dullea said in his statement.
On Friday, May 27, MRC student Coalition members met with the Office of the Provost to negotiate the terms of their demands. According to members of the coalition, the Administration is unwilling to remove Kelly from her position as Dean. The Administration brought forward a compromise by offering to create a position of oversight to hold Kelly accountable for any future grievances. The coalition did not accept this compromise.
Over the past week, several events have disrupted the protest space, and have caused the MRC Student Coalition to question their trust of the University Administration in keeping them safe.
The coalition sent an email via the Multicultural Representative account to the Seattle U community on Friday, May 27, reporting that a recording device was found wedged under a printer in the MRC office on Tuesday, May 24. Father John F. Foster, S.J., admitted to owning the device, and said in an email to to faculty member Audrey Hudgins that the recordings were used "to keep a clearer memory of the events I attend." Hudgins reported that the device held four separate instances of recording and was still running when found.
Further coverage of this can be found in an article released Saturday, May 28 on the Spectator website.
On Friday, May 27 in the morning, Public Safety was called to the Casey Building to address two white males who were knocking on windows of the MRC office and speaking with the students inside. According to senior humanities for leadership major and coalition member Lindsey Rumberger, the students used racial slurs and hate speech. When a Public Safety officer arrived, Rumberger described the interaction as "friendly," and said that the perpetrators were simply asked to leave with
no consequences.
"[Public Safety] are not protecting the students that are most vulnerable. They're protecting the students that are least vulnerable, i.e. white males," Rumberger said.
Public Safety sent a timely warning notification to the Seattle U community at 5 p.m. that day. This was one of several instances in which the coalition members felt their safety was overlooked, and raised questions for Rumberger about the ability of the university to protect spaces centered on bodies of color.
As graduation draws near, students in and outside of the MRC Student Coalition wonder whether any solutions will be made come  next fall, and how the events of the past few weeks will impact MRC's future.
Junior humanities for leadership major Scott Mills said that although he does worry about the marketability of his degree in the professional world now that the sit-in has received so much attention, he sees this movement as a learning experience for all MRC students, whether they support the coalition or not.
"It depends on how you speak about it in a professional setting," Mills said. "If that were to come up in a [job] interview…I think it would be a sticky situation to try to talk through it, but it shows adaptability in dealing with such a politically charged situation and being able to make it through."
Members of the coalition who are graduating this year say that the education they have been given is not enough.
"I'm neither prepared to be a teacher for a just and humane world or a leader for a just and humane world," Rumberger said.
Rumberger said that the sit-in speaks to the students who came before her who weren't heard as well as the students following her who could potentially be silenced. To Rumberger, the continuation of this movement is the key to unlocking the potential that MRC—as well as the rest of the university—holds to prepare leaders for our world.
"When I committed to being a member of the coalition, and to being a member of this movement I knew it wasn't just gonna end on June 12," Rumberger said. "I've really signed on to something that I'm going to have to speak to for the rest of my life."
As of Tuesday night the MRC Student Coalition sit-in is ongoing. Members of the coalition have reiterated that they will stay until their demands are met—through the summer if need be. Dullea said that it is in the best interest of everyone to find a solution as quick
as possible.
"It is very much my hope that we reach a mutually agreeable resolution (and that the coalition students voluntarily choose to end the sit-in) well before that time," Dullea said in his statement.
The editor may be reached at [email protected]
View Comments (1)