An Exhibit so Powerful it Brings "Tears" to Eyes
Bachelor of Fine Arts in photography students have concluded their time at Seattle U with an intimate exhibit that showcases each student-artist's individuality, ambition and talent.
"It is their last big obligation at SU for their degree, they work the whole year, and most of them started even earlier than that," said Claire Garoutte, the exhibit's curator and the head of the photography department at Seattle U. "This is the first step towards their career, professional experience, completing a professional portfolio, putting it on the wall, and having
an exhibition."
---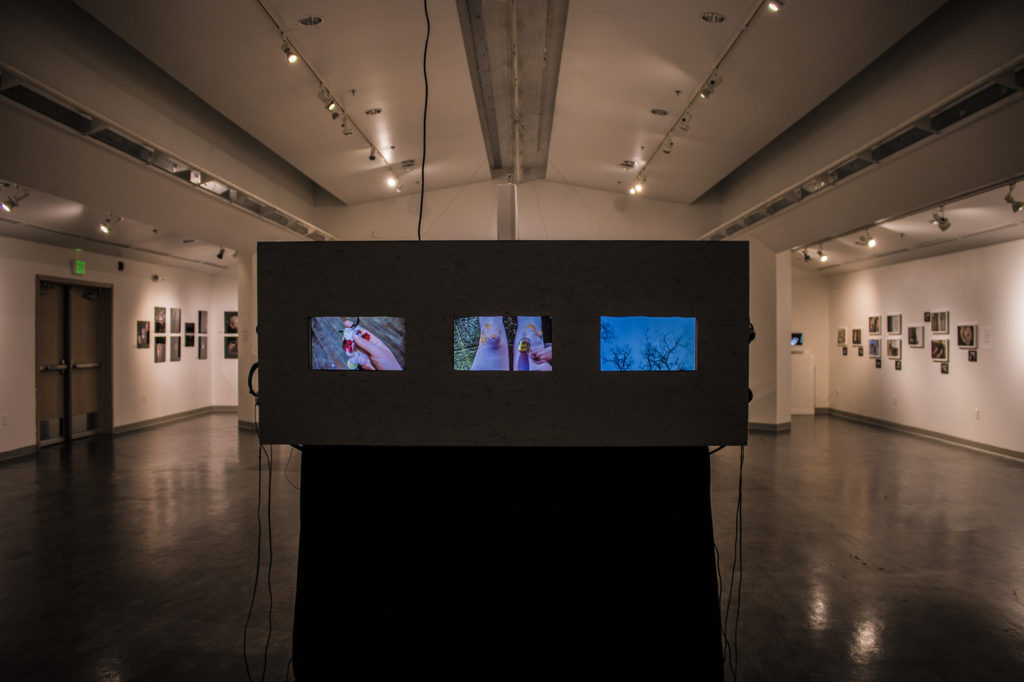 The 2016 BFA Photography show is open now until the end of the school year.
---
Students have complete creative control about the conceptual message each student would like to express through their work.
It is an absolutely stunning exhibition. It is simplistic and set up elegantly. The empty space separating each body of work allows the viewer to experience each piece with no distractions.
The subjects captured range widely from piece to piece. The student's chosen subjects are intimate and touch on things like memory loss, body insecurities, beauty in the abstract, death, mental illness and the polarity of parent-child relationships.
Shelby Young is a senior photography student whose body of work is a beautiful compilation that gives audiences a raw way to understand different women with infinitely different body types and universal human insecurities. She wanted to start a conversation about the ways people communicate and are affected by their friends, families' and peers' words in relation to the human body.
Young has battled with body issues, and felt judged by her family. A lot of this judgment is unintentional, but that is precisely why she feels it is so important to start the conversation in the first place.
"First, I wanted to do a self-portrait, because all my life I've had a lot of insecurities and fears and I wanted to confront those things. Then I decided that I wanted to make a connection with others, get insight from other people outside of myself," Young said. "I asked a lot about the things that influence the way people feel about their bodies, and I know media plays a huge role but I think it goes a lot deeper than that. Many of these body feelings come from the people that are closest to you and that are supposed to love you no matter."
Young shoots her subjects in nature, and she spoke of the connection between the way we view our bodies versus the way we view nature.
"We tend to think of nature as beautiful because it has so much diversity, but why is that not the same relationship we have with our bodies? Instead of trying to make our bodies the subject of what others and the media tells us is beautiful, we should love the differences that we [have]," Young said.
She shot primarily at parks in Seattle; Discovery Park and Seward Park make frequent appearances in her work.
Even though the fall and winter months are especially chilly, Young feels that they provide ideal conditions for photography, given that there are less people walking around and the overcast weather helps create perfect exposures. Her attention to detail definitely shows in her work—each image is breathtaking.
Another artist, Jay Gould, also attracted viewer attention. His images have a film-like feel that made his body of work appealing to Naomi Kasumi, a digital design professor at Seattle U.
"Since digital, black and white photography seems more tangible. It holds onto classical components of photography that are lost so much today," Kasumi said of Gould's work. "I have an appreciation for the 'once upon a time' era of photography. I think I am most drawn to the authenticity of black and white photos and to the teeny tiny details that allow ordinary objects to become so different."
Overall, this is a stunning exhibition. It was a body of work so impactful that it brought tears to my eyes.
The exhibit, which is on display in the Vachon Gallery in the Fine Arts Building, will be open until June 14.
The editor may be reached at [email protected]
Leave a Comment