"Women on the Brink" exhibit explores borders and boundaries
It is not often that an entire art show centers on women pushing the boundaries of art and media. The opening night of "Women on the Brink" at the Vermillion Art Gallery and Bar succeeded in exploring the edges of tradition, culture and womanhood.
The night coincided with the Capitol Hill Art Walk, which occurs on the second Thursday of every month. Dozens of people filled the small gallery space with drinks in hand, ready to enjoy artwork that female artists exploring the show's theme—edges, borders and boundaries—created.
The gallery is complete with artwork that encompasses many traditions and is rooted in an array of cultures. To the left wall, there are wax paintings that emulate tiles from the Taj Mahal. Along the right wall, there are elk skin drums, glass sugar skulls and a film exploring home and belonging. The women that created these pieces are connected to the cultures represented in their work by their minds, hearts and blood.
Keshet Cohen has been making ceramic and glass sugar skulls inspired by the Day of the Dead celebration for seven years as a way to delve into death at the conceptual level.
"Death is definitely a border and I think exploring death is an edgy thing, a lot of people aren't comfortable with death and I really want people to start to see death as a part of life and a part of my journey," Cohen said.
The beautiful skulls are made with tile, glass and porcelain, and show a range of rich colors and they are displayed on a white fireplace filled with flowers and Mexican pastries. Among the glass skulls sits a vase with white folds of paper inside. A pen and small white papers sit next to the vase, with a message written on the wall allowing the viewer to write the name of a woman they want to celebrate with prayers.
---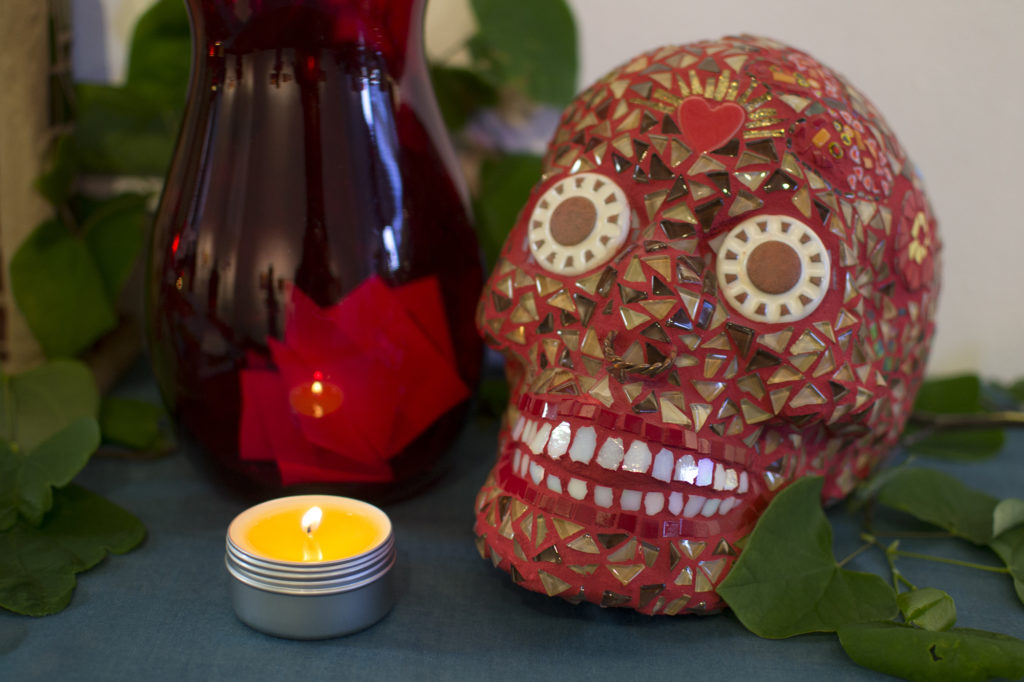 Artist Keshet Cohen's glass sculpture which represents the celebration of the Day of the Dead.
---
Cohen embraced the theme of edges by exploring the boundaries of death and including a tribute to her ancestors amd all women in general in her space.
Above Cohen's art hangs M.J. Morris' elk skin drums. Her artwork is rooted in her culture as a Tlingit Native American from Sitka, Alaska. Traditional formline designs are painted on the drums that make up her space. According to Morris, the designs represent the Tlingit bloodline and embody the symbols of native families. She has made drums for over 30 years. When she joined a dance group that needed a drummer she began designing drums as well.
Morris' art focuses on her ancestry, but it is also something she is developing on a personal level. After the end of a 28-year relationship, Morris is finally pushing her artwork to the front of her life. This is the first time her art is being shown in a gallery.
"It's a brink of me being able to go ahead and take pride of my own art," Morris said.
The exhibit continues with art from Laura James, Eliaichi Kimaro, Melissa Ponder, Asia Tail and Melissa Woodrow. The artwork is mixed media and has no borders or boundaries. Instead, the artists are free to express the theme and their background as they please.
Stephanie Kaplan, a friend of an artist described the artwork as powerful. She was particularly taken by Woodrow's video series, which expressed the end of life and respecting elders, something Kaplan thinks we need to talk more about as a culture. She also found the exhibition's theme memorable.
"To discover that it's about women in this way, it took me by surprise and because I didn't know in advance, I think it was even more striking," Kaplan said.
The exhibition will be running until May 31 at the Vermillion Art Gallery and Bar on Capitol Hill.
Tess may be reached at [email protected]
Leave a Comment