Break Free: Student Protesters in Anacortes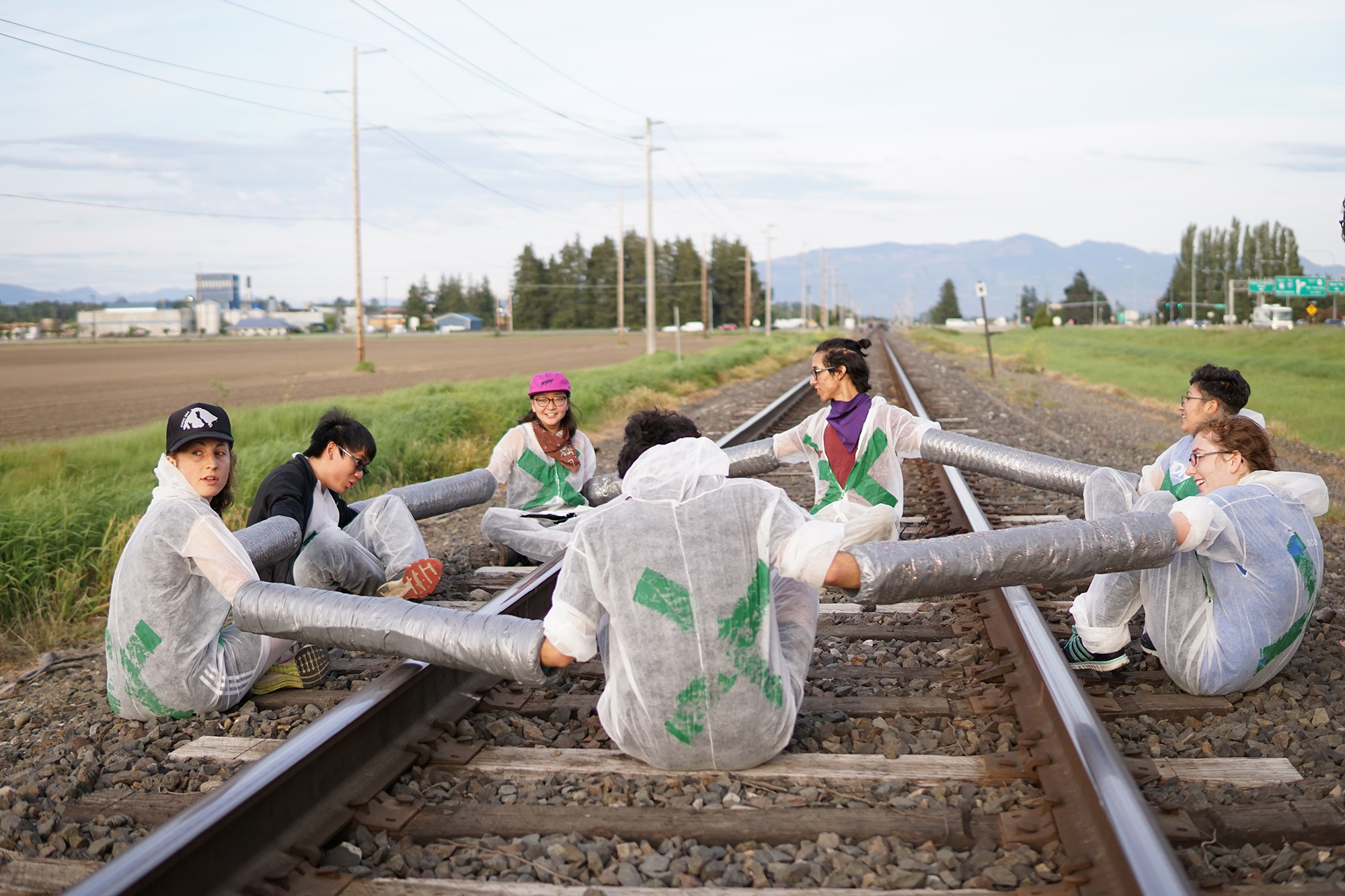 Seattle U students waited with their arms locked together, waiting for state troopers to make the next move.
---
Friday, May 13
We rushed onto the train tracks under the light of the evening sun, the wind blowing our hair sideways as we skipped from one crossbeam to the next. After a few steps I stopped to look up from the ground. Cars roared by on the highway to my right, and to the left—beyond the dusty stretch of farmland before me—I could see oil refineries. I stood and gazed at the thick clouds floating out and away from the smoke stacks. Images of trains came to mind, one hauling containers full of petroleum and making its way to the refinery, where its cargo would be loaded onto trucks and shipped to gas stations and factories across the state. I pictured the habitat loss, the destruction of wildlife and the pollution of the earth; all of it, just so that we could drive to work or enjoy fresh produce from a plastic bag. People want luxury and comfort, but those things come at the expense of others, not just of plant and animal life, but of the entire human race. That's why we're here, I thought. Somebody shouted my name and I snapped out of my daydream. I ran to catch up.
Last Friday, a handful of Seattle University students drove to Anacortes, a town more than 60 miles north of the campus, to take part in a direct action protest organized by an environmental activist group called Break Free PNW. They let me come along as a reporter to document their experiences and my own. It was noon when we reached Finney Farms, the one-hundred-plus acre home of an anarchist collective. The owners gave us permission to use the farm as a staging ground before we deployed further north in Anacortes.
The plan was to spend the weekend on the tracks to block oil trains. In total, just under a hundred people joined the occupation, including our group. Within minutes of deployment, tents were raised and makeshift structures erected to display banners, signs, and other artwork that spoke against the fossil fuel industry. It didn't take long for police to show up, probably because we were in plain sight of the highway. A long line of patrol cars parked along the road. Police officers got out and leaned against them, chuckling and chatting as they watched us. It seemed like they were going to rush in at any moment. But that didn't happen, and the day ended with no trouble to speak of.
Of the 25 Seattle U students who came, 20 camped on the train tracks, myself included. The remaining five stayed behind and drove people and gear back and forth to our base site a few miles away. Within the group staying on the tracks, seven were willing to risk arrest, each of whom wore a white jumpsuit with a green "X" taped onto their chest and back. Once we made it to our designated spot on the tracks, those "arrestable" seven sat in a circle and hooked themselves to each other using rope, carabiners, and a tube layered with duct tape, plastic, and chicken wire—otherwise known as a "tactical lockbox"—which would delay police officers trying to detain them.
"There were a lot of nerves," said freshman Kiran Oommen, one of the arrestable seven. Oommen joined Sustainable Student Action roughly three months ago. He and a few members of that group created a smaller one called the Non-violent Direct Action Team, or NVDA, for the purpose of seeking and out and taking part in events like this one in Anacortes.
"If it happens, it happens. I couldn't care less," Oommen spoke about the consequences of being arrested. "It's such a large show of solidarity. I don't think laws have anything to do with what's right or wrong."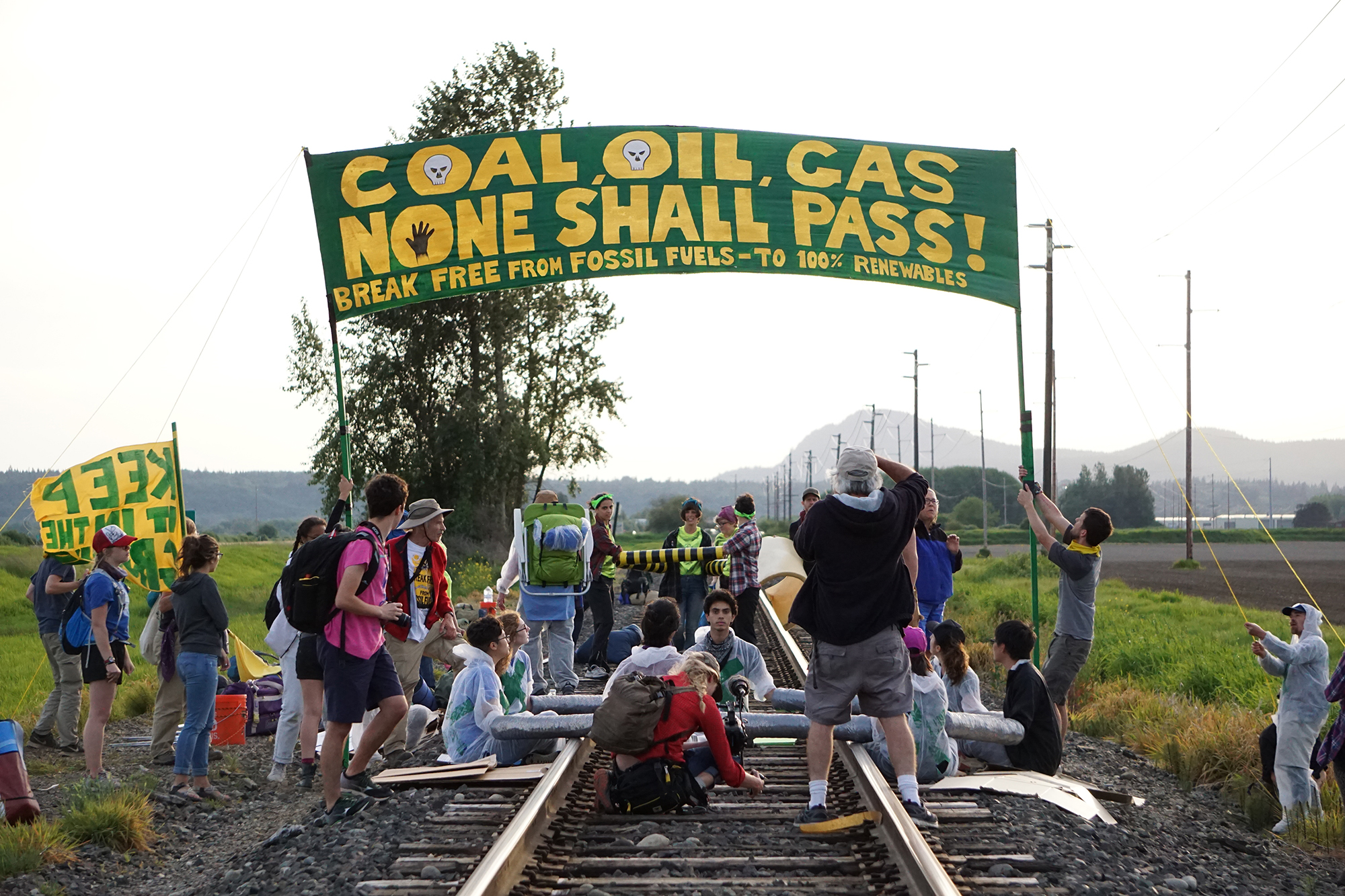 Seattle U students sit and watch as protesters raise a banner across the railroad tracks.
---
Saturday, May 14
The second day was uneventful. We spent most of it eating, sleeping, and getting to know each other. Every few hours, organizers brought us together for a short meeting. During one of them, the occupiers drafted a list of demands, some of which I thought were lofty and idealistic, but still strictly necessary if we wanted a sustainable future. The list called for, among other things, investment in renewable energy, the return of land to indigenous peoples, the creation of an electric public transit system, heavier taxation on imports, bigger subsidies on exports and funding an education that emphasizes awareness of climate change and teaches children to understand and appreciate the natural world.
Throughout the day, people sang and ate food and relaxed, but this lighthearted candor was permeated by resignation. We all knew the police were going to take action, we just didn't know when.
"It's not going to last forever. We will remove [the activists] and continue our business as usual," said Gus Melonas, spokesperson for BNSF, the railroad company that owns the tracks we were staying on. "They're entitled to voice their opinions but we ask that they keep if off our property."
Melonas' words spoke to the greatest fear of environmentalists everywhere. In this case, a ragged group of less than a hundred campers was up against a railroad company, presumably worth millions of dollars and well supported by the federal government. To me it felt like a fight that couldn't be won, but I knew that the people around me had no intention of backing down. With this in mind, I caught up with Maralena Murphy, an organizer with Break Free, to ask her why she was here.
"This is what I do with my life," Murphy said.
She explained to me the importance of timescale. Movements like this probably don't have the capacity to make immediate and significant change, she said, biting her lips and gazing at the refinery, but they can spread awareness of the issue and hopefully nudge the shift of power in favor of the people.
"Short term survival means long term harm," Murphy said. "This is a generational fight and it's not just for humans, it's for all life."
Hannah Stocking, a 23-year-old from Seattle, had chained herself to her brother through a hole carved into the bottom of a modified van parked on the tracks. Her mother came to support them both, and brought along their two dogs Roswell and Edith, who she called "concerned canine citizens."
"We're going to hold this spot for as long as we can," Stocking said. She sounded afraid.
Seattle U students waited with their arms locked together, waiting for state troopers to make the next move.
---
Sunday, May 15
The next morning I woke to the sounds of boots and police radios. By the time I got to my feet, police officers had completely surrounded us. They were clad in protective gear, wielding batons and guns that most likely shot rubber bullets. Some of them wore masks. They ordered us to put our hands up and stay still. None of us dared to move with guns in our faces. I tried to meet eyes with the others through the hoard of officers. We knew there was nothing we could do. It was 5:30 a.m. and the sun was just starting to bleed over the horizon. Our occupation was over.
As planned, seven of us were arrested. They sang together as the officers used an electric saw to slice through the lockboxes. The rest of us packed up and moved across the highway after the first dispersal order. We reconvened at a nearby campsite to figure out what to do next. We received notice that the seven were being taken to Skagit County Jail in Mount Vernon to be processed so we went there and met them upon their release.
"That was surreal," Oommen said on our way back to the van, speaking of the moment he was detained on the train tracks. "I couldn't process it all."
We ate at a pizza restaurant before getting into the vans and heading back to school. Most of us fell asleep on the ride back. For me, it was the end of a long weekend full of new experiences. It was my first close encounter with law enforcement and my first assignment as a reporter in the field. For the students who got arrested, however, things are different. Each of them faces criminal trespass charges and must attend a court hearing on June 2 in Skagit County.
"I'm glad I did it," said Kelly Besmer, a third-year cultural anthropology major who was arrested. "When we need to create change, we can't take the easy route. Any thoughts of backing out, which were few, I couldn't do them. We weren't there to create chaos or make a mess, we were there to make a point and do it beautifully. We got through it together."
When we got back, a few people in the group made plans to check in on the MRC Student Coalition, members of which are staging an occupation to speak out against the college and demand the resignation of its dean and a subsequent reform of the curriculum. I gathered my things and headed back to my room to shower, eat and rest for a bit before starting my homework. A few hours later, I was told over the phone that the MRC Student Coalition didn't want them to come by.
The gears in my head ground to a halt.
The Coalition believed that members of the NVDA team abused their privilege by going to Anacortes with the express intent of getting arrested, knowing that the consequences would be small. Several members of the team felt they had made a fool of themselves.
Immediately, questions came to mind.
Environmental activism is about protecting the earth, fighting fossil fuels, and spreading awareness of climate change. What does it have to do with privilege? Furthermore, if those with privilege shouldn't protest, who's going to protest at all? Isn't the ability to protest a privilege in and of itself? How are the members of the Coalition any different? Are so-called privileged people not allowed to protest anything? What if they want to help people who don't have privilege? How is that a bad thing?
NVDA team members came back from Anacortes thinking—or knowing, rather—that they did something right, and that they fought for a good cause. They tried and successfully stopped, even momentarily, a refinery from getting more oil and therefore making a statement on our consumption of fossil fuels. Maybe their privilege allowed them to risk getting arrested, but they sacrificed it, at least a part of it, to contribute to the movement. They used it in place of those who couldn't. Now those seven students face criminal charges that involve fines and possible jail time. The outcome will remain on their criminal record.
On the other hand, the Coalition is steeped in a fierce standoff with the Matteo Ricci College, which they believe is perpetuating a culture of racism, sexism, and other forms of marginalization and systematic oppression. For the NVDA members to go to a protest and exercise their privilege by getting arrested in the name of protest, then, would seem to contradict that sentiment.
Thankfully, it seems the tension has passed. Coalition members and the NVDA team have had a chance to sit down and discuss the complicated intersection between privilege and civil disobedience.
Sometimes the messenger matters more than the message. With everything happening in our community, both on and off campus, the importance of hearing each and every relevant voice is more evident now than ever before.
Nick may be reached at [email protected]
Leave a Comment