New Coach Suzy Barcomb Begins "The Process"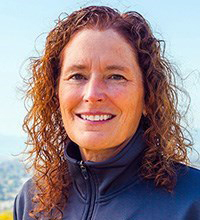 The women's basketball team finished 9-21—nine wins and 21 losses this past season. The team also gave their farewells to Coach Joan Bonvicini, who had coached the team for seven seasons and had amassed over 700 career wins.
On April 18, Suzy Barcomb was hired as the head coach of the women's basketball program at Seattle University, replacing Bonvicini.
Barcomb has an impressive coaching record. She coached the Pioneers at Cal State East Bay, ending her sixth season with a run in the NCAA tournament, the first time the university made an appearance in the tournament. She also coached 12 seasons at the University of Puget Sound, earning the title of the all-time winningest coach in the program's history, 237-87.
Barcomb is well aware of what she brings to the table and doesn't sell herself short.
"I'm a grinder," she said, "I work well and hard hours and that's just how I was brought up."
However, there's more to Coach Barcomb than just an outstanding resume. She understands what she calls "the process" and is convinced that following this process is what the team needs to ultimately compete for the WAC title, which is where she predicts the team will be in
three years.
For Barcomb, "the process" is what it takes to build and fix a team. Coach Barcomb begins a new chapter of her coaching life at Seattle U knowing the team could benefit from some tweaks.
"I have to learn about them, it's not just 'my way or the highway,' I have to figure out what motivates each kid and then go from there. It's a process," she said.
Barcomb began the process about two weeks ago when she sat one-on-one with each player on the team for about 30 to 45 minutes. She wanted to know each player and how they perceive their own strengths and weaknesses. This not only helps Barcomb build from within but also allows each player to feel comfortable in communicating with their new coach. It's the start of a
new relationship.
"It's not just about basketball," she said, "It's being impactful and mentoring these young women so that when they graduate from school they can go out and be impactful and mentor young women themselves."
Barcomb hopes she can help the players grow, so that in the end they can all be impactful to one another. That's how she describes her peers and colleagues.
"You should learn from your peers every single day," she said.
Coach Barcomb is anxious to see what the road towards the WAC will teach her, she's anxious to know what it's like coaching a Division I basketball team, but most importantly, she's anxious to see what her experience at Seattle U will be like. As for the rest of the school, keep your eyes out Barcomb and all her plans to make our team succeed.
The editor may be reached at
[email protected]
Leave a Comment