Most students might not realize that there are three art galleries on campus. The most renowned, the Vachon, occupies the Fine Arts building while the Kinsey is situated in the Admissions building. The third—and most overlooked—is the Hedreen Gallery, which occupies prime real estate on 12th Ave across from the Chieftain. Despite this excellent location, many people simply walk by and ignore its big bay windows. But a new curator is aiming to bring in new patrons as she introduces the campus to Sean Johnson's art in "DISPLACE," her first curated show in the new role.
Cilia Jurdy, a senior international studies major with an art history minor, wasn't aware of the gallery until she applied to work there two years ago and hopes more people will come to see Johnson's art.
---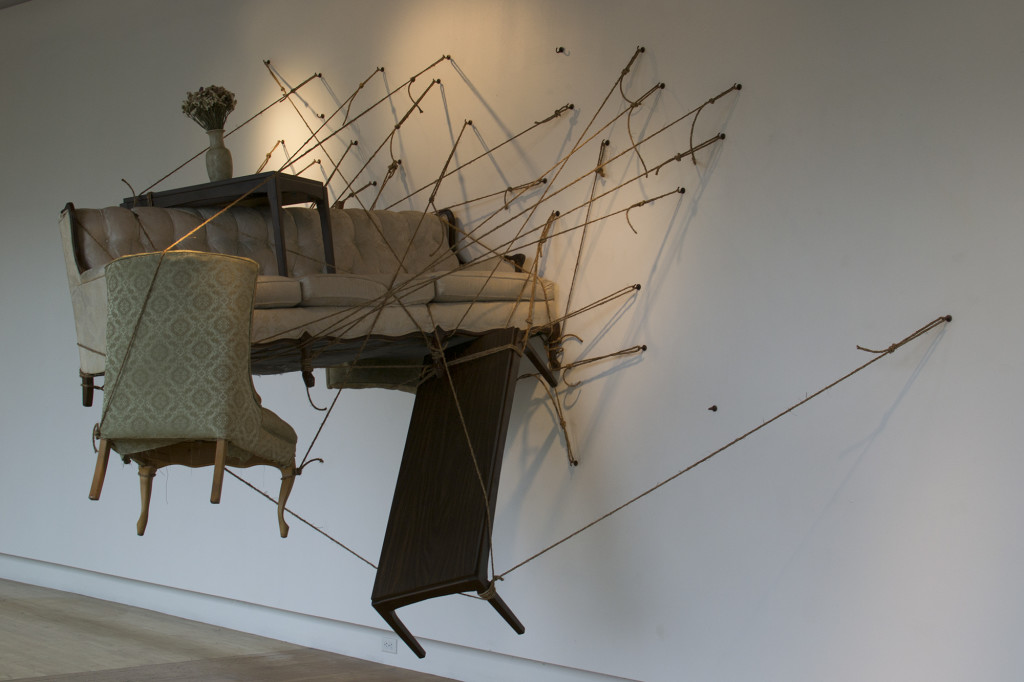 Sean M. Johnson's, "DISPLACE" exhibit in the Hedreen Gallery
---
"I love the tension in his exhibit, the discomfort, the literal displacement that it causes. I'm really in tune with the emotions it evokes within me, and that's what I really like about it," Jurdy said. "I can feel my heart speed up a little bit as I'm looking at it because you're nervous, it gives this real big sense of unease."
As you enter the gallery, the oddness of the main piece catches the eye. A coffee table, couch, upholstered chair and a light stand blend into one entity as the furniture hangs over wood-floored gallery ever-so delicately, held in place only by ropes and hooks harnessed around its edges. Walk around the piece and see it from a different angle to really appreciate the precariousness of the piece.
The new curator, Amanda Donnen, arrived in March and contracted Seattle-native Sean Johnson during her first month to design an eye-popping exhibition.
Donnen wanted something to play around with the inherent strangeness of the gallery for the very first exhibition.
"It's a pretty atypical gallery space and we wanted to heighten that weirdness by doing this sort of psychologically charged kind of installation with furniture," Donnen said. "I think that most students don't know that this gallery is here, so one of my main goals was to do a project that had a lot of visual impact that people might notice. I didn't want to do a bunch of small frame things that you can just pass by without thinking."
---
Sean M. Johnson's, "DISPLACE" exhibit in the Hedreen Gallery
---
Before she had adjusted to her new job, Donnen tracked down Johnson, a University of Washington graduate with a master's degree in fine arts, to create the exhibit. It took less than a month for the gallery to come together.
"He's well known for doing these pieces where he balances or suspends furniture," Donnen said. "You don't know exactly what you're going to get, there's a certain element of risk involved and you just sort of take that on and see what happens; you can't be afraid of failure."
Johnson, who recently moved to New York and is in the process of applying for grants to further his artistry, wants his gallery to convey the same feelings he felt when he left his Seattle home.
"I moved from Seattle to New York about five months ago and was really struggling with the idea of 'what can make this a home?'" Johnson said. "I lived in the same apartment in Seattle for eight years, so one little side table that made me feel comfortable I don't have anymore because I had to give a lot of stuff away before I moved."
Open until June 19, "DISPLACE" is aiming to be the start of a new era for the Hedreen by displaying more radical and striking works of art rather than typical paintings or sculptures. Stunning, poignant and a little apprehensive, "DISPLACE" is likely to make you feel a little off—fulfilling its primary goal.
But underneath its haphazard design, Johnson's hopes for the gallery are a little more heartfelt.
"I hope it reinforces what home is to the students, or making a new home that's on campus and understanding in themselves what home means to them," Johnson said.
Scott may be reached at [email protected]