Critic's Corner: Miles Davis Biopic Lacks Soul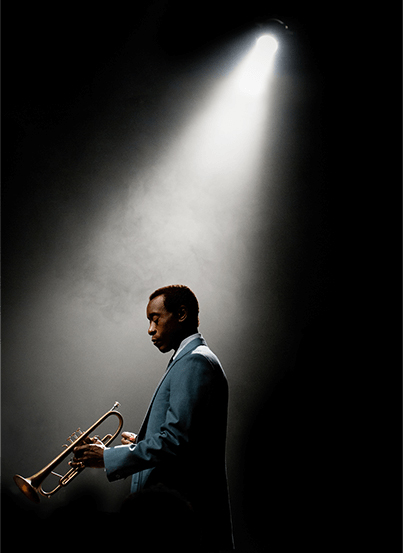 There's one thing that consistently popped into my head while I was watching "Miles Ahead": this is one of the most absurd storylines for a music biopic I've ever seen.
Unfortunately, the film does nothing to embrace its absurdity and remains stale.
Imagine a coked-out Miles Davis late in his career living in Howard Hughes-esque isolation. Enter a reporter from Rolling Stone. What follows are car chases, gunfights and lots of cocaine as Davis tries to get some session tapes back. That sounds like a ridiculously fun story, right? It should be, but the film doesn't seem to understand that.
The story is told completely seriously and lacks the soul necessary to make itself—a film with huge potential about one of the greatest jazz musicians of all time—worthwhile. While it features several excellent performances, "Miles Ahead" is a wasted opportunity.
I don't know much about Miles Davis, but from what I've gathered, he wasn't exactly the nicest guy. In the film, he cheats on his wife, snorts lines of cocaine and gets a little trigger-happy with guns. None of this really makes the audience want to care about the guy. Honestly, I felt more sympathy for his ex-wife than him. So why should I care if he ever gets his music back? From the get go the film has some explaining to do.
That being said, Don Cheadle (who also directs, writes and produces the film) delivers one of the most definitive performances of his career. Capturing the raspy, scratching voice of the jazz musician along with his near-insane demeanor, Cheadle goes all out, but in the process he forgets to put that same effort into the rest of the film. The result is a mediocre film with a lone standout performance.
Spurned on by the arrival of Dave Brill (Ewan McGregor), the Rolling Stone reporter, the film frequently shifts between flashbacks, flashforwards and present time, sometimes all at once. Desperate to find and write the story of Davis' comeback, Brill latches onto Davis in hopes of getting the recluse musician to tell his real story. Ewan McGregor feels bored, like even he doesn't know why he's on screen, but still tries to make the most out of his role.
I wonder if at any point during the screenwriting process someone went, "You know, this story is actually pretty crazy, maybe we should make it a little offbeat," because there is hardly a lick of comedy in the film. On top of that, it hardly feels like there's passion in its storytelling despite the fact that Cheadle wanted to make this film for nearly a decade. Again, it seems like all of his interest went into building the character and not the film—and he does succeed, but it's not enough.
Now that I think of it, his ex-wife truly is the only character we can empathize with in the film, unless you count the skeezy record executives, drug-addicts and Brill, whose overt desperation to get the story literally leads him to break the law.
There is a lot here that could have made for a more memorable film, but the wasted opportunities far outweigh the things the filmmakers did right. The saddest thing about this movie is the fact that Cheadle gives probably the best performance of his career, only to have the rest of the movie tarnished by a lack of passion, a lack of soul.
Scott may be reached at [email protected]
Leave a Comment