The connotations of a word often carry more weight than the word's actual definition. Take "disability," for example. Our culture still largely perceives disabilities as negative—ultimately detrimental. A student group at Seattle University is seeking to show that this doesn't have to be the case.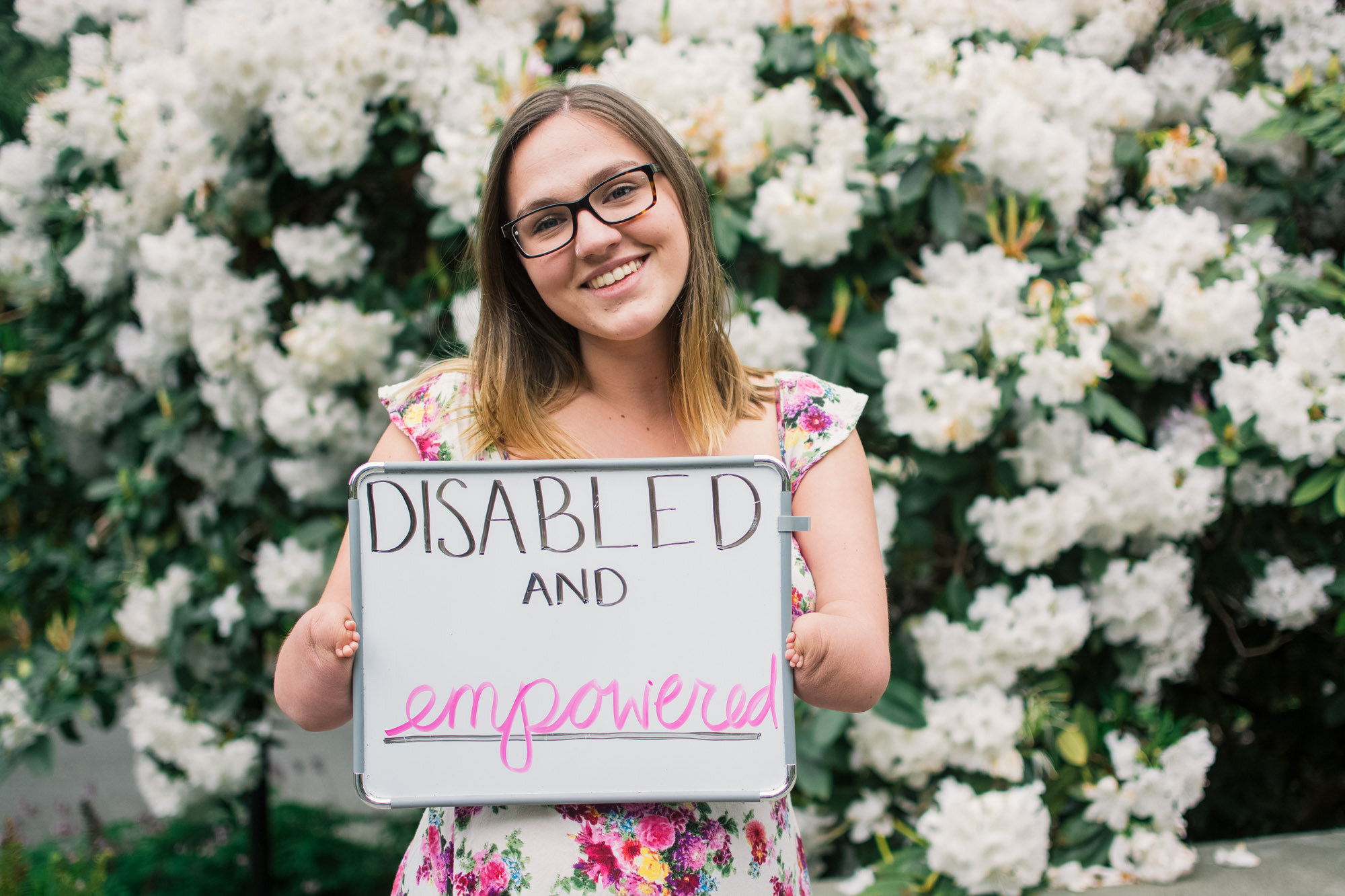 Anna Noel Pickett is the President of the Coalition for Students with Disabilities (CSD).
---
The Coalition for Students with Disabilities just concluded a week-long photo campaign called "Disabled and Proud, Ally and Proud." The gist of the project was to pair the word disabled, which has long carried a negative association, with words that are perceived as positive, such as proud, sexy and able. Students made signs with their word pairings, identifying themselves as either having a disability or being an ally, and posed for photos. The pictures will soon appear online and be displayed on campus.
When President of the Coalition Anna Pickett came up with the idea for this campaign, she was slightly intimidated. An event discussing the nature of disability could easily offend.
"Sometimes to our own detriment we're a [Politically Correct] school, and I was afraid that I wasn't being PC enough," Pickett said.
But for her, this uncomfortable aversion to the term was precisely what needed to be addressed. To avoid a conversation about a word is to tacitly agree it is a bad thing. Which for Pickett, is not the case.
"I've said this a lot but I really really believe that my disability has made me a more creative and empathetic person, in a way that if I didn't have a disability, I wouldn't be," Pickett said.
---
This negativity breaks down into what we really mean when we say "disabled." According to Pickett and Rayna Mitchell-Rose—who is in charge of marketing for the coalition—disability is commonly equated to inability, which is very often not true.
The photo campaign's Facebook event page, "Disabled and proud, Ally and proud photo campaign," said that this word association is founded on years and years of what the coalition calls systematic ableist oppression. A history of labeling disabilities as detrimental has led to the word having strong connotations.
For the coalition, the consequence is not to reject or disassociate from disability, but to reclaim it as a word that can be part of a positive narrative. Hence, the photo campaign.
Sophomore interdisciplinary liberal studies major Addison Lucia is the photographer for the campaign, and says this is the first time he's done a project like this. According to Lucia, these photos bring into public space something that is often stigmatized and not talked about. It makes invisible disabilities visible.
Taking the ally photos is also important to Lucia. According to him, allies have a very specific part to play in the de-stigmatization of disability.
---
"For me specifically, this is a really important part of being an ally—is putting my face and my voice out there as a person with privilege," Lucia said.
Many people still don't feel comfortable identifying as having a disability. Disabilities can be physical and therefore visible, or they can be what are called invisible disabilities. Many times, people with invisible disabilities can be perceived visually as not having one at all and therefore can be reluctant to share that they have one due to the negative association.
Or, according to Pickett, they may not feel "disabled enough." Sometimes people with invisible disabilities may feel that since their disabilities cannot be seen, they have less of a right to claim this word—and therefore cannot reclaim it.
Mitchell-Rose can remember having another student tell her she couldn't refer to herself as disabled, since her disability isn't apparent to the eye.
"That was upsetting for me because I felt like I'd finally kind of come to terms with this thing that I was grappling with," Mitchell-Rose said. "And being told that just because it's not visible means that I can't use that word, or I can't reclaim that word, I can't fight for that word, was really challenging for me."
For Pickett, this is also reminiscent of the notion that to speak about degrees of disability means that we are once again referring to disability as inability. She hopes that this campaign helps students feel more comfortable identifying with their disability, even if they don't want to share the photo with anyone else yet.
The photos will soon be posted online and eventually on campus. The official launch party to present the photos will be on May 19, with other details to be determined.
Lena may be reached at [email protected].