Movie of the Week: The Shawshank Redemption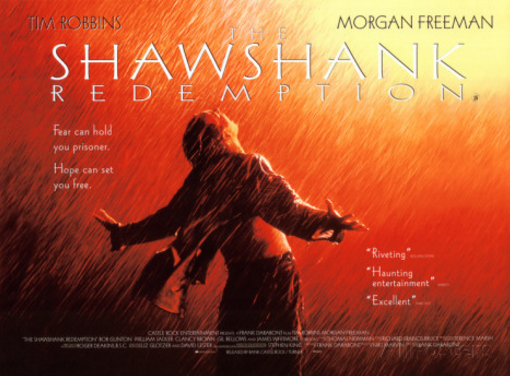 While not only holding the distinction of being my mom's all-time favorite movie, "The Shawshank Redemption" also has the honor of being ranked #1 on IMDB's Top 250 list, even above "The Godfather." Yet it is a movie people scratch their heads at; released the same year as "Forrest Gump" and "Pulp Fiction"–two mammoths in the history of film–I'd say it surpasses the former in terms of filmic quality. In fact, I'd say it fully deserved to win Best Picture over "Forrest Gump"–over "Pulp Fiction" is a different story…but Steven Spielberg's Tom Hanks production is often talked more about Frank Darabont's haunting, life-affirming epic.
I can't tell you how many times I've watched this movie now and everytime it gets so much better. The cinematography, the somber and bitter score, and the pitch-perfect cast with the likes of Tim Robbins and Morgan Freeman carry the film on their shoulders. It tells the story of a man (Robbins), wrongfully accused of murder, who spends decades in Shawshank Prison as he bonds with a fellow inmate (Freeman). The two become best friends–perhaps the greatest on-screen companionship I have ever seen–and they spend their years thinking of the outside, what they would have done differently and what they will do once they are out.
Playing heavily on the themes of hope, friendship and freedom, "The Shawshank Redemption" really does deserve its spot at the top of IMDB. Surprisingly, though, this film is often nowhere to be seen on other "Great" or "Top" lists despite the fact that it boasts a 9.3 on IMDB and a 91% on Rotten Tomatoes.
Adapted from a Stephen King short-story (which I find both amazing and a little odd), there is a fair amount of brutality (thanks to the author) but also a profound sense of beauty and inspiration. The decades-long stay in prison feels apparent, but the heart-swelling conclusion makes all the claustrophobia and grimness worth it. If ever there was a more beautiful story about friendship and hope, please, tell me: because I highly doubt there is.
Far and away one of the greatest films you have ever seen (and one often overshadowed by the other big films of its year) "The Shawshank Redemption" might be dark, heavy and unpleasant, but there is no denying that the ending makes it all worth it and then some.
"Hope is a good thing, maybe the best of things, and no good thing ever dies."
142 Minutes, R
Leave a Comment