Movie of the Week: The Princess Bride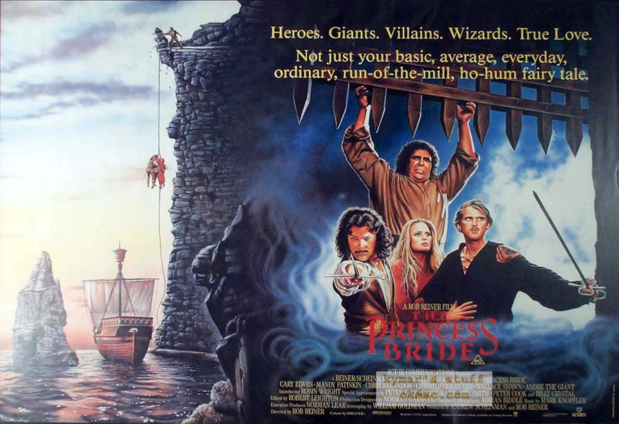 (I have this poster hanging over my couch)
Whenever I hear that someone has not seen Rob Reiner's absolutely beloved "The Princess Bride," I sit them down and make them watch it. If you are reading this and have not seen "The Princess Bride," please stop reading, go to Netflix, and watch it right now.
I mean, from start to finish this movie is pure gold.
Endlessly quotable, immensely entertaining and all too easy to fall in love with, "The Princess Bride" wasn't the biggest smash hit like everybody thinks it was. Sure it was received warmly by critics, many citing its fresh retelling of the "damsel in distress" story, but it was due to the past 29 years, that it has accumulated a massive cult following, even spawning late-night quote-alongs.
So if you're still unconvinced to watch this, I guess we have to talk about everything that makes this movie so great, though it is pretty hard to convey the same sense of magic and charm that it has to offer.
Do we start with Inigo Montoya, the swordsman seeking vengeance for the death of his father?
What about Westley's deep, passionate love for Buttercup and his oh-so-dreamy line, "As you wish?"
Maybe we need to talk about the ROUS (Rodents of Unusual Size.)
Or perhaps Vinzini's battle of wits with Westley?
But how could we forget about Andre the Giant as Fezzik?
There is just so much to love in this movie that there's no easy place to start. With a wholly wonderful cast that includes Robin Wright (decades before her turn as Claire Underwood), Mandy Patinkin (Saul from "Homeland,") Cary Elwes (Dr. Gordon from "Saw,") Wallace Shawn, Fred Savage, the aforementioned Andre, and best of all: Billy Crystal!
As The Grandfather reads a story to the ill, not-so-thrilled-by-romance Grandson, we are introduced to a splendid world where Buttercup is kidnapped by Vinzini, Inigo, and Fezzik, leading Westley to come to her rescue. Oh, that all ends very quickly, but there's so much more to the movie that you need to discover for yourself.
It's funny to think that "The Princess Bride" has slowly become a part of our vocabulary (I can think of a number of times where I'd unintentionally quote the movie in a normal conversation,) so if you haven't already been dropping in an "inconceivable" here or there, or have never let a "as you wish" slide, then you gotta sit your butt down and watch this movie again. Each time it grows better and better as it's magic continues to take hold of your heart, always reminding you that the power of love is often the strongest force in the world.
98 Minutes, PG
Leave a Comment