A Higher Order: Mission & Ministry Programs Realigned
---
Words hold power, especially when they imply a commitment to faith. For Seattle University, the words we use that are centered around our mission as a Jesuit, Catholic institution are intentionally employed with the spirit of care and empowerment. The recent realignment of Division of Mission and Ministry programs aims to put us one step closer to this vision.
A group made up of faculty, staff and additional help from outside— including consultant Stephanie Russell—assessed how well the Jesuit Catholic mission was integrated in all of the administrative areas of Seattle U this past year. More specifically, they assessed how well the university meets the religious and spiritual needs of students, faculty and staff.
Russell has worked with a number of Jesuit institutions in promoting their mission and identity. Student leaders and university staff involved in the realignment process had the opportunity to meet with Russell to provide input on the needs of their departments.
As a result of the two reports generated from this thorough evaluation the Office of Jesuit Mission and Identity, Magis: Alumni Living the Mission, and the Office of Campus Ministry will be structurally altered, officially in effect July 1 of this year.
Executive Vice President Tim Leary will serve as chief mission officer to oversee the realignment of these programs. Leary will also chair the creation of the Council on the Jesuit, Catholic Mission of the University to provide further guidance on mission integration as Seattle U moves forward with these changes.
"We'll try and look at all stakeholders at the university to make sure we've included the voices of most in that review [in creating the council]," Leary said. "It'll pull together a representative group of people that are somehow engaged in the religious or spiritual lives of
our students."
In an email to the student body President Fr. Stephen Sundborg, S.J. stated that the realignment of these three offices will "look to ensure the spiritual and religious dimension of our mission has an even greater reach and impact."
---
Office of Jesuit Mission and Identity
---
What has been referred to as the Office of Jesuit Mission and Identity will be renamed the Center for Jesuit Education Resources.
The Office of Jesuit Mission and Identity has served as the space in which faculty and staff have created programs around development and formation in conjunction with the Jesuit, Catholic mission of the university, including educational, spiritual and experiential programs.
"A center is stronger than an office," Associate Vice President for Mission and Ministry Joe Orlando said. "[This renaming means that] it's also being invited to be a collaborative venture with other key units on campus."
The new center, as the name suggests, will serve as a crucial resource for faculty and staff in creating curriculum and academic programs that embody the ideals of Jesuit education.
"I think we have an opportunity at Seattle U to be on the cutting edge of what Jesuit education is about, because we are not as encumbered by old, traditional approaches and we have a chance to create some new ways to bring our Jesuit, Catholic identity to others," Leary said.
The center plans to work very closely with the Institute for Catholic Thought and Culture in these plans to better live out the Jesuit, Catholic identity on our campus.
"I think this realignment [of the Mission and Ministry programs] will make us more unified as a university," sophomore Angela Vong said. "My sister will be an incoming freshman soon, and the fact that this school is constantly striving to be better for us makes me even more excited for her to be a student here."
---
Magis: Alumni Living the Mission
---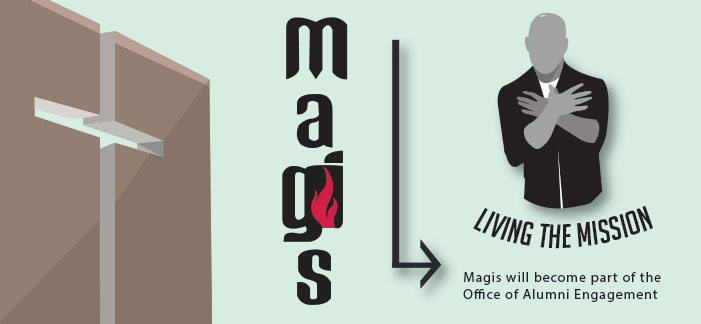 ---
Magis: Alumni Living the Mission, originally its own independent office, will become part of the Office of Alumni Engagement. This integration will help make Jesuit resources available to a greater number of Seattle U alumni.
"We get to begin the journey together to look at how we can re-imagine our shared goals," Vice President of the Office of Alumni Engagement Susan Vosper said. "I think we have a greater opportunity to engage more alumni in something that really matters."
While shifts of focus within the Magis programs or other changes have not been decided yet, both departments are looking forward to determining the next steps in developing Ignatian leadership and spiritual formation among alumni.
"There is a commitment to the process that is happening around reconsidering what is the most effective way for us to go about increasing the depth and breadth of the mission of the university," said Director of the Magis team, Brooke Rufo-Hill. "We remain open to the possibilities before us."
According to both Rufo-Hill and Vosper, no significant changes will be made to either office, and the merger is being met with excitement from both sides. Both offices have been in strong partnership for the last four years, so this alteration will simply allow Magis to officially be considered under the Office of Alumni Engagement.
In these next few months leading up to the official implementation in July, the main goal is to integrate both teams as smoothly as possible as they start to combine their resources.
"Two of my cousins are Seattle U alumni and it's really great to know that their journey doesn't end just because they've graduated," junior Kelly Martin said. "I'm grateful that our school goes that extra step in continuing to help us grow as better people long after we're gone."
---
Office of Campus Ministry
---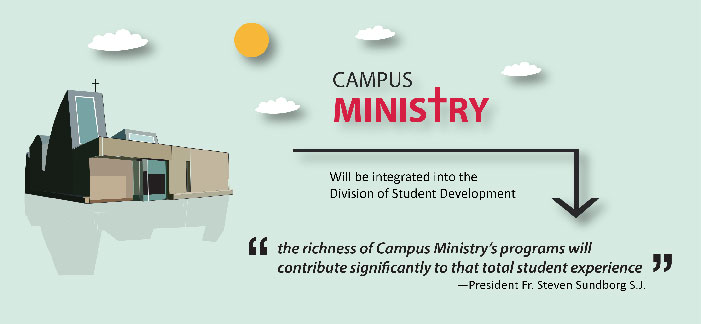 ---
The Office of Campus Ministry will now be integrated into the Division of Student Development. The hope is that this integration will help Campus Ministry reach a greater number of students.
"One of the things we say in all of the first year orientation sessions and to prospective students is that all are welcome," Liddell said. "If that message is better communicated in a division that isn't specifically called ministry or mission, maybe that will help us help the students understand [that]."
While a number of our student population may not identify with a specific faith practice or religion, the offices share the belief that spirituality is a key part in the development of students' lives.
"We're not here to change [a student's] own faith background or convince them of a faith background," Liddell said. "We're here to help them grow as whole persons and that we believe their spirituality is part of growing as a whole person."
Although Campus Ministry will officially be a part of the Office of Student Development, the same programs, immersions, retreats and liturgies will be made available to students. The anticipated partnership will be a familiar relationship, as both offices have had countless collaborative efforts in the past.
"Lots of students come to Campus Ministry for care and mentorship. It's a place where they can bring their whole person and feel accepted," Liddell said. "Knowing that message now has the potential to be spread to a greater number of students. I would love that."
The structural change aims to facilitate easier and more efficient communication between the offices in their shared goal of contributing to the entirety of student experiences in their time here.
"I wish I knew more about the retreats that were offered ahead of time when I was first starting out," sophomore Cody Lee said. "I might've learned the things I know now a lot sooner since I've been in college."
According to Liddell, there are no current foreseeable, functional changes to how the office will operate. This will make the transition easier, as the focus is directed toward student outreach.
"I know so many wonderful humans on this campus that are deeply who they are because of Campus Ministry," freshman Felicia Ruiz said. "All this official realignment talk only makes it clear to me that more people can be positively affected if this change happens. I'm all about that."
Vikki may be reached at [email protected]
Leave a Comment