The Seattle University track and field team competed at the WAR 9 outdoor event in Spokane, Wash. this past weekend, breaking several school records during the meet.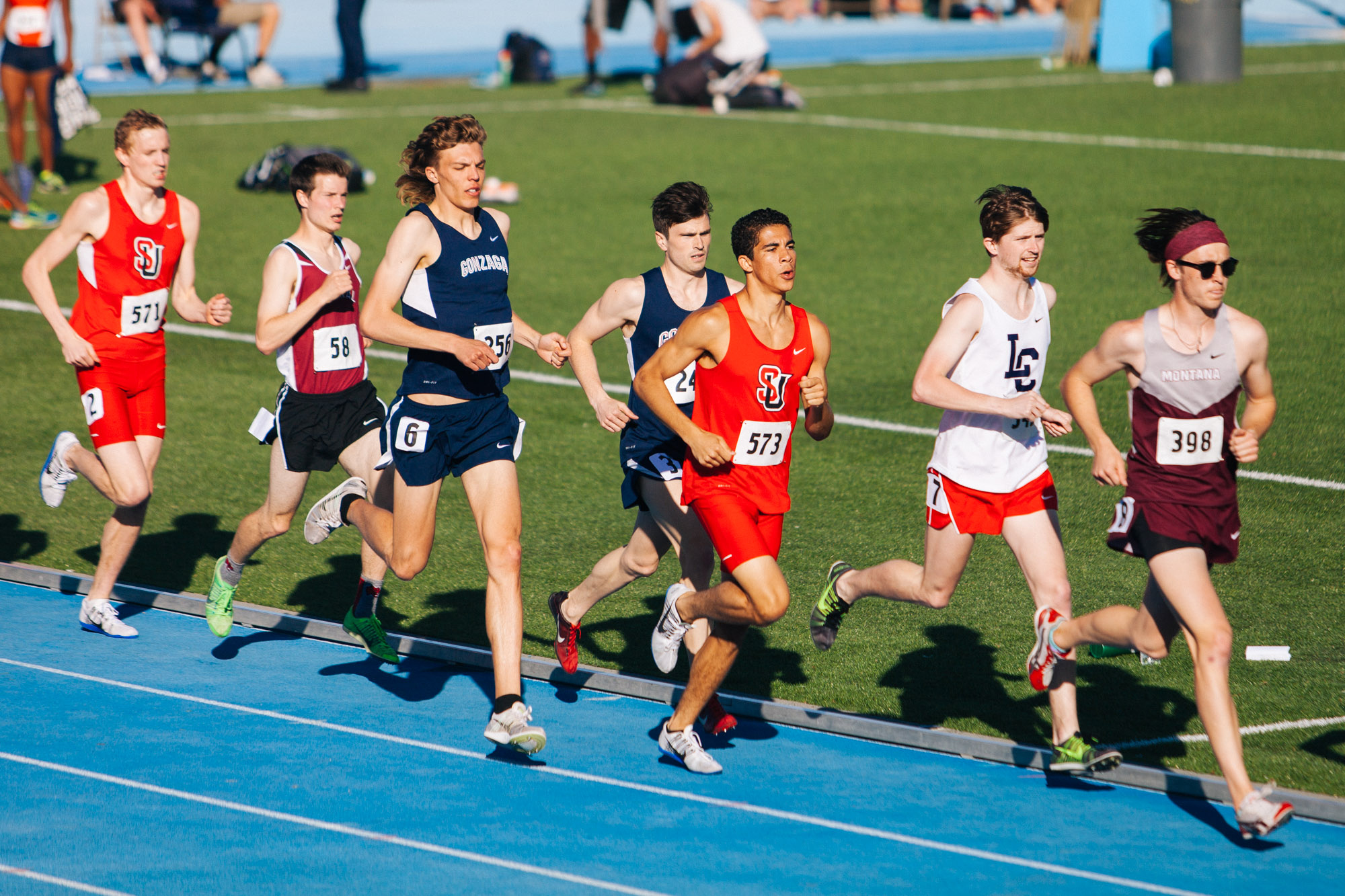 Jacques Hebert and Joe Charbonneau begin the second lap of the men's 5000-meter race.
---
"School records are always exciting," said head coach Trisha Steidl. "More so, the marks set become a higher and higher caliber. The progress of the school records and the program as a whole are exciting to me as a coach and exciting to the members of the team. It pushes everyone to ask more of themselves, which helps individuals hit marks and times they may not have otherwise achieved."
Shaddye Melu broke his own outdoor school record in the high jump with a 2.15 meter (7'5"). Melu took first place in the event. According to assistant coach Chad Pharis, the record breaking performance should be enough to for Melu to punch his ticket to Nationals.
"Shaddye came into today with a focus on securing his ticket to the first round of Nationals," Pharis said. "He can now go into the rest of the season without that pressure, and will likely be able to capitalize on that relaxed feeling."
Melu also took first place in the 400 meter dash with a time of 48.24. Sophomore teammate Janzen Aguilar-Nelson finished second, with a time of 48.68.
Aguilar Nelson also took second place in the 200 meter dash, running the event with a time of 21.94.
Not to be outdone, redshirt junior Mandie Maddux broke a school record of her own in the javelin. Maddux's throw was for 40.18 meters (131' 10") and broke a school record that has stood for 10 years. The record-breaking throw was good for a sixth-place finish.
"Mandie looked very strong early in the javelin," Pharis said. "Her first throw in the finals was a true breakout throw. She is really starting to learn the little things about the javelin, and will likely continue to improve on her now-current school record."
Maddux also placed third in the high jump with a height of 1.6 meters (5' 3").
Junior Lila Rice was the third and final Redhawk to take first place in her event, running the 5,000 meter race with a time of 17:40.43, breaking her own personal record. Freshman teammate Kyla Danforth placed third in the same event with a time of 18:03.21.
"Lila ran a huge personal record and a gutsy race today," Steidl said. "It was great seeing her not only compete against others, but also really challenging herself."
Junior Alyssa Gonzales was the last Redhawk with a top-3 finish, running the 100 meter dash with a time of 12.61.
"The team looked good today," Steidl said. "I saw people taking their preparations seriously and competing to the best of their ability."
AJ may be reached at [email protected]