Lee Peterson Hits Cosmic Lottery
Lee Peterson sits on a piano bench and wears a bright, hand-crocheted hat on her head despite the warm weather outside. Her blue stone earrings shift as she speaks, sparkling over the rows of choir benches that fill the room.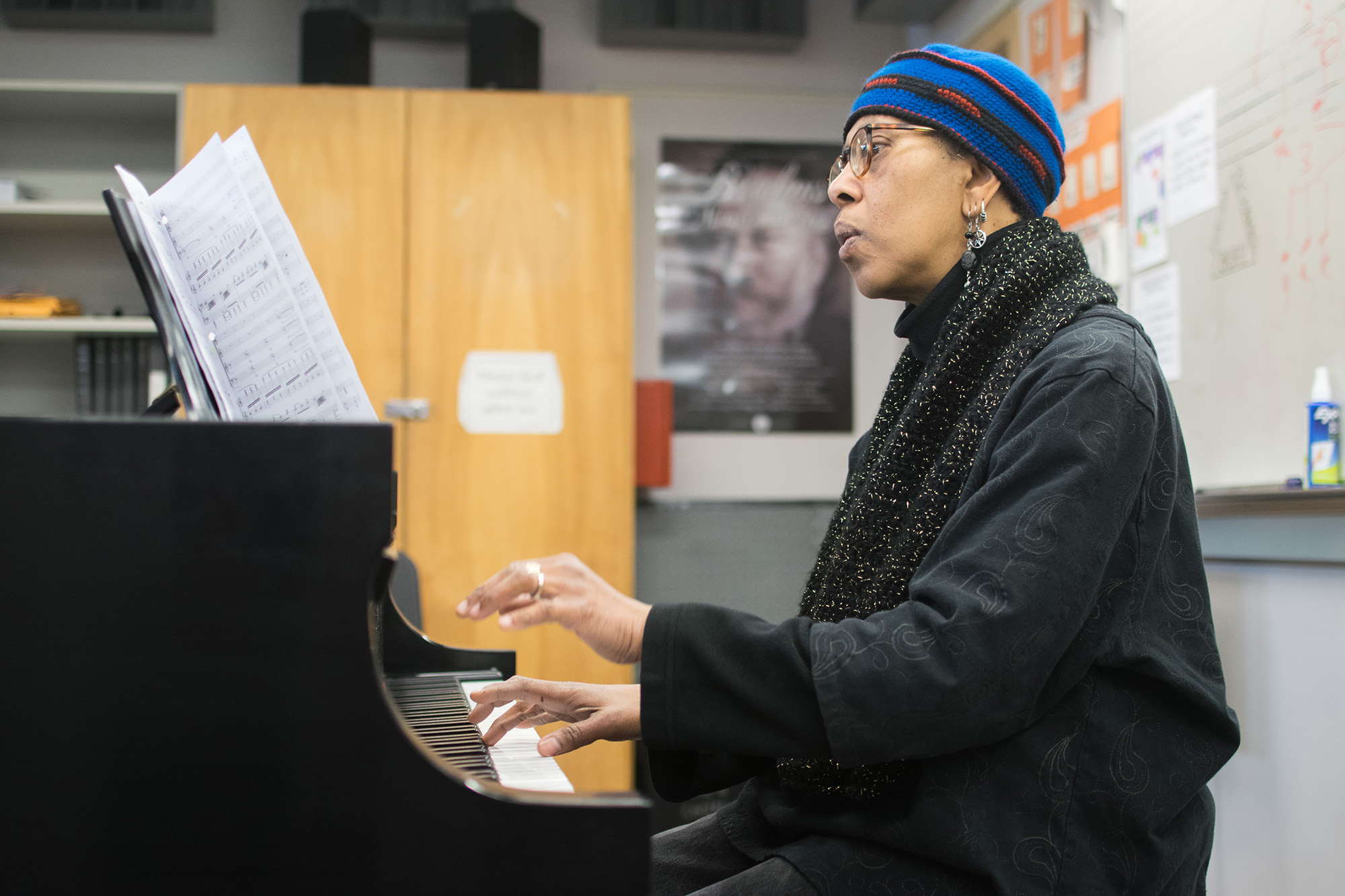 Lee Peterson is the new pianist for the choir department and many of the other music departments on campus.
---
It was in a practice room much like this one that Joy Sherman, Director of Vocal and Choral Music at Seattle University, discovered Peterson seventeen years ago and sparked a partnership that would lead to Peterson's fulfilling career.
Peterson now works for Seattle U as assistant choral director. Her job entails teaching, reinforcing musical concepts and theories, helping choir students with music and writing music for the choir. Her most crucial and passionate role is playing the piano.
Peterson thinks of her relationship with pianos as a two-sided one.
"Every single one of them, to me, has a different personality," Peterson said.
Peterson started taking piano lessons when she was 5 years old, but was meticulously tapping the keys even before then. As her skills progressed, she began playing at her father's church of which he was the minister. Playing the piano as a job didn't occur to her until she was in high school and firmly decided on her uncommon career path.
She began by attending Hardin-Simmons University in Abilene, Texas where she earned a BM and an MM in piano performance. Afterwards, she attended Michigan State University, where she earned her D.Mus.A. She concluded her formal education in the emerald city, attending Seattle U in 1999 for a Master in Arts of Transforming Spirituality (MATS). Her extensive list of academic successes is impressive, but perhaps even more so is the love she holds for her instrument.
"It's a companion, it's a friend and sometimes it's an enemy," Peterson said, gazing at the magnificent instrument as if it were a mischievous child.
Upon finding her playing piano in the practice room to destress after her first week of school, Sherman hired Peterson on the spot. Both women describe the encounter as destiny. Since that day, the two choir leaders have become a beloved pair to those involved in music at the university.
"She has a very special energy that she brings to everything. She's never a status quo person and neither am I and that's one reason we work together so well," Sherman said.
Although a very talented musician, Peterson applies her musical abilities to things beyond her role as accompanist. Peterson uses her MATS every day as she applies a holistic approach to her musical work.
"We're a class and a performing organization, and we're also kind of a spiritual society because we're helping each other to grow in many different ways as people and as musicians and as spiritual beings," Peterson said with a smile on her face.
Peterson came to Seattle U to learn how become a spiritual leader. She wanted her direction to be one pointed toward overall spirituality, not limited to any particular group. Every single day, Peterson says she uses her pastoral helping skills, active listening and group effectiveness skills to guide the university choir.
"Lee brings a lot of complexity to the table, and she allows people to explore that," said Jake Malpocker, a senior music student and third year choir member.
Peterson says that the choir lights a musical fire within them that she hopes will continue to burn even after they have left Seattle U. Her passions push her students into a similar state of excitement.
"You can tell that she has a deep love and excitement for [music] and that really shows through in how she gets other people to interact with it as well," said Mackenzie Reed, a second year choir student and sophomore English major.
Outside of choir, Peterson likes to crochet unique and vibrant hats, sometimes for the ultimate purpose of showing them off the next day at choir practice, and other times to raise money for the Daughters of Mary by selling the goodies at the choir's annual talent show. She is also an avid Star Trek fan, a writer and of course, music fanatic.
Peterson uses her creativity, spirituality and musical sophistication to motivate and inspire her students.
"My number came up, I guess, in the cosmic lottery," Peterson said, "I must've done something good."
Lee Peterson will be playing piano and conducting at the Seattle University Choirs Spring Concert on April 29 through 30. She also has a solo piano recital on Sunday, June 5 at 3 p.m. in The Chapel of St. Ignatius.
Tess may be reached at [email protected]
Leave a Comment