College of Arts and Sciences Budget Forum Gets Low Turnout
Last week, students in Seattle University's College of Arts (CAS) and Sciences learned how their money is used at a budget forum hosted by the Dean's Student Executive Council. The forum aimed to connect students with the college, its many departments and the administration as a whole. Students were urged to bring questions about individual departments, what it takes to introduce a new program, where the money comes from and where it goes.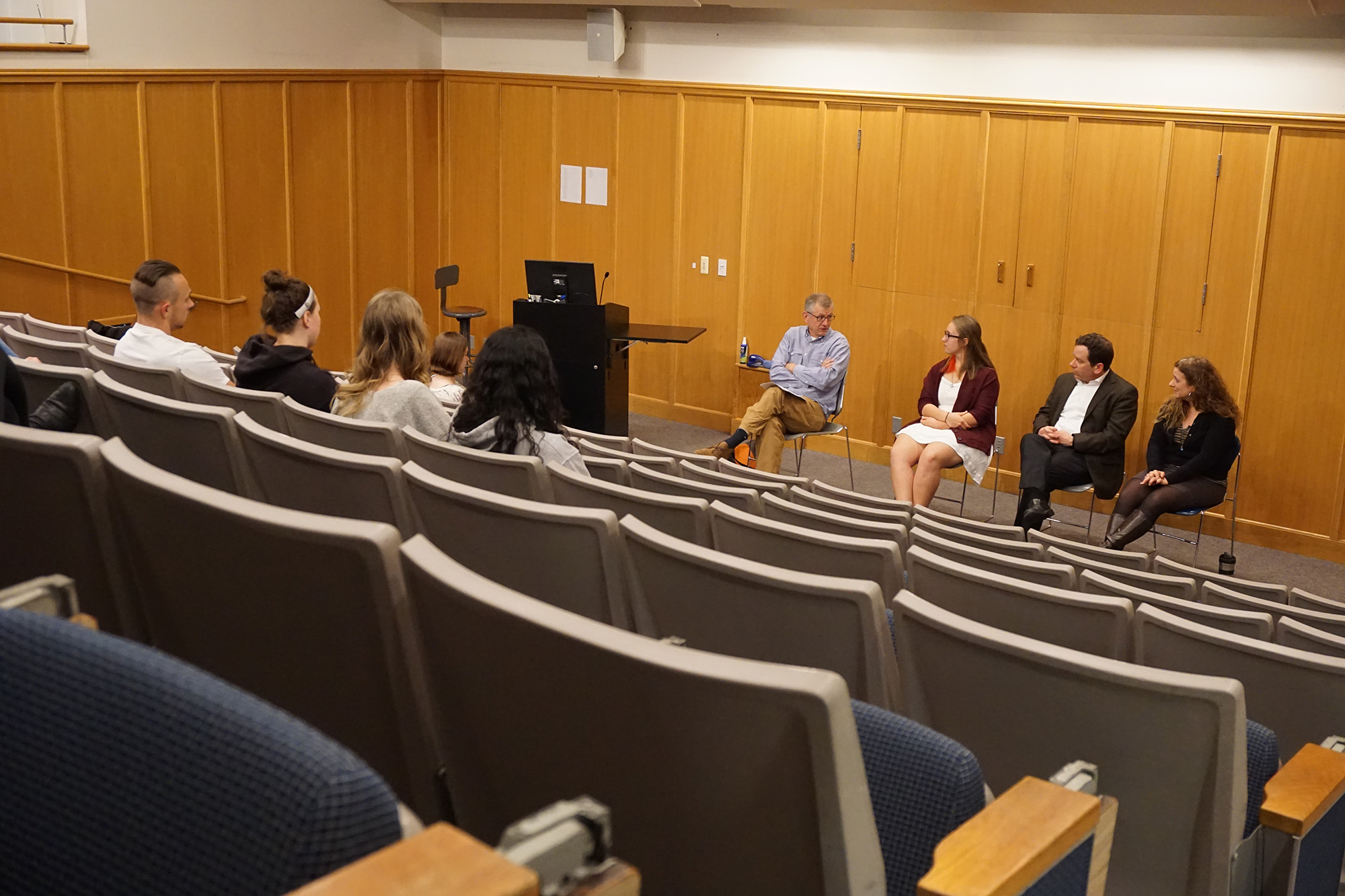 A small but attentive crowd listens to a four-person panel last Wednesday in Wyckoff Auditorium. From left to right: Thomas Taylor, Jen Cruz, David Powers, Jacqueline Helfgott
---
Four panelists directed the forum: David Powers, Dean of the CAS, Thomas Taylor, associate professor of history, Jacqueline Helfgott, chair of the criminal justice program and Jen Cruz, a student representative.
The panelists began by explaining that the CAS is by far the biggest college at Seattle U. With 21 interconnected departments and an annual budget of $20 million, CAS accounts for 40 percent of the university's student body, which is twice the size of Albers, the next biggest college.
Dean Powers further explained that a huge majority of the aforementioned annual budget—approximately 96 percent of it—pays for salaries, roughly 90 percent of which goes to faculty, 8 percent to staff and 2 percent to work study students. And while a portion of the funding is spent on developing new classes, projects and related activities, doing so requires a long complicated process that starts all the way at the top with the Board of Trustees.
"There are so many layers to it," Cruz said during the forum. "There isn't much discussion on our school's budget. Students are curious about it."
Panelists emphasized the complexity of the situation. Such a vast river of money can lead to tributaries that branch off into even smaller streams, making it a daunting task for a student inexperienced in all things related to budgeting to enter the conversation. Other students simply aren't interested.
"Ultimately, it's not our money, it's yours," Dean Powers said.
Most of the time, Powers added, it's a balancing act between the quality of professors and the size of the classes they teach. For Powers and others the emphasis at Seattle U is on the quality of education, which means class sizes are relatively small and geared to provide a personal interaction for students. This can lead to cases where classes are cancelled due to a lack of enrollment, which has left many students frustrated in the past. Members of the Student Executive Council (SEC) believe that frustration could be avoided if students knew more about what goes on behind the curtains, which is why they organized the forum. To their disappointment, only a handful of students showed up—approximately 7—leaving most of the seats in the Wyckoff Auditorium empty.
SEC member Allison Thompson saw the glass half full.
"I was a little bit disappointed but I was heartened by the enthusiasm of the people who showed up," she said.
She pointed out that students are in a transient stage of their lives, making it difficult for them to invest themselves in on-campus issues like this one.
"It's hard because you get interested in things like this, and then you graduate."
Grace Taylor, also a member of the SEC, was hoping that the forum would create a stronger connection between the CAS and its many students.
"I just want the students in Arts and Sciences to have a voice, to understand what's going on," she said. "If they don't, no one is holding anybody accountable."
During the forum, panelists revealed a few of the biggest anticipated changes for the upcoming year. These include a new master's program in social work, the hiring of a new director for the film studies program and the addition of Arabic to the modern languages department. Panelists explained that the College of Arts and Sciences is always changing. It's important to understand how and why it changes, and to what degree, in order to fully appreciate the role it plays in the greater Seattle U community.
"The goal is to bring more information to students about their college," Thompson said. "I hope our efforts reflect that sentiment."
Nick may be reached at [email protected]
Leave a Comment