Light Rail Station on Track to Connect Seattle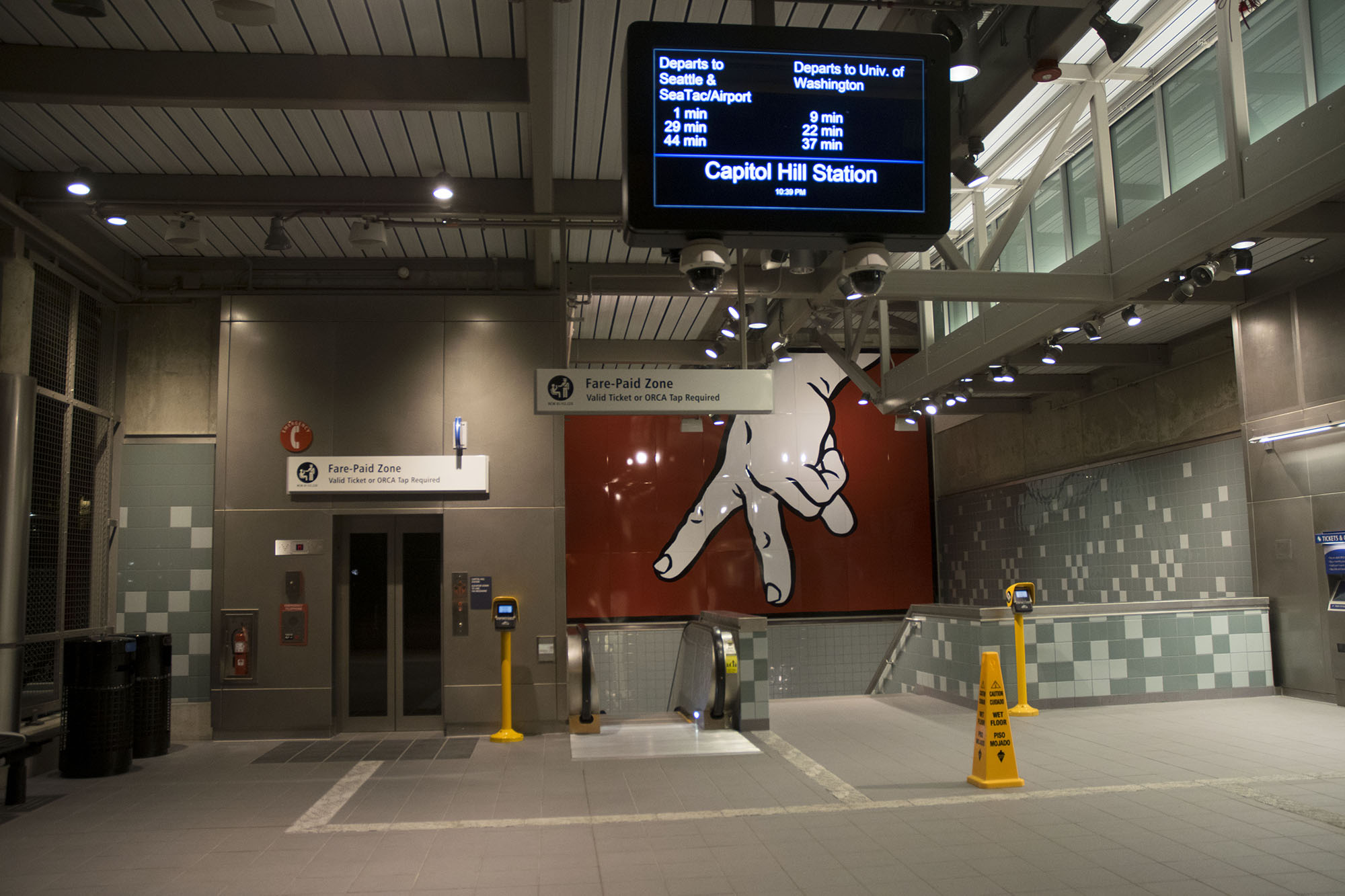 The newly constructed Capitol Hill Light Rail station is now fully operational.
---
Seattle isn't a big city but it's a city with cultural depth, and with the new Capitol Hill light rail station, people will be able to explore it with leisure and time to spare.
The station opened on March 19 with an air of celebration—live music, performance art and free gifts for those who attended. Since then, thousands have taken a ride, and that number is expected to grow in the following months.
According to Sound Transit spokesperson Bruce Gray, the light rail project was the highest ranked public venture in the country and earned Seattle approximately $813 million in federal grants. This grant covered a significant chunk of the total cost: $1.9 billion. The project itself was completed six months early and $200 million under budget.
"It's going to be a huge benefit for the neighborhood," Gray said. "Especially for folks coming and going from work, home, school, anywhere."
The light rail provides a direct route for people travelling not just from the University of Washington to downtown but from Capitol Hill to the greater Seattle area. With Seattle Central College just around the corner, the light rail will connect Seattle University to the rest of the city like never before. Students will no longer need to worry about navigating the labyrinthine transportation system. Traffic jams and bus schedules are no longer an issue.
"[The light rail] takes those factors out of the picture," Gray said. "It opens up Capitol Hill. It's going to extend opportunities we can't imagine right now. Only time's going to tell us the full impact."
The light rail runs seven days a week from 5 a.m. to 1 a.m. Monday through Saturday and from 6 a.m. to midnight on Sunday and holidays. During peak hours on Monday through Friday it comes every 7.5 minutes, and every 15 minutes for the rest of the day. Tickets range from $2.25 to $3 depending onthe length of your trip.
"It's super convenient," said senior Riley Du. "Especially for commuters and students to use public transportation instead of riding cars."
As a Collegium Community Leader, Du speaks often with students who bus, drive or use other means of public transportation to get to school. He said the light rail will alleviate two major concerns: cost and time. Du typically commutes to school by bus or streetcar. He has taken the light rail to and from the Capitol Hill station several times since it opened, and he has used it to get to UW as well.
Craig Birklid, Assistant Director for Support Operations in the Office of Public Safety, is looking forward to the positive impacts that the light rail will have on the local community, and especially with Seattle U students.
"It's finally coming together," Birklid said. "[The light rail] helps people getaround the Hill easier and cheaper." The Capitol Hill station, located on Broadway between Denny and John Street, is within range of our Nighthawk shuttle service, making it simpler and safer for students to explore the city. Sound Transit made a new proposal to extend the light rail to Ballard and Everett within the next 22 and 25 years, respectively. The project calls for $50 billion, which will be funded by $27 billion in new tax collections through 2041, along with existing taxes, long-term debt and federal grants. The tax would call for nearly $400 a year for an average household. Though the price is high, it signals an ongoing effort to modernize the city's transportation system and, in turn, rejuvenate the local economy.
The area surrounding the Capitol Hill station consists primarily of multi-family dwellings and hasroughly 15,000 housing units with less than 21,000 residents within a half-mile radius. These units are primarily renter occupied and roughly 17 percent of units are affordable to lower-income households, with some subsidized housing nearby. The areaisalsohosttomorethan15,000 jobs. The light rail is also expected to have a positive impact on local job opportunities, affordable housing and the homeless population.
"I would encourage folks to give it a ride. It's good for our community," Birklid said. "Good for our Hill."
Nick may be reached at [email protected]
Leave a Comment