Cross through a cobwebbed portal and enter into the labyrinth of sacred temple caves of the Silk Road at "Journey to Dunhuang: Buddhist Art of the Silken Caves," a new exhibit at the Seattle Art Museum.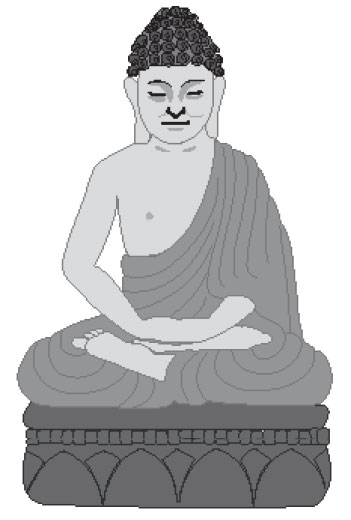 Located between the northern and southern Silk Road trade routes, Dunhuang was dubbed China's original "melting pot." Spanning from the fourth through the 14th century, the ancient city was a pilgrimage site and oasis for commerce. Dunhuang embodied the fluctuating, converging aspects of China's politics, economics, culture, art, religion and daily life during the rise and fall of various Chinese dynasties. During this period, nearly 500 caves were dug into the cliffs of Dunhuang. The mysterious grottos, which were primarily places for meditation and worship for Buddhist monks, are treasure troves of ancient Buddhist paintings and sculptures.
Nearly 600 years after the Silk Road's decline, the dynastic chronicle was revitalized by photojournalists James and Lucy Lo, who in the middle of the 20th century traversed through the ancient city on a donkey-pulled wagon.
The couple photographed and collected relics of the lost world in their attempt to weave a narrative thread through the abandoned city's sacred history. After completing their journey, they hired artists to recreate life-sized versions of the caves, thus immortalizing the city.
The exhibit at the SAM will display both the life-sized recreations of the caves, as well as various fragments of texts and drawings which were collected by the Lo's during their journey.
The SAM's Foster Foundation Curator of Chinese Art Foong Ping said in a press release that the exhibit enables spectators to experience what the Los saw during their expedition in a vicarious and personal manner.
"It's such an intimate experience to see Dunhuang through their eyes; you can see the love they had for the site—and for each other," Ping said.
The exhibit also eternalizes the relics in a way that is easily accessible to modern people. According to Ping, it gives life to world history that would otherwise be inaccessible.
"It opens a window onto a part of the world that's difficult to get to, and in some cases, already gone. Put it this way—we're making it so you don't have to get there by donkey," Ping said.
For Digital Design freshman Mackana Holgerson, the exhibit presents the opportunity to spur creativity.
"I personally enjoy the style of the Ancient East Asian art and I think it'd be something fun to go look at and go pool for inspiration," Holgerson said.
But aside from its aesthetic appeal, the exhibit presents Seattle U students with the unique opportunity to understand a history that is often times marginalized in American education and culture.
"I think it's interesting because, growing up in America, we never learn anything about history of East Asian cultures and I'm excited to go to this exhibit so that I can broaden my knowledge on China," Holgerson said.
For freshman Film Studies major Gabby Segovia, the exhibit revives an aspect of Chinese history in a way that is artistically pleasing and at the same maintains historical integrity.
"It's very interesting since it revitalizes this culture that I've never really gotten to get to know. It's making it new again and bringing it back to life so that we can truly appreciate it," Segovia said.
"I'm excited about learning about the Asian culture. We don't really get to do that all that often in our school system, so it's just interesting to see the world and art through another culture's perspective, especially an ancient culture," said sophomore digital design and humanities for leadership major, Taylor Guy.
Guy further explained that the exhibit doesn't simply revitalize ancient relics, but pieces together the mysterious puzzle of the Dunhuang caves in a cohesive manner that is accurate to its origins.
"It kind of gives it the feel of it being where it's supposed to be, where it was originally made, so you have kind of a context of where to view this in," concluded Guy.
The exhibit opens this Friday, March 5 and continues until June 12. It will be presented at the Seattle Asian Art Museum located at Volunteer Park. SAM director emerita Mimi Gardner Gates will host a talk titled "Buddhist Caves at Dunhuang: Art, Spirituality and Cultural Heritage" on March 5. Additionally, a panel titled Asia Talks: Buddhist Art Inspiration will be held on March 17.
Editor may be reached at [email protected]