Singing the Seattle University's fight song loudly is becoming a tradition for Seattle U's swim team, and this season they are fighting their foes and coming home with the victory.
Seattle U's swim team is heading to the Western Athletic Conference championship on Feb. 24-27 in Houston, Texas after beating Simon Fraser University on Jan. 31, a win that also set four pool records.
"Everything has been leading up to this meet so it's important," said Jack Baldoni, a second year swimmer at Seattle U.
The WAC is a Divison-1 athletic conference that promotes each student-athlete to strive to the highest level. There are eight universities in total, each competing in nine men's and women's sports.
"Every year we get closer and more motivated and a lot more positive overall," said Head Coach Craig Nisgor. "A lot of teams out there are finally realizing who we are."
Over the years, Seattle U has had great swimmers and equally great teams, however, this year the university's swimmers have really united for one cause, which is winning this upcoming championship and going even further, Nisgor said.
Although swim is often times looked at as an individual sport, it's a sport where every swimmer is important and every swimmer contributes to the successes of the whole team. This season Seattle U has exemplified this concept.
In the meet against Simon Fraser University, Seattle U set four new pool records and a school record. Jack Baldoni broke the 100 meter butterfly record against Chris Coley, who was set to be invited into the Seattle U Athletics Hall of Fame a week later.
"They've gotten behind each other to support each other. They're hungry. They want to get it done, they want to win, they want to race, they want to show people who they are," Nisgor said.
This season most players have dropped their times and have gotten faster. Blaise Wittenauer-Lee broke the school record by six seconds in the 400 yd. individual medley. In swim, six seconds is much more significant than it sounds.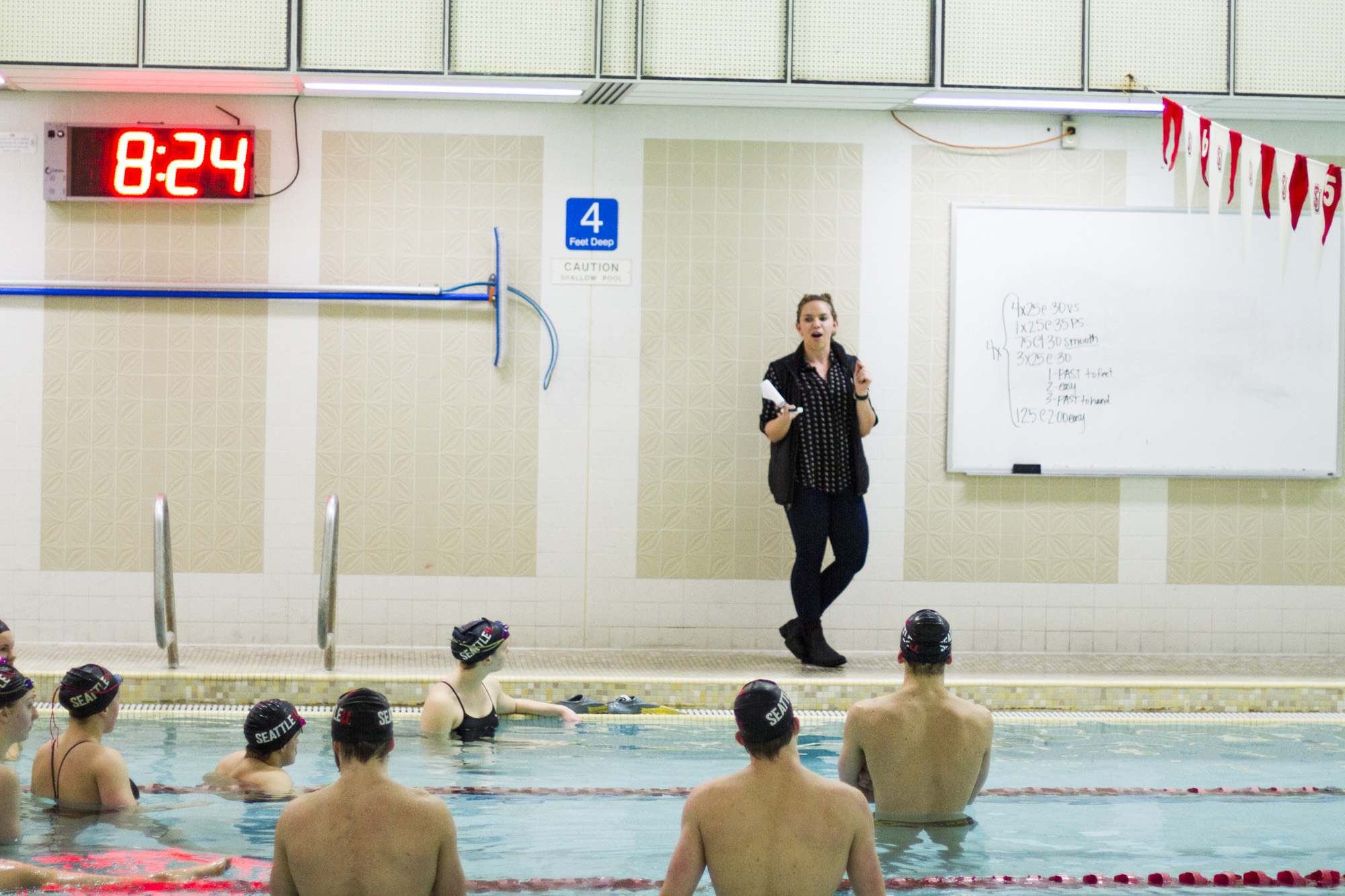 Katherine Kubancik, Assistant Coach, going over swimming drills for practice.
---
The record board is constantly changing thus continuously motivating and pushing the team to new standards.
Madi Lydig, a second year student-athlete at Seattle U, has also lowered her school record by about a second in the 200 backstroke, contributing to the number of individual successes for the grand scheme of the team.
"We're not just teammates, we're friends. That helps a lot because we can push each other and challenge each other to get better. We're all close and united," Wittenauer-Lee said.
With all these success also comes tough losses. In the meet with the Air Force, Seattle U lost both meets, however, the team tries to use these experiences to come back home stronger.
"We're a really closer team," Baldoni said, "this team as a whole is really connecting, which is a great training environment. Our unity is our power and strength."
Leading up the the meet, the team has continued to motivate one another, gaining as much strength as possible before the conference championships.
"We've trained hard, we've worked for it, they know what they can do. We're going into [the WAC] saying, 'We deserved to be here, we're going to take some teams down,'" Nisgor said.
And as the school victory song goes, "S-E-A-T-T-L-E FIGHT, FIGHT FIGHT. Over the foes we're victorious and victory is our cheer!"
The editor may be reached at [email protected]