If Re-elected, Murray Recommits to Bigger Changes
Since Mayor Ed Murray's election in 2013, his time has been defined by issues like affordable housing, climate change and transportation—many of which have remain unresolved. Despite the lack of resolutions, Murray has announced his run for re-election as Mayor of Seattle and many are supportive.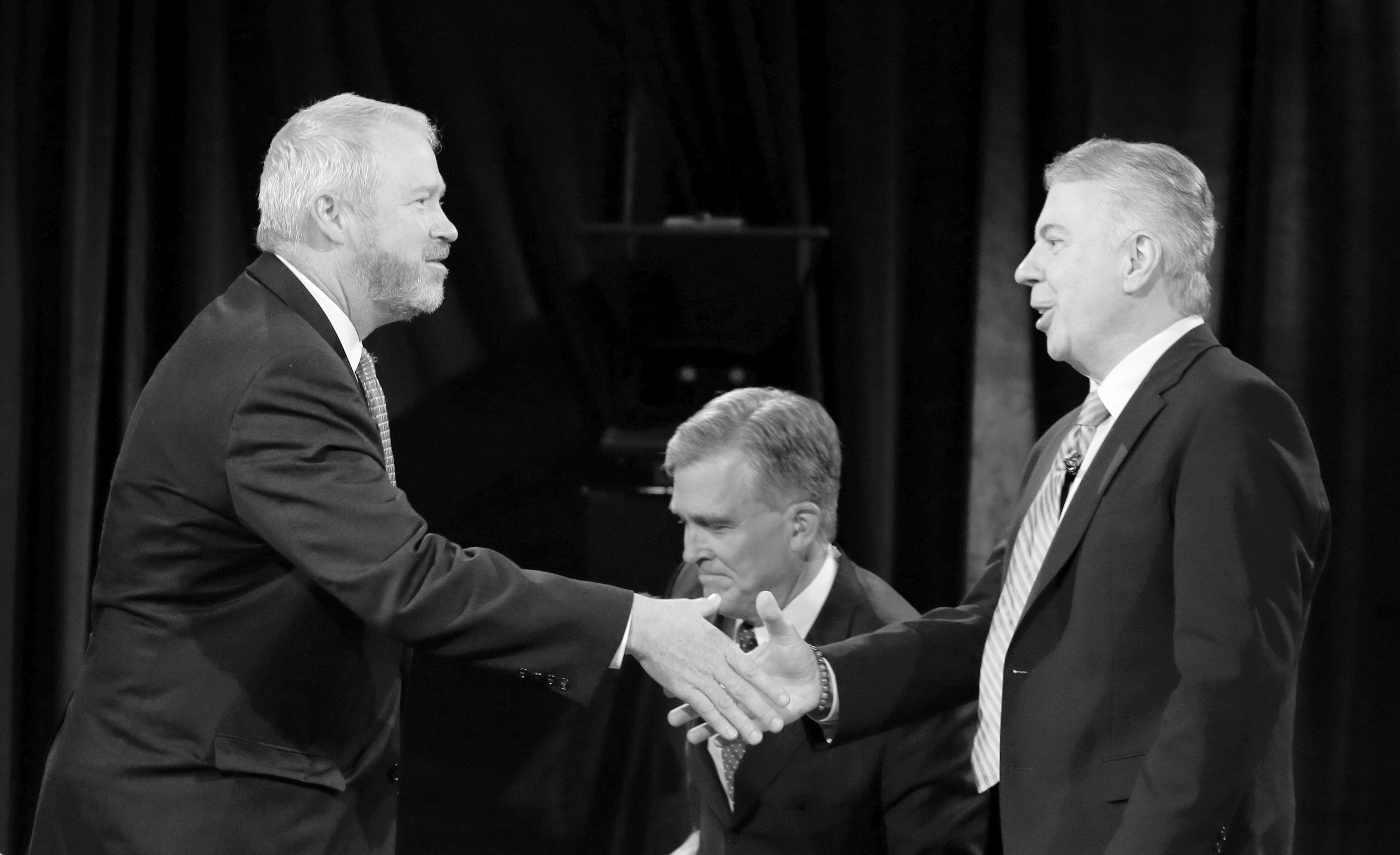 Seattle Mayor Mike McGinn, left, shakes hands with Sen. Ed Murray following a debate in their race for mayor Wednesday, Oct. 9, 2013, in Seattle.
---
Many Seattle University students plan to participate in the next mayoral election, both for and against the incumbent.
Sam Morse, a sophomore strategic communications major, hopes to see more from Murray.
"I was really pleased with the last budget proposal he had. Murray increased the number of police officers that would serve Seattle, and he also focused on the homeless population in Seattle and tent city," Morse said.
"Also, in regards to the police officers, Seattle, when compared to other cities, [the problem] is the neighborhoods are extremely understaffed by police officers. This requires for neighborhoods like Ballard to hire their own patrol officers."
Morse believes it would be beneficial for Seattle if Murray was able to continue the work and progress he has made thus far.
Murray has also been met with ample criticism during the time he has been in office. Many oppose the way that he has handled cases of police brutality, and have criticized his choice for interim police chief before nominating Kathleen O'Toole to permanently fill the position.
On Tuesday, Feb. 16, Murray delivered a State of the City address, wherein he spoke to the people of Seattle regarding points of interest for the city. He emphasized his office's commitment to further improve Seattle's education and job opportunities sector, while also looking to support small businesses and foster the arts. Murray expressed desire to diversify and expand Seattle's police force and address inequalities encountered by young black males.
"I believe that when our young black men are at their best, Seattle is at its best," Murray said during his State of the City address. "My vision is that in 10 years, all of Seattle's young people will have the opportunity to enjoy the benefits that come with a growing city and a growing economy."
During his address, Murray focused on central, pressing issues that Seattle currently faces. He expressed hopes of creating social and economic justice, affordable housing within Seattle and awareness about climate change. Murray looks to accomplish this all while ensuring that the city meets its basic obligations in creating safe living communities, a prospering economy and an effective, efficient government system.
"I'm pleased with what he has done in the time that I have lived in Seattle. I'm not familiar with his opponents, but I would be happy for him to be able to continue his work as mayor," Morse said.
Murray has not only gained support from voters through his work in the Homelessness and affordable housing projects, but also through his involvement within the LGTBQ community and efforts to create a higher minimum wage. For these reasons, Helena Standaert, a sophomore nursing major, also plans to cast her vote for Murray in the upcoming mayoral election.
While Murray has received some criticism for the way he has handled the homelessness crisis in Seattle, the city has ranked high in places to live and work and has made progress towards economic equality.
"I think that Murray has done a good job as mayor so far, and will continue to do so if elected again," Standaert said. "He has been an active LGBTQ supporter, being gay himself, and was a large part of the decision to raise minimum wage in Seattle to $15/hour to make the city
realistically affordable."
In contrast to the positive support that both Standaert and Morse show for Murray, Veronika Zwicke, a sophomore marketing and management major, opposes Murray.
"I don't believe in his political ideals, or support his work in attempting to have everyone be paid equally. I think it's ridiculous that he is putting climate in front of a variety of other problems that the city is facing," Zwicke said.
Seattle's next mayoral election will be held in 2017. Whether or not Murray will find success in his attempt at re-election is something that only time will tell.
Shelby may be reached at [email protected].
Leave a Comment