KXSU: Wider Audience but with Tighter Control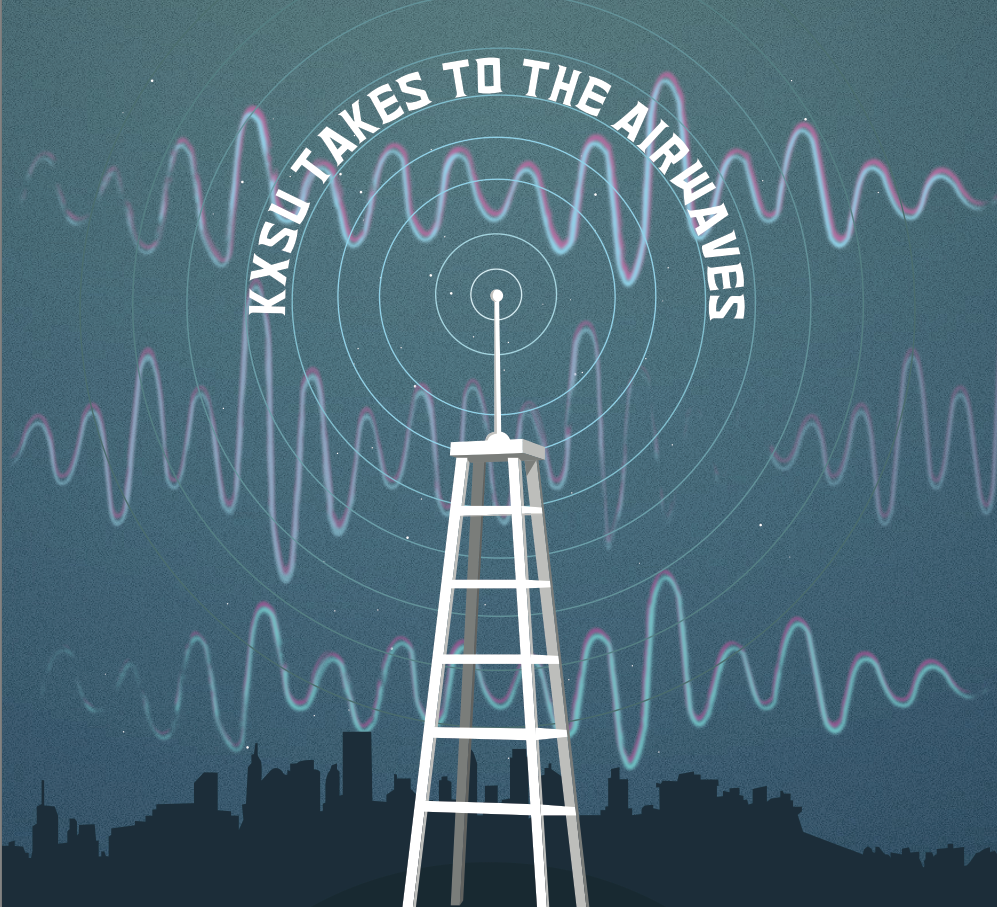 ---
Students with sharp eyes might have noticed a new addition to the roof of Campion, but most probably didn't notice the telephone-pole-like antenna reaching towards the sky that was placed there in September. It's not much, but it represents something big. In just a few short weeks, KXSU will broadcast on low-power FM frequencies throughout the Seattle area on 102.1 FM. That's right; KXSU is no longer limited to the Internet. However, the increased broadcast range comes with a cost that isn't just financial.
In addition to the tower and other expensive equipment, the hiring of a new Station Manager was required to bring the station up to speed with broadcasting regulations and procedures. A long-time radio host, Randy Scott—who is also enrolled in a master's program in Community Counseling at Seattle U—brings a lot to the table. With about 20 years of experience on radio, particularly as a broadcaster, he's found the perfect place to combine his love of radio with his love of Seattle U.
Picking up where his predecessors, professor John Carter and Fr. John Foster left off, Scott has been responsible for training student Disk Jockeys on FCC regulations and finally getting the station on the air. He describes the process as being really difficult, citing the city as a source of frustration in getting the project off the ground—but he ultimately feels the rewards far outweigh the pains.
"I think it's going to be a great teaching and learning opportunity for the students, because being on the air is not just about preparing yourself to maybe go into professional broadcasting," Scott said. "It's also about being able to formulate ideas clearly and to present a message you want to convey in a clear manner."
Ever since KSUB started off on the Internet way back in 1994 it has catered only to those who visited their website and was occasionally played throughout Campion and the Campus Store. Student DJs who wanted to work at the station were free to pretty much play whatever their hearts desired without much censorship.
That, however, is about to change. After the decade-long process which involved the school granting the station a decent chunk of change to upgrade their equipment and buy the technology required to broadcast, both the FCC and the university will now have more of a hand in the content the station and its blog.
Bella Pham, who has been a student-DJ for almost four years and also serves as Editor-in-Chief for online content, is enthusiastic about the changes, but at the same time harbors some concerns. When she came on board, she completely revamped the KXSU website and initiated a big push for reporters to get writing, but now that work—and even the music in general—is going to be censored and controlled by the FCC and the University itself, counteracting years of hard-work and freedom.
"Obviously it is a big step forward, but as a DJ I want to play my own music, so it's kind of hard to juggle that with my own music taste, but with the school stepping in, I think it's them taking a bigger stake in our station that is keeping us from exploring artistically what we can do with this," Pham said.
At the end of the day, it's the students who will be benefiting most from this significant change. Roisín Slevin, a junior, listens whenever her friends host shows, but soon she will be able to listen anytime, anywhere.
"I know a few people who do shows for KXSU and it's really great that the work they put in is going to be more available to more people," Slevin said. "Also, it's cool because—at least for me—it'll become something that's more accessible by being broadcast to other areas rather than mostly being accessible online."
While this landmark occurrence for Seattle U is certainly one to celebrate, it could also be taken with skepticism with the amount of content that is set to be limited both creatively and expressively. On Feb. 26, KXSU will host a launch party as they flip the switch to usher in a new era for the radio station and the university as a whole.
Scott may be reached at [email protected]
Leave a Comment