SRI Task Force Forums Revive Sustainability Conversation
The newly formed Socially Responsible Investment (SRI) task force held its first round of open forums last Tuesday, inviting faculty and students to actively participate in Seattle University's efforts to divest from the fossil fuel industry. The forums prompted passionate exchanges that reflected the university's mission to create a sustainable future.
"I detected, among some members [of the task force], a genuine concern for the problem at the heart of all of this, which is, we've got one earth and we're doing a very poor job sharing it with each other and with other nonhuman forms of life," said philosophy professor Jason Wirth.
The forums created a safe space for students and members of the task force to be honest with each other. The at times heated discussion brought to light the deep complexity of divesting from fossil fuels. Most would say it's an uphill battle, but it became clear last week that people from Seattle U think it's a cause well worth fighting for.
The task force was created for a one-year term in March 2015 to make recommendations to deepen the university's commitment to socially responsible investing. With the term almost up, the task force is working hard to find its bearings in an economic arena where the environmental impact of financial ventures are rarely taken into consideration.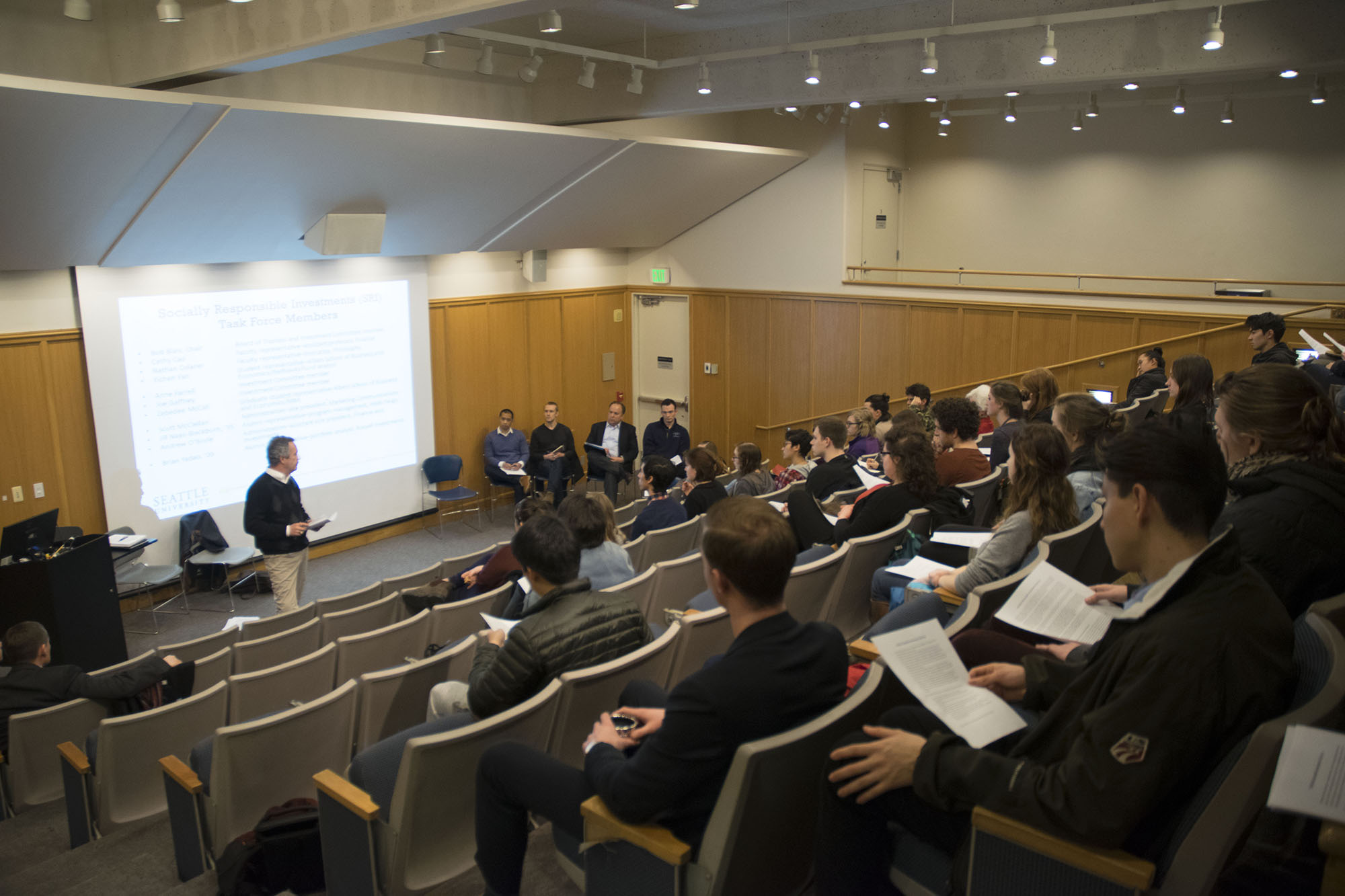 Various students, faculty and speakers were invited to hear the university's proposal on its divestment strategy that steers university assets to more socially aware opportunities
---
Seattle U has roughly 290 endowments with a market value of $200 million as of June 2015. 6.1 percent of the money is invested in fossil fuels and 0.6 percent in coal. Those funds are managed by Cambridge Associates, an investment consultant company responsible for the investments of many other private, corporate and government entities.
"The fundamental issue is how you weigh the institutions financial needs and well-being against its mission," said J. Welsey Lauer, associate professor of civil and environmental engineering. "It really is the issue of the time. The university has to start acting soon."
At the moment, there is no standardized metric with which investors like Seattle U can compare the tendency of any given fund manager to prioritize socially responsible investments. This issue is compounded by the fact that the school's endowment is invested in what are called "pooled funds." This means the Seattle U investment committee has limited control over the distribution of money, which prevents it from breaking free of this outdated system. The task force has thus been trusted to pursue other means of investing in socially responsible enterprises.
"We wreck the earth, we wreck anything else we could value—it all goes down together. We can put that amazing brain power together and become a leader on the world stage at a time of crisis," Wirth said.
Wirth and Lauer spearheaded a faculty-led movement inspired by SSA to hold the university accountable for its investments in the fossil fuel industry. They collaborated with Seattle U professors and faculty members to send an open letter to the administration, insisting that they reconsider where they put their money. The letter collected over 160 signatures.
---
"We recognize [the administration] met us halfway," Wirth said. "We're optimistic that we can work together."
Bob Blais, a member of the Board of Trustees and Investment Committee and the Chair of the SRI task force, spoke directly to members of the SSA during one of the forums.
"Father Sundborg would give you guys credit for the existence of our task force," Blais said as he pointed to the group.
SSA member Rebecca Clark-Hargreaves attended both forums, plus a closed-door meeting held earlier in the week between members of SSA and the task force. The level of commitment was encouraging, she said, but it has to be followed up by direct action.
"There's still resistance to taking substantial action," Clark-Hargreaves said. "As an institution that supposedly has social justice at its foundation, that's a problem."
The task force sent out an email last Wednesday with a link to an overview of what was discussed at Tuesday's forums. The email also invited Seattle U community members who did not attend the forums to give feedback via a form on the university website. All feedback will be considered as the task force works to make final recommendations.
View Comments (1)