Search for Meaning at Eighth Annual Book Festival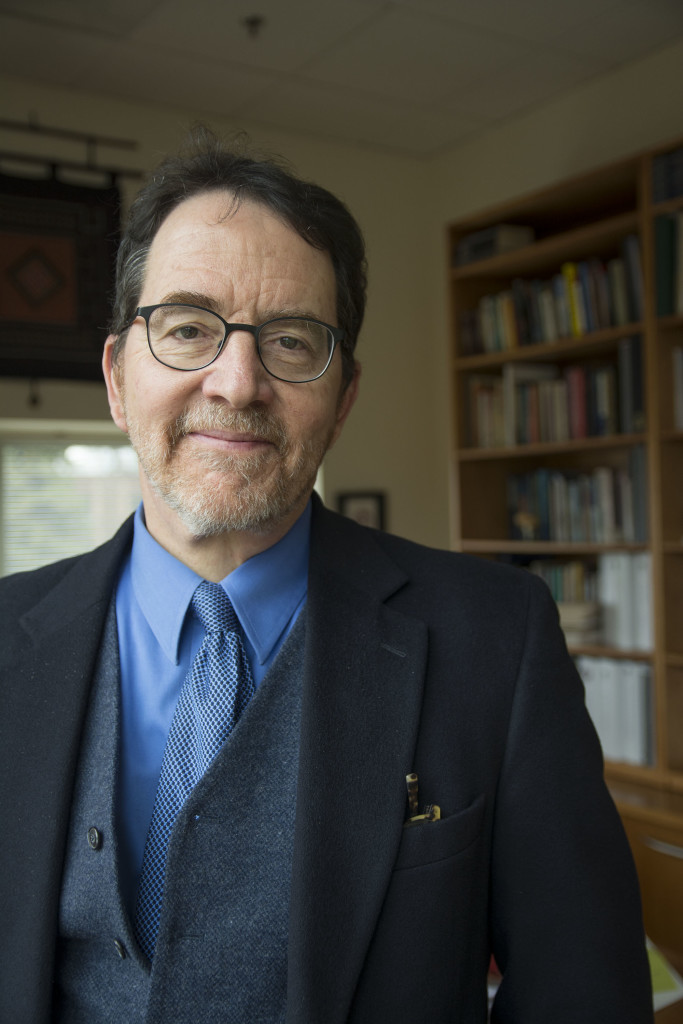 Mark Markuly, one of the organizers for the Search for Meaning event.
What is the purpose of life? How did I get here? These questions aren't the opening line into the beginning of an existential crisis—instead they are the questions that will help kick off Seattle University's Search for Meaning Book Festival.
Going into its eighth annual year, the festival will present over 50 authors known both nationally and internationally. Given the vast number of literary genres present at the festival, attendees will be given the opportunity to indulge in multiple perspectives surrounding the question of what it means to be a human.
"The idea behind it was to bring together a lot of diversity of voices, of serious people who have thought seriously of what it means to be a human being leading a good life," said Mark Markuly, Dean and professor of the School of Theology.
The festival will have three keynote speakers including Tracy Kidder, author of "Mountains Beyond Mountains," Suki Kim, author of "Without You, There Is No Us" and Sam Quinones, journalist and author of "Heroin, Shoe Laces, Levi's and Walmart—The End of a Community and Its Re-Creation." These authors were chosen because they are prominent figures within contemporary literary culture. Markuly also noted that, though Kidder, Kim and Quinones are the featured speakers at the event, the general session authors possess just as much value and have produced equally compelling work.
The Search for Meaning Book Festival is not only an attraction for university administrators and students, but also for the larger community. Seattle U finds co-sponsors for the event in the form of local businesses, such as the Elliott Bay Book Company, which will co-sponsor the event.
Karen Allman, a bookseller and the event coordinator for the Elliot Bay, shed light on how the company allied with the festival at its beginning and why the store maintains that relationship eight years later.
"We have helped curate the festival since the beginning and are a proud cosponsor," Allman said. "There is such a great, wide variety of work being done in the community. I love the free exchange of ideas across age groups. There are students, there are retirees and there's everyone in between."
Allman's passion for the inclusion of all age groups is similar to that of Markuly's. Though this diverse turnout helps strengthen the community of the event, Markuly has noted that as the festival progresses, he hopes to see more student involvement and a stronger undergraduate turnout.
"As the idea evolves, we would have more students engaged in it, maybe through their classes. Certain authors would be very attractive to many of the undergraduates," Markuly said.
In light of Markuly's hopeful desires, sophomore English major Wiley Martin spoke to the opportunities presented to students who attend the festival.
"It gives you the opportunity to meet and learn from anybody that inspires you and it gives you the opportunity to learn about new authors that could push you further in your self knowledge or even just provide more reading pleasure," Martin said. "I would hope to be in a comfortable environment and ask somebody who I look up to to give me some insight and some knowledge."
Search for Meaning was conceived as an effort to create a space for philosophical and religious conversations outside the restrictions of an indifferent society.
"What does it mean to make decisions based off the precious little time we all have as human beings," Markuly said.
According to Markuly, it is because of these voices that those who attend are able to address a variety of issues through the authors' different perspectives.
"There's a whole series… of issues from these different prisms. What's the overall purpose of human life? How I should spend the rest of my life? What constitutes a good way to actually care about a human being and how to love them?" Markuly said.
General admission tickets for the Search for Meaning Book Festival are available online for $10, with exception of free admission for Seattle U students and faculty. For those attending the event, keep on the look out for the festival's newest edition of the curated art show, featuring Julia Cameron.
Shelby may be reached at [email protected]
Leave a Comment