Men's Basketball Wins Fifth Straight Game
In front of a homecoming crowd of 2,260 people, the Seattle University men's basketball team never trailed against Missouri-Kansas City and grabbed their fifth straight win.
Two days after Brendan Westendorf banked in a buzzer-beating three-point shot to win the game, the Redhawks (12-11, 6-3 WAC) continued their recent success after a slow start to the season.
Despite not getting the usual scoring punch from Westendorf (11.8 ppg), William Powell more than made up for it for an all-around performance to the tune of 17 points, 12 rebounds, and six assists.
Coach Cameron Dollar praised his team's effort, defense and patience. He also thought they responded well to their Jan. 6 loss to UMKC.
"We posed a little tougher problem zone wise this game. For a handful of our guys that was the first conference game they ever played in. Some of those younger guys got some more miles on them."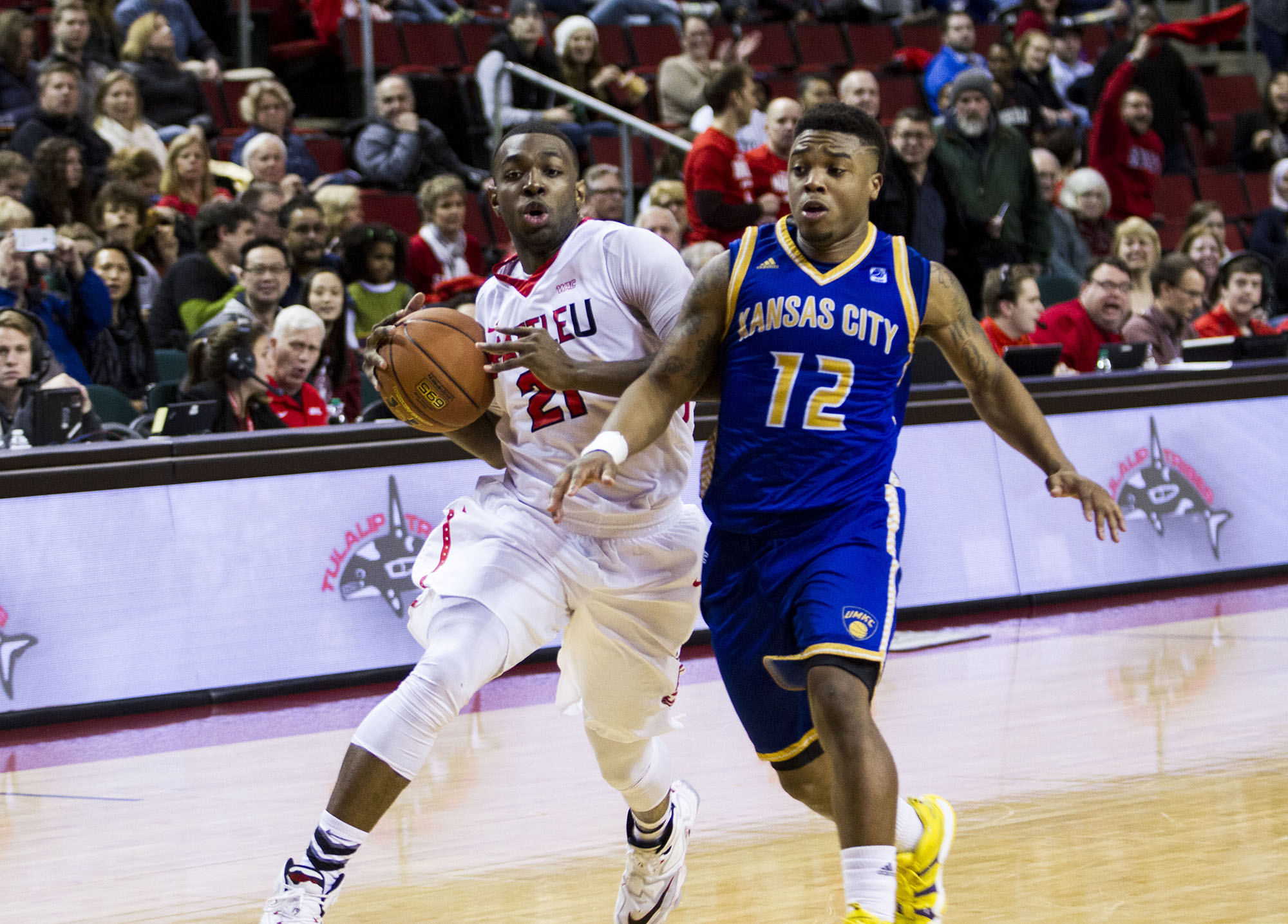 #21 William Powell posted a double-double versus UMKC, with 17 points, 12 rebounds and 6 assists
---
Powell brought the energy early with a two handed jam ten minutes into the first half that got KeyArena on its feet. The 6'6" forward not only made plays on the offensive end but held down the defense that held the Kangaroos to 33 percent shooting.
Seattle U came out playing fast with six fast break points in the first half. They forced 11 first half turnovers that led to 13 points. They were running the floor and setting the pace for the game. Although, this was originally not their plan.
"We wanted to slow it down and take our time but it was working so we just went with it," Powell said.
It worked until they gave up nine points at the end of the half to let UMKC pull to within two.
They started off the second half fast, getting six points from Manny Chibuogwu to take a four point lead and they didn't look back, leading the rest of the game.
The Kangaroos cut the lead to five with four minutes remaining, but freshman guard Jake Spurgeon hit back to back three-pointers to extend the lead and seal the game.
The Redhawks hit 16 free throws in the second half including nine in the last two minutes.
With just five games remaining before the WAC tournament the Redhawks are playing some of their best basketball. They are not getting comfortable with their situation though. While it's great to win, the team knows they haven't accomplished anything yet.
"We gotta keep winning. We still have New Mexico State and Grand Canyon to play here," Powell said. "It's cool to win but at about 12 o'clock I forget about it."
New Mexico will be a big focal point for this team as they lost to them in the Western Atlantic Conference tournament championship last year. New Mexico State has also won the tournament for four straight years.
The Redhawks know that there are still tests for them coming up. Three of the their final five games come against the top three teams in the conference. This will be a good challenge for the Redhawks heading into the tournament where they look to make the championship game as they did last year.
Despite the upcoming challenges, the team must be feeling good after their recent success. They are heating up at the right time and Saturday's win should be a sign of good things to come.
Up next: The Redhawks get seven days off before facing off against Grand Canyon University. They last faced off on Jan. 30 when Seattle University won on a last second layup to hand GCU its first conference loss.
Leave a Comment