Battle of the Bands Promises Expanded Format in 2016
The annual Battle of the Bands competition, one of Seattle University's most popular events, is right around the corner—but this time with the added elements of diversity
and philanthropy.
Jillian Fields from Student Events and Activities Council is organizing the event this year. She said that this year's competition will be different from previous years in its diversity of musical genres.
---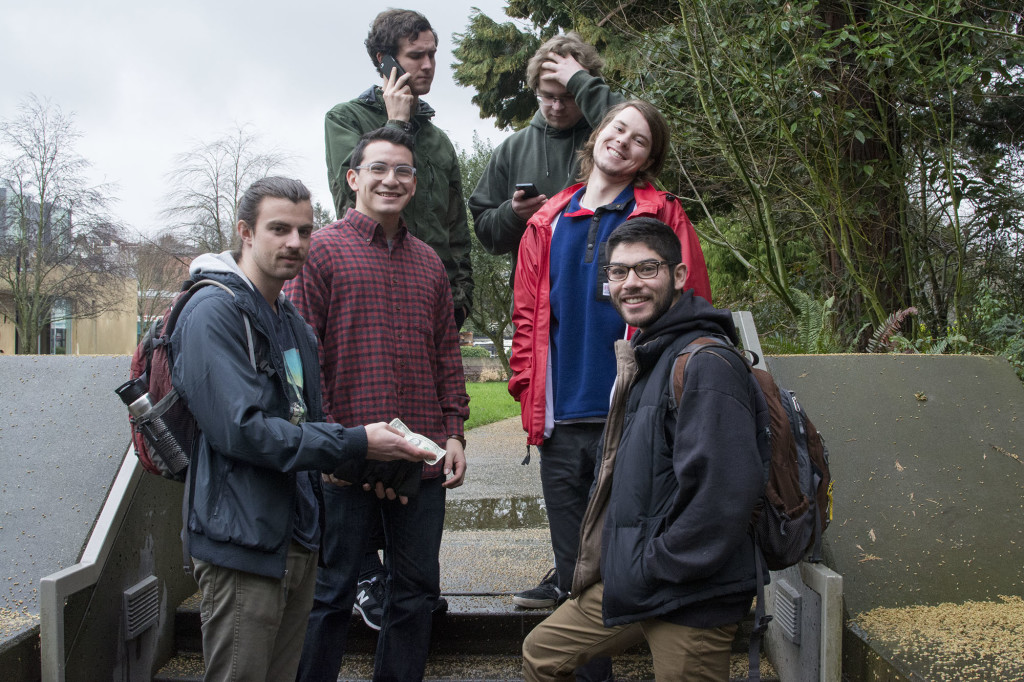 The band Michael Jordan and the Bill of Funk band members: Danny Giroux, Jeremy Littman, Randall Ersoz, Jack Lasley, Julian Hinojosa and Tommy Sandri.
---
"We changed the marketing to 'open genre' [in order to] attract more diverse bands," Fields said. "We added one more group so there will be six bands instead of the usual five."
Fields is also excited about the wide variety of music. This year's show will feature acts ranging from rock, to folk to rap.
"There will be different types of music the bands represent and… the bands are rooted in the local community," she said.
In addition to the music and the regular anticipation of seeing which student band will be playing at this year's Quadstock, Fields mentioned that a philanthropic element will be added to the show this year.
"You can get $1 off of your ticket for every canned food donated to Jewish Family Services Food Bank," Fields said. Consequently, students can get discounted tickets just for participating in a food drive.
First place earns a spot to perform at Quadstock, Seattle U's biggest student event of the year. Second and third place winners will be able to try out to play at the grand opening of the Decibel Apartments, a new set of apartment buildings opening up on First Hill this year.
The first band in the Battle of the Bands 2016 lineup is One11Twenty. Kyle DelFatti, the lead singer, says that he is excited for the event and for the opportunity to play music with
the band.
"We will have a new dynamic on stage and I am excited to explore that dynamic," DelFatti said.
He described their sound as alternative indie rock, a blend between several bands in that genre. He mentioned one specific band as having a particular impact on the group.
"If you can imagine if Twenty One Pilots had guitar oriented music instead of electronic and was in front of a live audience, [that's us]," DelFatti said.
One11Twenty is trying out some new elements this year, so audience members should look out for some familiar tunes with a new twist.
"We are doing more covers this performance than we normally do. We want people to recognize songs when we play," DelFatti said.
Next up is the group Tori Marsh, who will bring a more pop and hip-hop sound to the stage. Tori Marsh, who is the lead singer of the band as well as its namesake, said her group is looking to bring some passion to the stage, noting the band's unique ability to influence the crowd as a strength.
"We are a band with a lot of energy and we like to have fun … we think the audience will really appreciate that from us," Marsh said. "I want to share what we care so deeply about with everyone, we are excited to have that."
PLCBO will be bringing some jazz elements to the show in the form of rap. Henry Burgess-Marshall, one of the band's rappers, described some contrasting elements in their overall sound.
"Some of us are like the little angel on your shoulder, and some of us have a darker sound, like the devil on the other shoulder," he said.
Burgess-Marshall believes that the students should be excited to listen to PLCBO.
"We are really interactive and fun. It's more of an event than a concert," Burgess-Marshall said.
Michael Jordan and the Bill of Funk will be the next group to bring some innovative music this year. They describe their sound as "cosmic and funk with a little of this and a little of that."
"We want to get people psyched. We just want to have a good time," said Danny Giroux, one of the band's members.
The next group is Morado. Ray Molina, a guitarist with the group, noted some of the band's musical influences and idols when discussing their own music.
"The Strokes influenced our sound," Molina said. Still, he believes that the group is in the process of discovering the fullness of their own potential. This will be the group's first official performance and they are excited to showcase their talent.
"[Students] should come to enjoy themselves and experience new music," Molina concluded.
The final group this year will be DJ PajamaJamz aka DJ PJ and Dr. Sleepytime Tea.
"We feel like genres put you in a box, but we get our inspiration from bluegrass and early 1950's REM music," said Kelvin Mason, one of the band's members when asked to explain their sound.
They said their goal is to excite change among sleep patterns—to intervene on student's habits. They are also excited to be offering Father Steve T-shirts for additional canned food donations, so pack up your pantry.
"We are given few opportunities to celebrate the artistic talent of our peers," Marsh said. "Seattle is really big on supporting local music and this is a good way to do that."
Support Seattle University's very own at Battle of the Bands in Campion Ballroom at 7 p.m. on Feb. 5.
The editor may be reached at [email protected]
Leave a Comment