Resident Director Leaves Campus with Lasting Impact
Much more than the proud owner of the two famous dachshunds frequently seen trotting around Seattle University's campus, former Xavier Hall Resident Director Deanne Liu is a meaningful leader in the campus community. After leaving residence life at the end of fall quarter, she will surely be missed.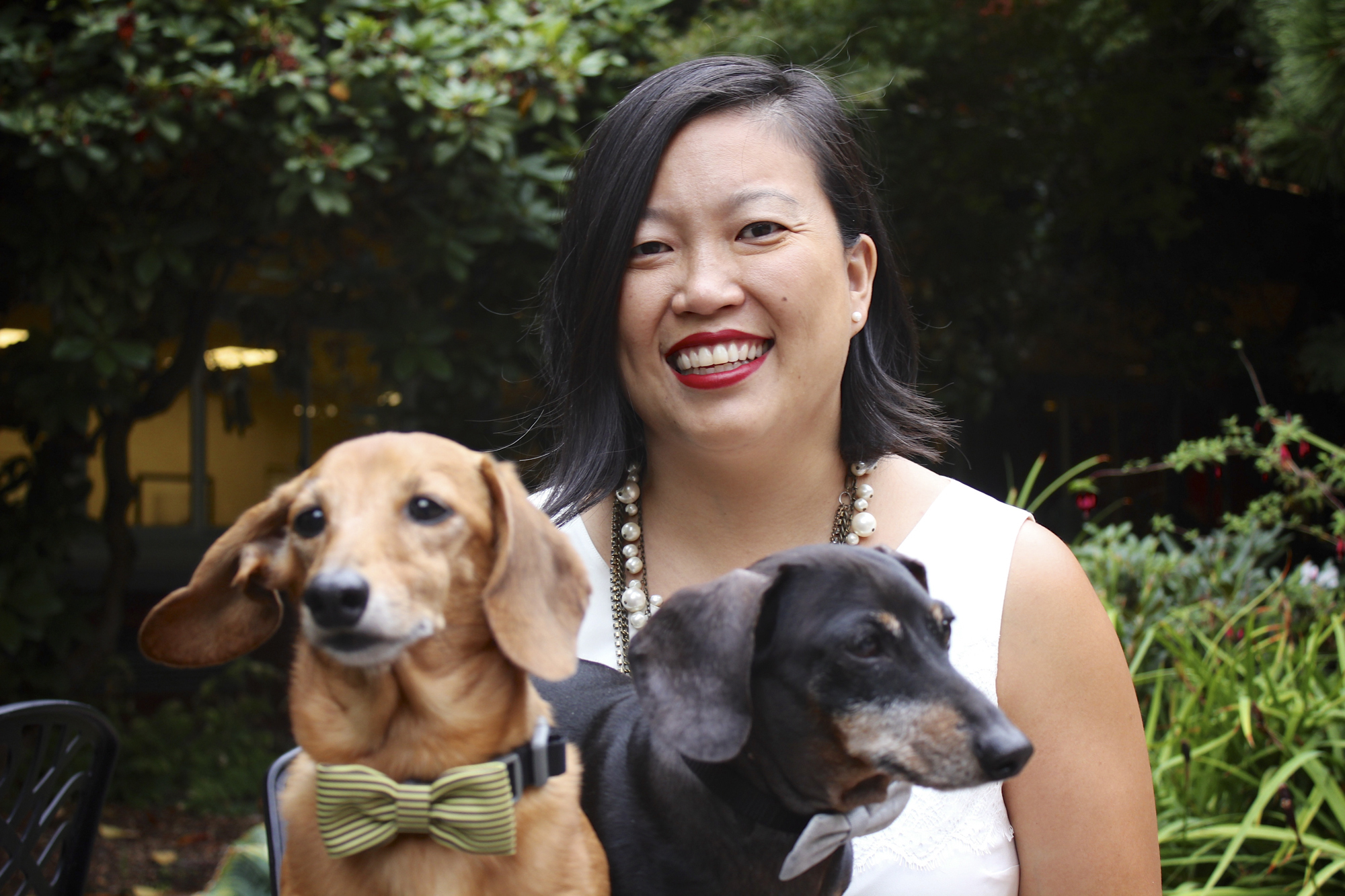 Deanne Liu, former Resident Director for Xavier Hall, and her two dog Oscar and Guinness.
---
Just like her dogs Oscar and Guinness, Liu's presence seems to bring nothing but joy and laughter to those around her.
"I remember all my friends in Xavier freshman year loved the staff they had, especially Deanne," junior Lauren Young said. "Being a commuter, I really liked hearing the stories they would tell me about moving into a great place with great people."
Other than being a resident assistant herself, Liu had no prior experience with housing and residence life. She originally came from working in a multicultural office in Santa Barbara before stepping in and embarking on her journey as a resident director at Seattle U for just under three years.
Liu's love for the Seattle U community first came about when she received her graduate degree from the university
"In graduate school I felt very broken. I didn't know where I was in my life and I was really trying to figure out what my purpose was," Liu said. "When I came into this program and to Seattle U, I felt this sense of love and community that I've never felt anywhere else."
Liu confesses that one of the hardest things about leaving Seattle U is not being able to see all that she and her staff were working toward come to fruition. Driven by gratitude, she has constantly strived to give back to the community that she felt had given so much to her.
Evident in how fondly fellow residents and staff alike speak of her, the impact Liu left inspired many positive changes within those she interacted with.
"I met Deanne last year [when] I was a resident here and I had trouble assimilating to college life and being away from my family," sophomore desk assistant Jonathan Miranda said. "She made it finally enjoyable to be here. At one point I wanted to move out of Xavier and she just made this place feel like home."
One aspect Liu prides herself on is being able to contribute and nourish the close-knit community found at Xavier. Presented with plenty of opportunities to transfer to different residence halls, she always turned them down in favor of cultivating the relationships she had fostered at the Global House.
"It was a lot of fun to work with Deanne," sophomore resident assistant Sam Garcia said. "She genuinely wants to know how you're doing and what you're doing, and is good at helping people grow and facilitating that growth."
Liu will now join the ranks of former Xavier Hall resident directors, that of which include current director of the Center for Student Involvement Bernie Liang and current director of the Office of Multicultural Affairs Czarina Ramsay.
"We have had quite the legacy of community building," Liu said. "What's so special about Xavier is the fact that we know everyone's name. We form these authentic relationships and we try to be really intentional about getting to know people."
Having to leave behind the genuine connections she has made has been particularly difficult for Liu. She has felt fulfilled in her position by being able to mentor students.
"The reason why I wanted to work in higher ed is because you make a lot of decisions about who you want to be. All along the way you make that decision," Liu said. "Where things have friction and are hard, that's where I want to be. That's the stuff that's really formative and good."
Liu currently works at an elementary school, helping them fundraise for their endowment that helps with their financial aid. Her time with the school assists in giving kids the opportunity to receive an education that they might not be presented otherwise.
As she proceeds to take on new endeavors, the hopes and dreams Liu had for this community will continue on in the love she had invested in those she worked with.
"This Seattle University student community is very unique. It's so important and beautiful," Liu said. "I have been so blessed and lucky to be a part of [it]."
Vikki may be reached at [email protected]
Leave a Comment