Men's Soccer Ends in the Sweet 16
Seattle University's finest ever season at the Division I level has come to an end, with a 3-1 loss to Syracuse.
Away to Syracuse in the Sweet 16, the Redhawks were behind after just two minutes when Miles Robinson thumped home a corner kick from close range. Seattle U was guranteed to face a tough task traveling 2,744 miles cross country, the farthest traveled of any squad for the third round, but going behind early proved to be costly in the end as Syracuse outlasted the Redhawks.
The Orange were able to cut out the threat from Seattle forwards sophomore David Olsen and senior Michael Roberts, who were unable to provide the link up play that has been the focal point of the Seattle U attack this season. Syracuse also pressed high up the field and made it difficult for Seattle U to link play out of the back with their midfield. Freshman midfielder Sergio Rivas, who often buzzed around the pitch and got in behind or set up plays in front of him, was unable to be as influential as he had been all year. As the game grew, Seattle U began to see more of the ball, but wasn't able to dig out as many clear-cut chances as they would've liked.
"Syracuse executed well and you could tell they'd been to this spot in the NCAA tournament before," said head coach Pete Fewing. "We couldn't quite get ourselves going and that was due to their tough pressure. Kudos to them for playing the way they did and for finishing their chances."
On 20 minutes Noah Rhynhart was able to double the Orange's advantage when he collected in the middle of the box and fired home past Shane Haworth. Seattle U did their best to respond with the introduction of Hamza Haddadi, who provided the winner last week against UCLA, but Syracuse was able to hold out until halftime with a two-goal advantage, with Austin Aviza called into a smart save to keep out Olsen five minutes from halftime.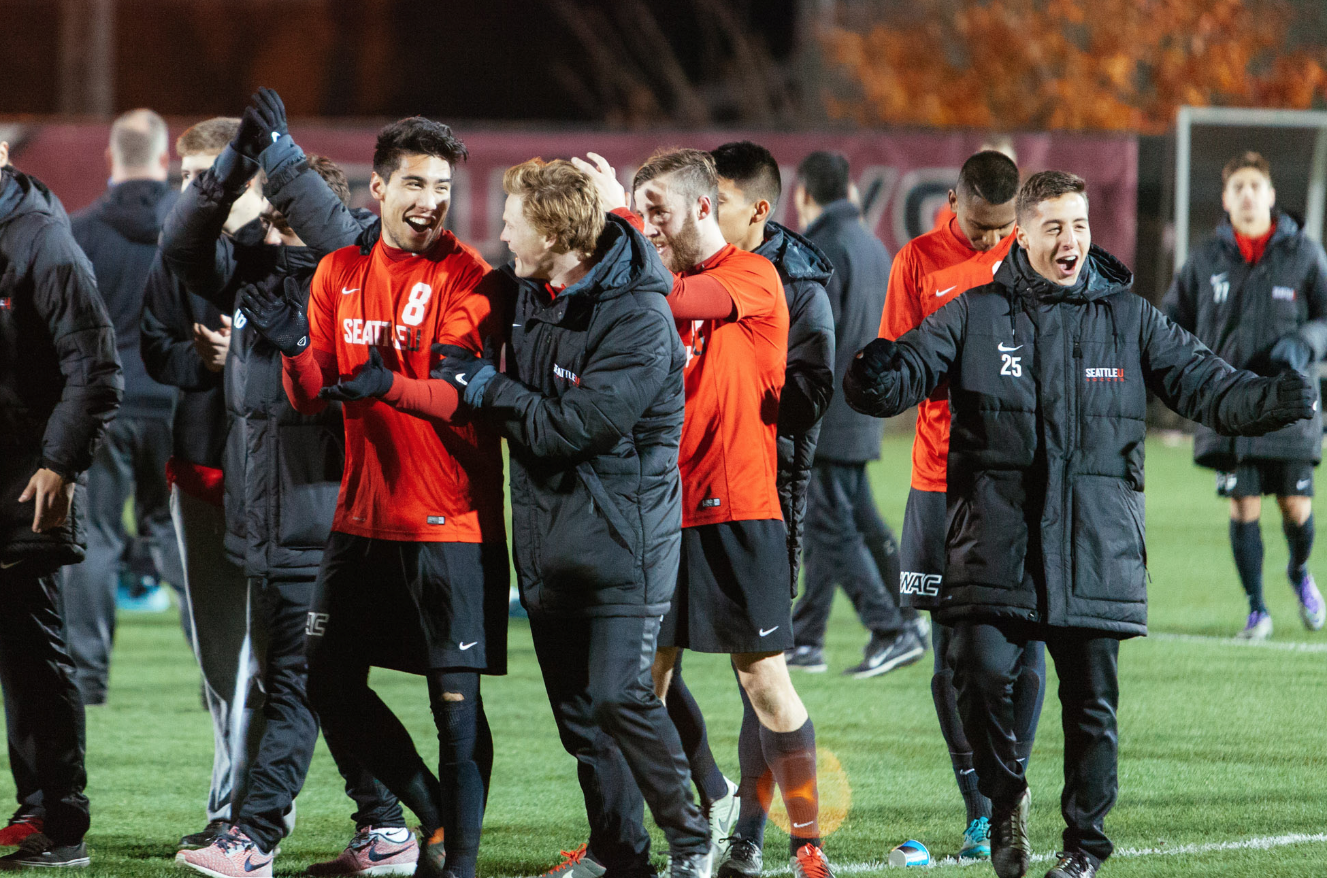 Seattle U Men's Soccer celebrating their win over UCLA to advance to the Sweet 16.
---
Seattle U was able to conjure up the response they were looking for in the second half as some questionable set piece defending from the Orange allowed Olsen to score his 16th goal of the campaign with a toe-poke finish. It was a route back into the match that could have seen the Redhawks even things up, but instead it was the Orange who responded. Just four minutes later, they sent a free kick of their own to the back post where it fell for Kamal Miller who restored their two-goal advantage.
Late on, Seattle U began to throw numbers forward but stout defending from the Syracuse backline and pace up front through Chris Nanco and Julian Buescher allowed the Orange to see the game out.
"It was a great season for the university and it's opened some eyes in Seattle as well as from recruits from around the world," Fewing said. "We were very pleased to get here but our plan was to advance. I don't think there's a guy in that locker room who thinks this was good enough, but it's been very good for our program. Beating UCLA was a big shot in the arm as is coming here to play Syracuse. We would've liked to have gone further but I think there's a sense that we can play."
It will now be a long wait for the Redhawks as they will hope to make it back to the NCAA tournament for the third time in four years in 2016. After being ranked in the top 25 since September and reaching their first ever Sweet 16, the Redhawks finish the year with a record of 18-4-1.
Chaucer may be reached at
[email protected].
Leave a Comment