Seattle's fast-growing restaurant scene is making people dash to sample what the buzz is about. With such a variety of innovative, friendly restaurants, finding one that truly is raising the bar may seem difficult. However, one restaurant on 300 E Pike, seems to be making a name for itself amidst the chaos of progression.
Stateside is a French and Vietnamese fusion restaurant that makes the list for must-try urban cuisines. Its trendy look and its eyebrow-raising fusion menu embody Seattle's micro-culture quite well, while still bringing something new to the table.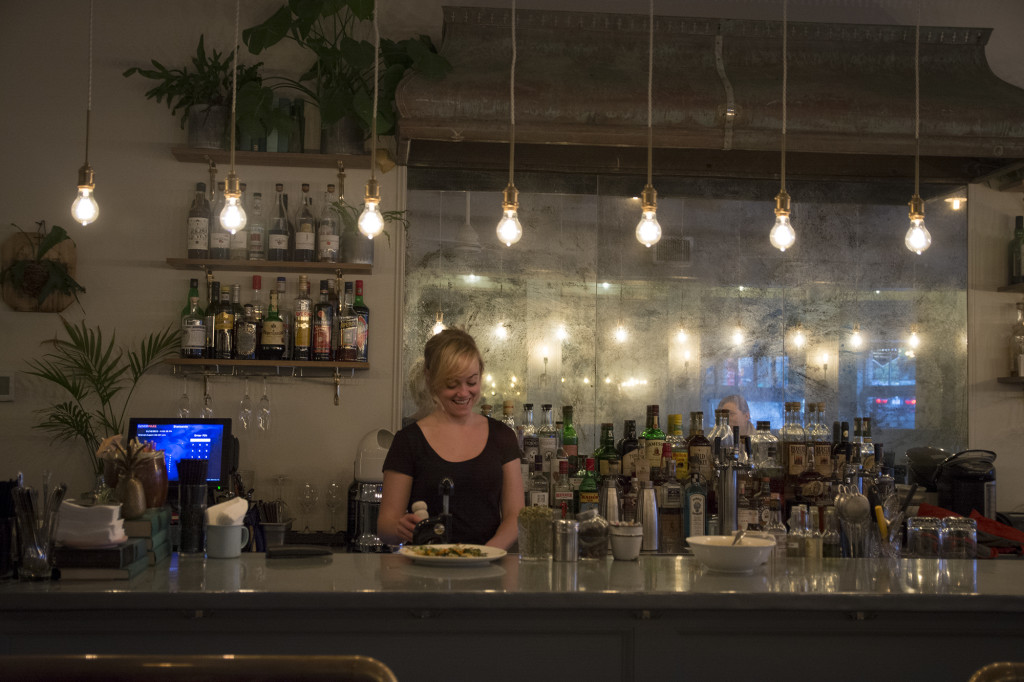 The restaurant Stateside is located on East Pike St. and Minor, serving a variety of French and Asian fusion cuisine.
How does it fare compared to the dozens of similar Seattleite hot spots? Let's start with the most important component… The food.
Stateside's experimental fusion menu has succeeded in finding a perfect balance of flavors. When most people think of Vietnamese food, the first things that may come to mind are the many pho restaurants that dot the Seattle area. Stateside isn't simply "that pho place down the street" it has created fresh, flavorful food that not only embodies the essence of Vietnamese cuisine, but also compliments it with deep, comforting elements of French cuisine. It seems to focus its attention on Vietnamese style entrées with hints of French ingredients and presentations.
For the broke college student, Stateside may seem a bit pricey. Dinner plates can range from $11 to $30 and usually run towards the latter. I came in for lunch and chose to order their lunch deal. This came with a choice of one small plate and one other menu item for $14.
My small plate was the Fresh Yuba Roll, an unorthodox mix of pumpkin, avocado and mushrooms stewing in a pond of milk-based sauce with a side of tamarind dip. When I first saw the plate, I was a bit intimidated, because of the intensity of the flavors. However, the roll delivered hearty, smooth textured ingredients with fresh, mouth-watering taste that left me wanting more.
The presentation of the food was crisp and had a balance of color and form. It also gave a small nod to the French fine dining experience. My main dish was the Mi Quang Ga—a rice noodle dish with soy chicken. The mint and banana blossoms tasted as if they had been picked straight from a garden and put on my plate. In a large bowl, the dish was a fusion of flavors that made me feel warm yet refreshed.
Other popular items include the crispy duck rolls, goat curry or lime leaf tofu. I would suggest visiting for brunch and ordering the charcoal waffle and egg bao-nedeict. If you have room for dessert, the Vietnamese coffee creamsicle is supposed to be worth the trip on its own.
Just walking past Stateside, Seattleites won't notice the meticulously structured décor that perfectly compliments their menu and French/Vietnamese theme. The interior environment plays with rustic, tropical and elegant elements that all coexist in peace. Patrons walk into a warmly lit, breathable area that makes excellent use of natural light. The walls and most accent pieces were a light, pastel turquoise color. This combination made me feel as if I could lounge for hours while having a deep conversation with someone. Accent walls were lined in wallpaper with a palm tree pattern in the same turquoise color. Snug wood tables, brown linoleum seating and an unpolished floor gave romantic, natural and rich undertones that contrasted yet complimented the fresh, open ambience. The staff were friendly and attentive with a soft-spoken manner.
All the elements put together made Stateside an enjoyable experience. I highly suggest grabbing a table next time you walk by and find yourself with time to kill. I rate my experience as a 9 out of 10, with plans to one day return with a few friends and a big appetite.
Editor may be reached at [email protected]