Coach's Corner: Pete Fewing
CL: With the No. 13 National ranking and the team being on the rise the past few years, is this the season that Seattle U has finally gotten the recognition it deserves?
PF: I think our schedule put us in this good spot. Last season we were 11-5-3 but we didn't beat Washington. Beating Northwestern, Harvard, Dartmouth and Santa Clara I think our schedule validated [our ranking]. And I don't think we were nearly as good last year; I think we had talent but I don't think we honed it and I don't think that we put it to good use, we left a lot on the table last year which has fueled us this year. We wanted to be where we are. We're No. 10 in the RPI. That to me is what we expected. But we're not done. Being No. 13 is great, a lot of people are excited about it. We're really interested in winning one game, one half, at a time, in the next three to eight games.
---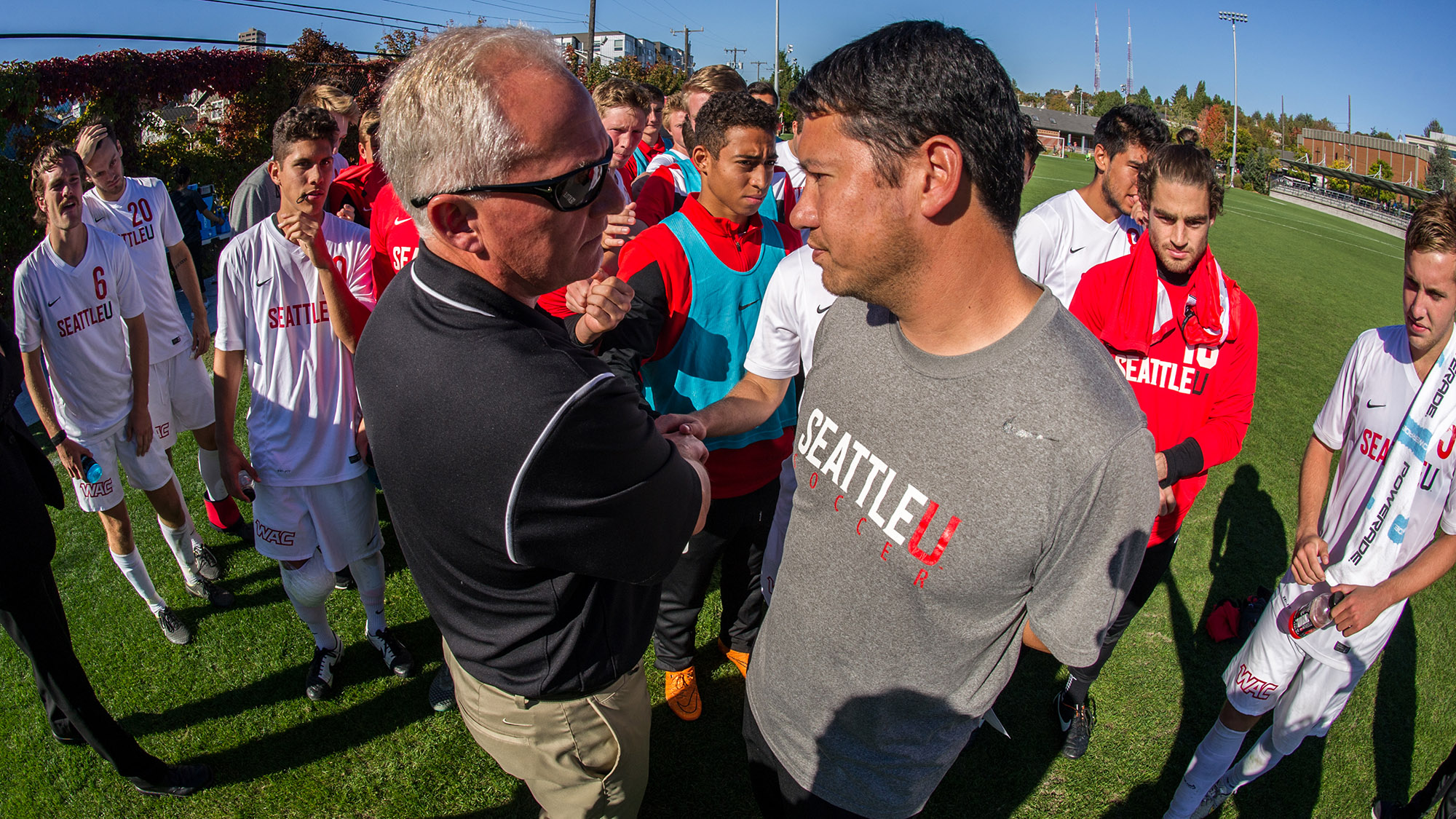 Seattle University men's soccer hosts Air Force at Championship Field, Seattle, Wa. on October 4, 2015
---
CL: As Seattle U has made the jump up to Division I, how has the Men's soccer program set a standard for the school's athletics?
PF: Each college sport is different, each sport has its different hierarchies, and men's college soccer is unique in that Caleb Porter (now coach of Portland Timbers) goes to Akron and they're national champs. Tim Vom Steeg goes to Santa Barbara and they're national champs. So it's not like that, I don't think, in other sports. If you're a great coach and you go to Portland it doesn't necessarily mean that North Carolina is going to roll over. There are some hierarchies, [like] Duke basketball. In college soccer there have been 55 national title games and 25 different national champions so no one has a lock on it as they can in other sports. The bar we want to set and I think every coach feels this way at Seattle U is that they want to be the best program on campus, and they want to be the best program in the country. Men's soccer is, for me, a little bit different in that I think it's possible [to be the best in the country]. I'm sure Cameron [Dollar] and Joan [Bonvicini] feel the same for their programs but they have a different group to deal with. We want to win a national championship, and anything less that than is disappointing.
CL: Seattle U has the most wins in the country except for Creighton, who is currently ranked No. 1. Is there anything that separates Seattle U from the likes of Notre Dame, Stanford, Wake Forest, North Carolina
and Creighton?
PF: I don't know, we'll see. Honestly we'll see [later this year]. And that's fun, it's fun to be honest about it. When we played Creighton at their place a couple years ago they had very good individual talent but I don't think they expected the game that we gave them. The Notre Dame's of the world, Bobby Clark's team, and UNC, until we step on the field I won't get a great gauge for them. But watching Stanford (No. 4 national ranking) versus Washington (on Nov. 2), I feel like we can compete against both of those teams. And Stanford, I love Jordan Morris up front he's terrific and I thought they had some good individual talent but I feel like we'd give them a good game.
CL: How can the win against UW serve as a benchmark for the program, not just for this season but future seasons as well?
PF: Since I played at UW I have a lot of connections there. They have had such great success lately and even during Dean Wurzberger's 19 years there he built the program into a top 20 program. Jamie [Clark] has come in and elevated that they've gone to a final eight. And they are the big dog, literally, in the neighborhood so going against them and getting a win lets people know that we [can compete with them]. And the way we did it too, we hit the post twice, I thought we had good possession, I thought we played a good game against them and put them under pressure. I thought we had a very good performance against them and played well and stood up to them. They are a psychical team and very talented and they don't back down, and [this year] we didn't back down. It gives us a talking point with recruits and media and donors. Now we have to do it again, though.
CL: David Olsen is currently leading the team with 13 goals, what did it mean for him to transfer to Seattle U after having such a good freshman year at San Diego State?
PF: He wanted to come home, and I think Seattle U is the perfect fit for him. He is academically getting the hang of it and he's getting comfortable and I think this is where he belongs. He has gotten the personal attention in the classroom, and in the team. The team is very, very close so he has a bunch of brothers. I think the reason he has been so successful on the field is because he is having such a good off the field experience.
CL: Shane Haworth, Sergio Rivas, Kyle Bjornethun, Sam Langston and Cameron Rohani have all started every match for Seattle U so far this season. How has the consistency in the squad benefitted your
team's success?
PF: I think it's great when you can have almost half your team starting every game. Especially where they are: goalkeeper, the two in front of the goalkeeper, left back, and down the spine [of the midfield]. We've had the trio of Mike [Roberts], David [Olsen] and Hamza [Haddadi] up front that has been really good. Alex [Roldan] has also started 95 percent of the games and Jeff Rose had 12 starts in a row and now has 14 of 18 starts. So that consistency is great and then having pieces come off the bench and we have a lot of good depth.
CL: How pleased are you with the decision to employ a midfield diamond this year?
PF: Really pleased, it's been great. And the reason it's been great is because of the components. Cam Rohani (who plays at the base of the diamond) could be our team MVP. If you were to give an unsung hero it would be Cam because he helps keep possession, he picks off a lot of passes, he's great in the air, he does a great job tackling and he reads the game so well, he doesn't give the ball away. And then Sergio at the top of the diamond, who can take people on on the dribble, change direction and is unpredictable and he can score.
CL: Who in your mind has stepped up the most this year?
PF: Everybody. I've coached three teams that have won national championships and there is a collective effort and mindset that you have to have. I'm seeing good things happening right now, we're patient and we're not trying to look too far ahead. We have a work rate from everybody, we have a brotherhood from everyone and then that is spun into guys staying after games to train. They've been looking out for each other and everybody has stepped up and said 'let's make this great'.
Chaucer may be reached at [email protected]
Leave a Comment