Yobi Apartments Accommodate Student Housing Needs
The label of 'largest freshman class'—more than 1,000 freshmen enrolled this fall—has been passed on to this year's new set of students who are now calling Seattle University home. In order to accommodate this influx of students, Seattle U worked with alumni to open the Yobi apartment complex on Marion Street for upperclassman housing.
While many students and faculty got the opportunity to relax over the summer, the Housing and Residence Life (HRL) office kept busy handling the increased demand for on campus living spaces for the 2015 school year.
"When we got to the point of seeing how big the freshman class was going to get, we started working with facilities and our chief financial officer Connie Kanter to find potential spaces we could lease," said HRL director Kathleen Baker.
By mid-June, the HRL office was well aware that they were going to be about 200 bed spaces short. Finding the Yobi apartments helped ease the strain of finding spots for the influx of new students.
The apartment complex was a project built by a family of Seattle U alumni. HRL worked with the Yobi apartments to secure a master lease, renting the entire building for at least the next four years.
"The rent at Yobi is a little higher than living on campus, but in exchange you get privacy," Baker said. "There's also no meal plan required over there, so people who have special food needs can cook their own food. There's a lot of benefits."
Each apartment has its own private bathroom and kitchen area, with community spaces on every floor. The building itself is now part of the community linked to Xavier Global House and the Logan Court townhouses.
"I like [living at the Yobi apartments] a lot more simply because I'm an introvert and like my own personal space," sophomore Yobi resident Jason Cowan said. "I was in Campion last year. Having the ability to go to sleep whenever I want here without a roommate helps with my studies."
Although the building has just one resident assistant accounting for all the students living there, there are no desk assistants as there is no desk to run. If students receive large packages that are unable to fit in their mailboxes, they must retrieve it from Xavier Hall's front desk.
Additionally, more housing was made by converting more double rooms into triple rooms, primarily in Campion Hall. Unlike last year, HRL decided to keep the lounges in the residence halls as a floor space for all residents, as they don't want students living in a space that feels temporary.
Next fall term, the Yobi apartments will be able to house 45 students instead of its current 36 residents while construction continues. Priority for housing will be granted to juniors and seniors. Priority will also be given to students who are able to sign a 12-month contract instead of a 10-month contract.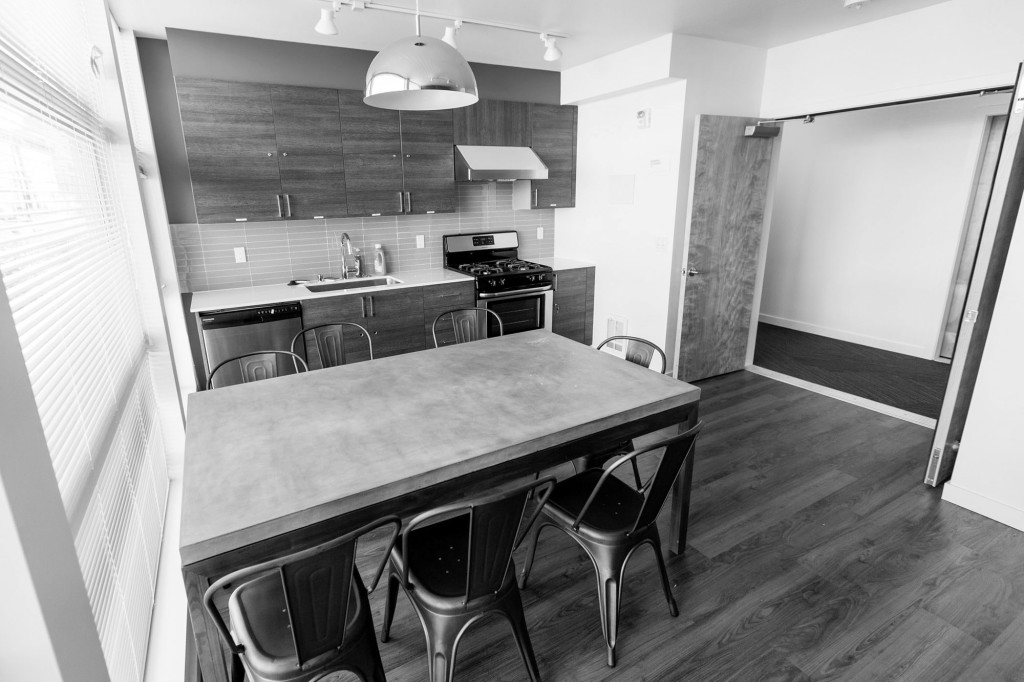 Each floor has a communal kitchen that contains a gas stove, dishwasher, and locking storage cabinet for each resident.
"We initially offered the Yobi space to juniors and seniors, but it was so late in the summer that they had already made other arrangements," Baker said. "So we opened it up to sophomores and it was pretty much full overnight."
With the all the housing changes in store for the future, the requirement that all undergraduate students stay on campus for their first two years will remain the same.
"I think the two year requirement for students to live on campus is a way for the university to pull more money from us," said junior Jesse Angeles. "Living on campus requires a lot more money than finding some places off campus."
According to Baker, the experience of living on campus for two years is integral to making connections and finding community for the students, a process important to the mission of Seattle U.
HRL is further exploring housing options for future students. As the freshman class size continually increases and retention rates stay high, another major concern for the office is ensuring there is enough housing for juniors and seniors too, as they do not want to force them to find housing off-campus.
"One of the great things about SU is that there are so many options of where to live," freshman Melissa Ilanga said. "The administration seems to be very accommodating. They do their best to make it feel like home here."
Vikki may be reached at [email protected]
Leave a Comment