The Seattle University softball team hosted a series of fall games these past two weekends. We caught up with new head coach Geoff Hirai on Monday to talk about the team, his expectations and more.
Hirai comes to Seattle by way of Oregon State University, where he spent the last three seasons as the associate head coach. An offensive specialist, Hirai spent most of his time at OSU working with the hitters. Last season, Oregon State finished with a team batting average of .298 and scored 300 runs, just one shy of a school record.
With previous coaching stints at the University of Washington and the University of Virginia, Hirai will now lead the Redhawks for his first gig as a head coach.
---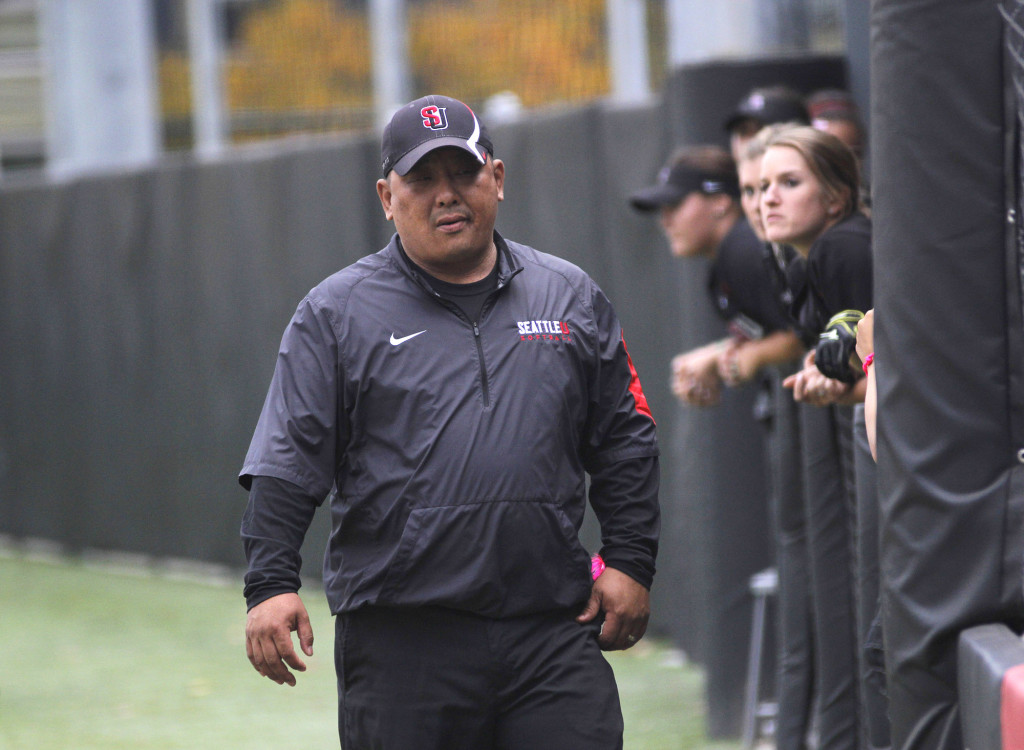 Newly hired head coach Geoff Hirai comes out of the dugout to assist the first base coach
---
AS: How do you feel the fall games have gone so far?
GH: Good…They're buying into the new culture, they're buying into something new… These kids are very eager to get better and work together and do everything that we need to do to get better. They're working hard; they're buying into going for it.
AS: What is the culture you're trying to build here?
GH: To go for it. To compete. Work Hard. We condition hard. I think they had an 'ah-ha,' moment last week when we did some gassers. We did gassers the first day out and they were dying…We ran them a week ago and we did a couple more than we did the first day and they did it with ease. So they are seeing the benefit of why we condition so hard and why we work so hard. The one thing we've really been stressing is going for it. We're going to play to win and not play to just win by a little or play to lose.
AS: I noticed yesterday that you were advocating aggressive base running, is that part of the "Going for it philosophy?"
GH: Exactly. We're going to go for it in every facet. If you get thrown out…you're never going to get yelled at from me. Now if we don't… or if you're going half or you hesitate, it's not going to bode well with me. If they go for it and they get thrown out by a couple feet, so be it.
AS: How have your previous coaching positions helped to prepare you for your first head coaching gig?
GH: In many, many ways. Seeing what works as a head coach, what doesn't work. I've taken bits and pieces of all of the head coaches I've been with…and learned a lot from all three of them. I've kind of just made it my own.
AS: What are your goals and expectations for the season?
GH: To win as many games as we can. Obviously we want to win the WAC. We want to send the seniors off to a regional [tournament] berth…When I was at Virginia, that was really special to me. We took Virginia to the regionals for the first time in school history. That would be an ultimate goal, to get this team to the postseason. I think we're right there.
AS: Has anyone stood out to you on the team?
GH: There's definitely a couple. Kaylee Ree last weekend went 8 for 8 on Sunday. I don't think I've seen anyone go 8 for 8 in one day. Our pitching staff has done a really good job. Hayley Beckstrom has really stepped up as a leader as a senior and I think she's learning how to lead. Paige Buska handles the bat really well, hits the ball—she just gets on base. Our freshman pitcher Andie Larkins had a great outing last Sunday. We have all the pieces to the puzzle, now we just [have to] make sure the pieces get to that puzzle and see if we can win this thing.
AS: Coming out of the fall games, is there anything you feel needs to improve right away?
GH: Just the natural progression. I think there's a natural progression of what—we just have to grow as a group and get to know each other… It's been a growing process and it's just going to get better and better every week.
AJ may be reached at [email protected]