Get Jazzed About Guitar at Seattle U
Going to school on Capitol Hill—one of the biggest cultural hubs in the state of Washington, if not the country—is a big deal for a student musician.
Each with guitars as unique as their personalities, this Guitar Jam class enjoys makin' sweet music together.
Popular bands and solo artists come to the neighborhood every weekend, whether to play a set at Neumos or a smaller venue like Chop Suey. Students at Seattle University have opportunities to see live music all the time, but they also have the chance to play it.
While arguably the most well known musical groups at Seattle U are the chamber orchestra and choirs, there is another population of musicians that has a huge presence on campus: the guitarists. There are a ton of them, and they play in a wide variety of genres and styles. These students can be found performing at a number of events throughout the year, including Battle of the Bands, Scratch, KXSU live shows and house parties.
For those who want to play in an academic setting, adjunct professor Susan Palmer from the music department teaches guitar lessons every quarter. Palmer is a Seattle U alumnus and plays mainly jazz, blues and rock. She's been teaching guitar in Seattle for 15 years, and started at Seattle U in 2006.
"I feel like there are so many cool things that these musicians do that go unnoticed by most of the university," Palmer said. "I just want people to be aware of that, because I think it's a real bonus to Seattle U to have all these great musicians."
Guitar lessons with Palmer are available to students of any skill level. The two-credit course combines one-on-one sessions with Palmer and sessions with a larger group, where all of her students can come together and play as a band.
---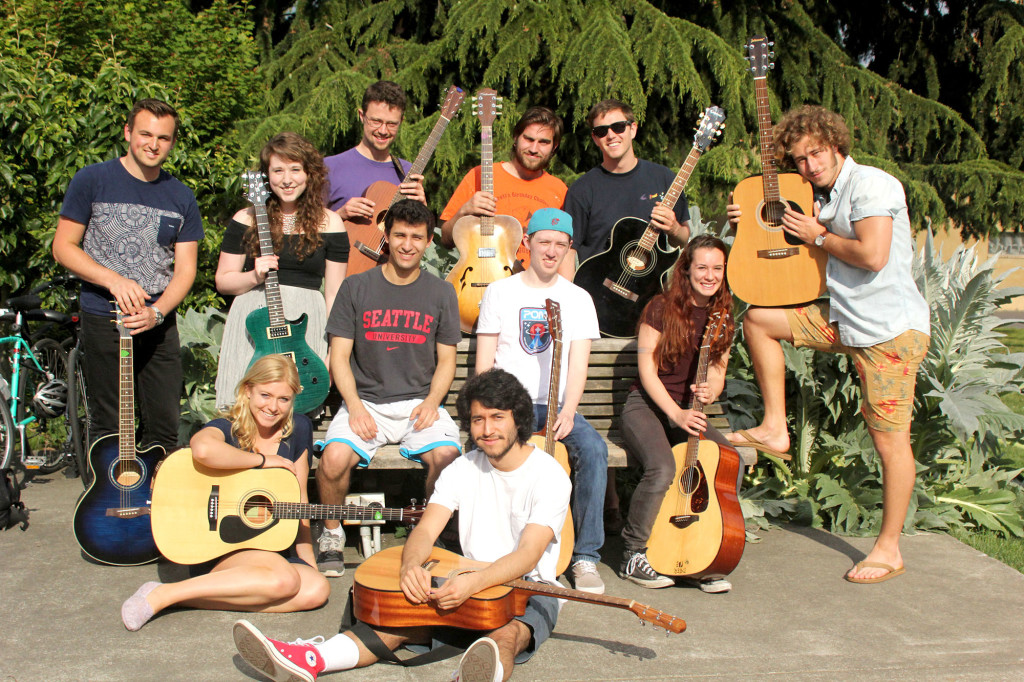 With a shared love of sweet jams, Seattle University boasts a bodacious group in their Guitar Jam class.
---
"Sometimes [Palmer] provides us with little gigs on campus, which is pretty cool," said sophomore Ray Molina. "It's fun, because she knows what we need to work on, and at the same time we also get to meet other guitarists."
Palmer said she believes the student musicians she teaches should be getting more recognition.
"I want to shine a light on the guitarists here," Palmer said. "There is such a variety of wonderful, smart, creative students."
Palmer said her lessons are set up to teach the fundamentals of contemporary music and to give students a feel for multiple genres, including jazz, blues, rock and country.
"I've done lessons for three quarters now, and we basically get to just jam together," said senior Ian Carrick. "I have a lot of experience playing music with others, but other folks don't, and [Palmer] really makes sure everyone knows how to do that, which is a very important skill."
Aside from guitar lessons, there are a variety of other organizations student guitarists can get involved with. The student-run Jazz Club on campus gives jazz musicians a chance to practice together and hone their skills without the pressure of performing live.
Ben Tuna (sophmore) and Craig Jaffe (sophomore) and their Guitar Jam class head to the outdoors for a quick session.
Junior Kelvin Mason, who co-leads the club, said the size and activity of the group changes frequently. Whereas a few years ago there were a ton of jazz musicians on campus wanting to play with each other, recently the group has gotten smaller. He said he hopes to see it grow next year.
"We don't really do any performances; it's just kind of a fun, work on your chops type thing," Mason said. "People who want solos usually get solos, and we just work on getting songs up to tempo."
Seattle U is also home to several student bands, including Animals in the Attic, Champagne Babylon and WRINKLES, who have been heard at events such as Quadstock and
Battle of the Bands.
Palmer said she tells her students not to go into the music industry unless it's absolutely the only thing they can do to fulfill themselves.
"It is so competitive, and there are not a lot [of opportunities] that people have to compete for," Palmer said. "If you have any other passion—any other thing that can fulfill you—do that, because you can always do music alongside that. But for me and for a handful of my students, music is in their blood. It's what they're
going to do."
Jenna may be reached at [email protected]
Leave a Comment