Q&A With Visiting Artist Kristin Cammermeyer
Kristin Cammermeyer is the type of artist who likes to think outside the box—or rather, outside the limiting four sides of a canvas.
In fact, the Los Angeles-based artist treats the entire studio as her canvas, using organic, sustainable materials on location to make new site-specific installations. Many of Cammermeyer's works incorporate stop motion animation, a multimedia art technique in which the artist physically manipulates objects in the installation. The objects are moved in small increments, a photo is taken after each movement, and then the photos are later put together into a continuous sequence.
---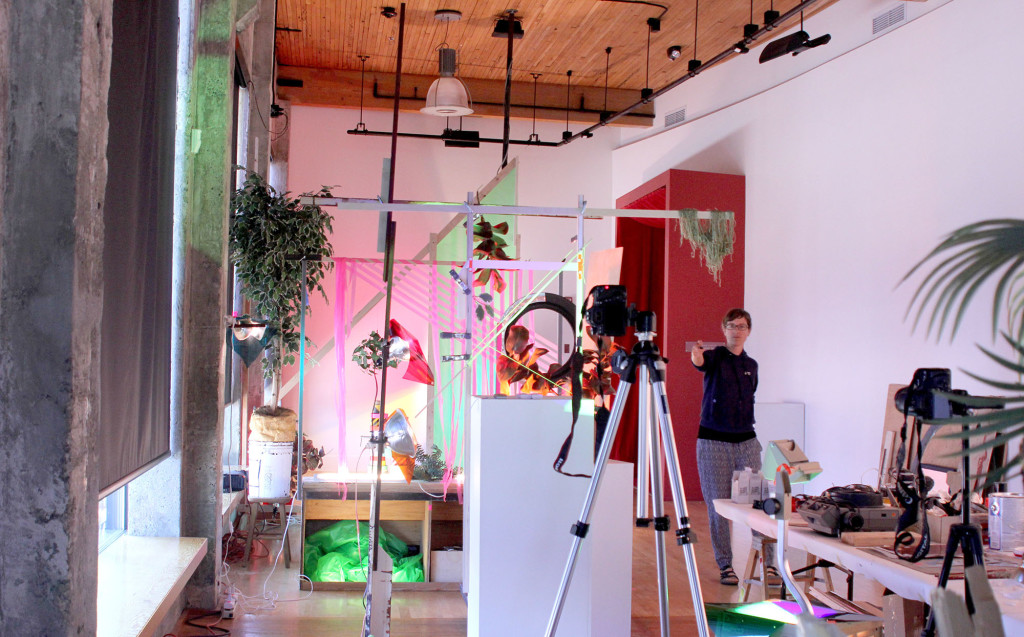 In preparation for her show opening soon, artist Kristen Cammermeyer works on her stop-motion video.
---
Cammermeyer is currently being featured in a site-specific installation, stop-motion animation and participatory exhibit at the Hedreen Gallery on campus through Saturday, June 27.
Katherine Erickson: What makes your work unique?
Kristin Cammermeyer: A lot of the material is collected from a scene shop or warehouse that is a part of the theatre on the Seattle University campus. Most of the larger materials are borrowed from there, like plastic plants, pedestals and scraps from the last show. So that's something I'm trying to incorporate into my practice more and more—borrowing available things.
KE: Why would you rather reuse materials than buy new ones?
KC: There are three things: 1) It's way more economical, 2) I'm traveling to spaces, so it would just be very cumbersome to haul everything with me and 3) I'm trying to reduce my waste footprint. It's an ephemeral work so it seems irresponsible to buy a bunch of new stuff for a short period of time and then throw it out.
KE: What are some of the major themes in your artwork?
KC: I would say working with available materials for sure, and trying to be a responsible consumer. I'd say the major theme is material in a perpetual state of motion … I think of these [works] as "moving paintings."
KE: In your current installation at Hedreen, what themes are you portraying?
KC: Currently I'm thinking about artificial nature; working with natural light versus artificial light, or faux materials, such as plastic plants. I definitely think more about light, I used to live here and I remember light being such an issue for me during the winter especially.
KE: Does this piece reflect more of a Seattle vibe?
KC: In a lot of my work I try to infuse what I've discovered by being in a place, but also what I'm bringing with me. For me, I feel like this is a composite of where I've come from, my journey up here and then what I'm finding here. There are definitely patterns and my usual repertoire of things I always turn to—for example, pink flagging tape. That's kind of a signature of mine that embodies a type of repetition that stands for me.
KE: What inspired you to make a site-specific installation that is participatory for the audience?
KC: The site-specific work was this transition from making a painting in more of a picture frame; the stretched canvas was the site at that point. The transition from the 2D to 3D happened in grad school, and that transpired outside of Detroit. I was going to the city a lot to find inspiration, so I decided to start collecting material to just paint on.
Initially the idea was I'm going to transition from using traditional art materials, which is like oil paint on stretched linen, and then it turned into me incorporating materials which reflected environments I was looking at…
Then the progression from that was the work became more dimensional, so the frame ended up becoming the studio. The [installation] became the site, which is an environment versus just the stretched canvas and oil paint. Then this just led to working with nuances in the architecture of the sites I was working with.
When it comes to the topic of having public participation, I would use an example about when I was in New York for a while. I personally was very frustrated with how I felt there was this impenetrable wall to get people to pay attention to what you're doing. And how that was influencing me in the studio was really frustrating. I was very aware of what was popular and being shown at galleries and I was letting it influence the work I was making.
So that was the departure from creating work without thinking about whether or not it was marketable or it could be monetized. There is also this wall between the public and the art world, and so I felt frustrated with that as well. Especially with the reduction of arts education and public education, it really kind of scares me. In some ways I wanted to try to cross that bridge a little bit more, and engage with the public more and try to bring them into the process—maybe even try to demystify it.
KE: If you could use one word or sentence to describe yourself as an artist, what would it be and why?
KC: I would say I'm in a perpetual state of self-education … It just goes to show how people are different, I mean someone could find a plethora of [ideas] working within a small, tight zone and I don't work that way. I kind of want to spaz out, and go on tangential type of work—not looking at something through a microscope.
The editor may be reached at [email protected]
Leave a Comment