Strong pitching and consistent offense lead Seattle U baseball (26-24, 16-8 WAC) to its first WAC series win in one month.
Freshman lefty Tarik Skubal was nearly untouchable Sunday afternoon, throwing seven innings and striking out 11 batters—tying a school record set by teammate Skyler Genger earlier this season.
After giving up a homerun to Chicago State (12-38-1, 5-17-1 WAC) in the top half of the first inning, Skubal retired the next five batters he faced. Later on in the fourth inning, Skubal found him self in a bases-loaded jam with nobody out.  He stayed cool under pressure, and struck out the next three batters he faced.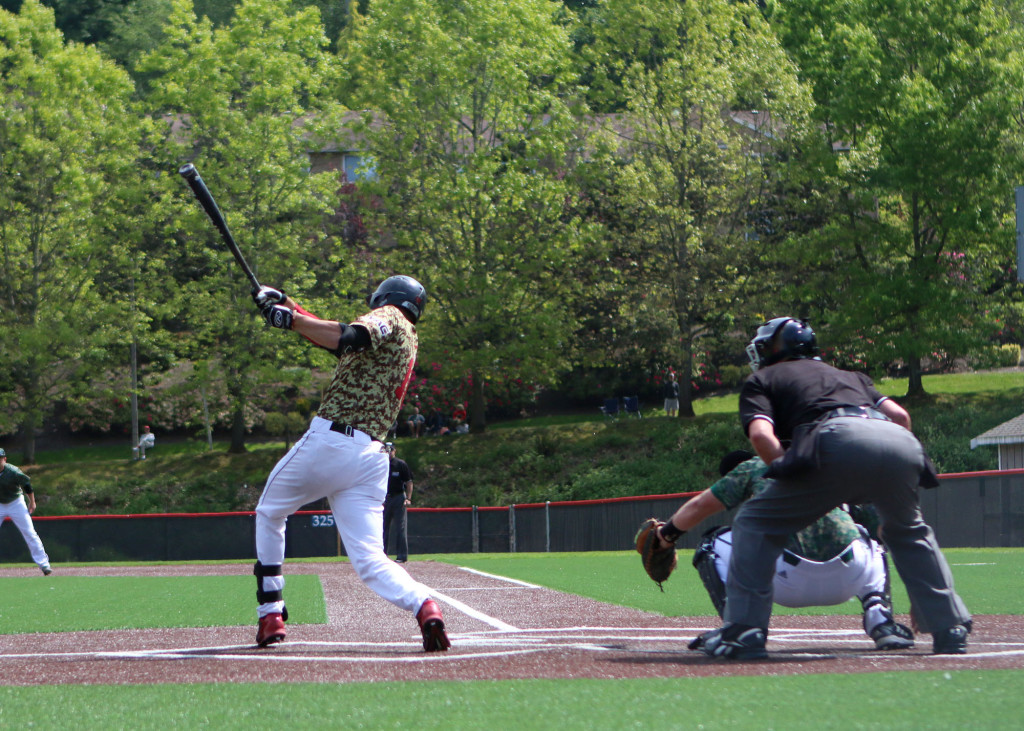 Senior Colin Peterson on an RBI groundout in his final home game at Seattle U. Seattle University earned another league series win with an 11-1 run-rule victory over Chicago State Sunday morning in a Western Athletic Conference collegiate baseball game at Bannerwood Park. photo by Taylor de Laveaga
"Tarik settled down after giving up the home run to their best player and gave us some zeros, and then the offense responded really well," said Seattle U head coach Donny Harrel.
Tarik went on to win WAC pitcher of the week thanks to his performance on Sunday.
The Redhawks jumped out to an early lead Sunday, scoring three runs in the first thanks to RBI singles from senior Brian Olson and sophomore Griffin Andreychuk. The offense continued in the second inning with junior Landon Cray blasting a two run homerun to right field.
Seattle went on to end the game early in the seventh inning.  Already up 7-1, the offense continued. Junior Sheldon Stober walked to lead off the inning, and then immediately stole second and third base.  He was driven in on a Brock Carpenter single. Senior Colin Peterson drove in another run, and Chicago State walked another run in before losing due to the 10 run-rule on an RBI fielder's choice from Dalton Hurd.
In addition to the big win, the seniors in the lineup did something special: Eric Koenig, Grant Newton, Brian Olson, and Colin Peterson all had at least one hit in their final game at Bannerwood Park.   
"It was great that all four seniors in the lineup got hits," Harrell said.
In fact, every member of the Redhawks starting lineup earned at least one hit Sunday.
The Redhawks won the opening game of the series on Friday by a score of 6-3. The next day, junior pitcher Skyler Genger delivered a pitching gem of his own. Genger struck out 11 batters, however Seattle was not able to hold on and ended up losing in extra innings by a score of 7-4.
Seattle's final series of the regular season begins Thursday, as the Redhawks travel to Greeley, CO to take on Northern Colorado.