More than two weeks have passed since the strongest earthquake to strike Nepal in 80 years devastated the country. Reports claim that the death toll has passed 7,500, though it is predicted that the number will exceed 10,000. Those numbers have sent shockwaves of anguish around the world, and the Seattle University community is no exception.
A few miles north of the epicenter, an avalanche triggered by the tremors hit a section of the Mount Everest base camp, killing 19 people and injuring more than 60. Since the earthquake, thousands of families have slept in open fields without food, without water and nothing to keep them warm. Several cities in Nepal are remote, making it nearly impossible for supply trucks to reach them. For many, help will not come for weeks, if at all, though many aid workers have been sent to Nepal to join in the search for survivors.
Members of Seattle U are organizing efforts to help victims of the earthquake. According to Interim Campus Minister for Liturgy, Bob Stephan, the collections at both masses last Sunday will be sent to Catholic Relief Services. In addition, he and other directors of the ministry will host a vigil to raise awareness and provide support for those in the Seattle community who are directly affected by this tragedy.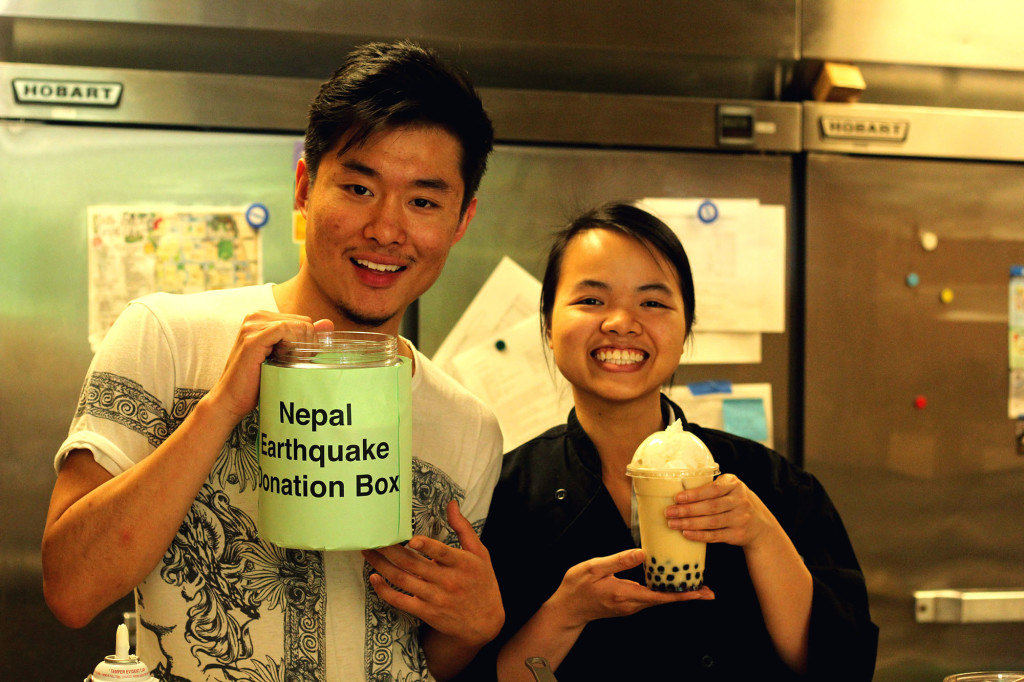 Ning Luo and Anh Nguyen help run a little cafe in the International Student Center Lounge and help raise money for those in need for Nepal.
"We want to respond as a community," Stephan said. "The damage that was caused in Nepal will take years to recover from. Our thought was to do something that would keep the issue alive."
For graduate MBA student Poojan Bhattarai, the tragedy will not end when the last survivor is found. Born in Kathmandu, she spent her life in Nepal until she moved to Seattle last year. Now she lives in Redmond with her Nepalese husband. Except for a brother living in Minnesota, all of her family was in Nepal when the earthquake hit.
"I tried calling my dad," Bhattari said. "While I was talking with him over the phone, my entire family was running outside trying to save themselves. It was still shaking. He was terrified. It was shaking and he was trying to run and we were talking on the phone. I could hear people screaming, people crying. Everything. It was that moment."
The place she once called home is now in shambles. The buildings have been reduced to rubble and the people suffer from hunger and thirst as they huddle under thin blankets in the cold, waiting for an aftershock to torment their homes for the last time. The men, women and children Bhattari called her people are being dug out from under collapsed buildings by the thousands. Memories of her life in Nepal seem distant.
"To see those buildings, those structures, just vanish," she said. "I cannot imagine going back home and not getting to see those things again."
International Student Center Director Ryan Greene was, like Stephan, quick in responding to the earthquake. His immediate concern was the well-being of Seattle U students with family in Nepal.
"When you're thousands of miles from home, and you know your loved ones are in harm's way, it's a rough feeling," he said, "It's tough to see the images from so far away."
The Nepal Seattle Society (NSS), a non-profit organization determined to preserve and promote Nepalese culture in the state of Washington, estimates the Seattle-area Nepalese community at 3,000 to 4,000 people. The NSS was not alone in providing support. Charity groups like the Seattle Mercy Corps and Red Cross wasted no time in sending aid to Nepal in the form of food, water and blankets.
Greene knew that the school had to respond as well. He collaborated with Bhattari and other Nepalese students to spread awareness and collect donations. On Thursday last week, bubble tea and baked goods were sold at the opening of Le Dalé Café, a small coffee shop in the lobby of the ISC. The proceeds will be sent to the Seattle Mercy Corps to help send care packages and aid workers to Nepal.
"In any survival situation, where you've got water turned off in the city, you've got people afraid to live inside of their homes, you start thinking about warmth and shelter and water and food," Greene said. "People need water, they need food. Hospitals are overflowing with patients. They need medical staff, they need medicine. We're talking five days after the incident and we're still finding survivors. It's very much an active situation."
While much has been done already, the efforts at Seattle U for Nepal are just beginning. Anyone who wishes to stand in solidarity with the victims in Nepal and support those affected in the Seattle community can attend the vigil hosted by Campus Ministry on Wednesday, May 6 at 7:30 p.m. in the Chapel of St. Ignatius.